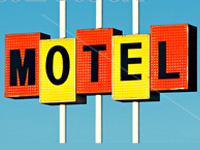 Sign Sense
Time to think about your business message
If a picture paints a thousand words, what does your business image say about you?
Signage is nothing new. Early man was making his mark on history by leaving unique and descriptive diagrams on cave walls some 32,000 years ago. These 'signs' may have told a story, warned of danger, been part of a religious or ceremonial event or simply a way of communicating with others. So in effect, signage has been a part of our way of life since the beginning of man and not just a tool for marketing a product or a business.
We actually use signage everyday to survive. We are so used to using and seeing them, we forget the impact they have on almost everything we do. We follow road signs to get to work, check out a menu board before we order our coffee, navigate our way to shopping centre toilets with the help of their directions, take note and avoid dangerous areas when we are warned by them and it may not even be lunch time yet!
As we will never know why early man did leave his messages on the walls of time, the theories may serve us well in understanding just how diverse the uses of signage can be. So as the new year quickly marches on take the time to think about:
Your story – What is your business message? What are you trying to convey through your print media, outdoor signage, front of house and reception areas, light boxes, pylon signage, logo and uniforms? What exactly do they say about you? Is this the mark you would like to leave on history? If not, it's time to upgrade and rethink your direction. Make sure your story reflects your business, ethics, dreams and your ideal clientele.
Safety signage – Assess your high risk areas and update any damaged, fading or missing safety signage. Prevention is a far easier task than litigation. Keep up to date with council regulations, requirements enforced by governing bodies and insure the safety of your business, your staff and your clients. Think pool rules, spa signage, fire escapes… Keep all directional signage up to date and insist all staff know their duty of care.
Celebrate events – To attract the crowds, you have to promote events within your business. Whether it be a milestone celebration you want to share with loyal customers; a special offer your clients won't be able to refuse or a one-off event to showcase your business – advertise it! Promote it throughout your existing data base; share it with complimentary business; put out flyers and posters highlighting dates, times and specifics; create fresh and bold banners and retractables to capture attention and get your message heard.
And finally – communicate! – Let others know how to find you, what you offer and why to choose you. Be outstanding and be noticed. Communication is the key in any relationship, so why should it be any different when it comes to your customers? Cover all your bases and succeed. Communicate your story, safety and events and stay ahead of your competition.
We are so influenced by images and signage, it persuades our purchase choice every day. Why choose one brand over another? Imagery, message and promotion are everything when marketing a product or a business. Make sure you business sells itself and call your signwriter today.