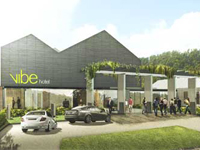 Marysville in Victoria has taken another big step on the road to bushfire recovery. Deputy premier and minister for regional and rural development Peter Ryan has turned the sod for Marysville's new $28 million Vibe Hotel and Conference Centre, paying special tribute to the phenomenal fortitude and resilience of the Marysville community and its progress towards rebuilding, after the devastating Black Saturday 2009 bushfires.
"By the Spring of 2014, Marysville will have a brand new 100-room, four-star hotel, conference facilities for at least 300 people, two new dining venues, a new day spa and superb recreational facilities for guests," Mr Ryan said. "The Victorian coalition government has contributed $19 million to this important project.
"Joining other drawcards like the magnificent Steavenson Falls, Gallipolli Park and Lake Mountain, this exciting development will attract even more people to the local area, guaranteeing the economic recovery of this bushfire-affected community."
Mr Ryan said the boost to local employment and the local economy were foremost among the project's benefits, during both the construction and operational phases.
"Over the next year and a half, this major construction is expected to create around 85 new jobs and bring in $23 million a year across the region, boosting the local economy by around $9.5 million a year.
"When up and running, the Vibe Hotel and Conference Centre Marysville is expected to create around 60 new jobs, within the first five years."
Melbourne Civic City Property and its partners Toga P/L and Metier3 Architects have been selected to deliver and operate the new Vibe Hotel and Conference Centre Marysville, with regional Victoria-based H Troon P/L undertaking the project build