Housekeeping
Quality, little waste and easy control – what everyone wants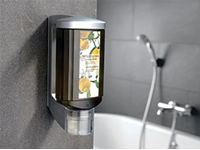 The revolution in amenity dispensers is widely accepted by today's environmentally conscious guests and enables accommodation managers to provide guests with what they also prefer to use at home: liquid soap, body washes and high quality shampoos in stylish dispensers.
There are a huge number of benefits that comes from using dispensers instead of the traditional portion control amenities in guest rooms. The most obvious benefit is the drastic reduction of waste.
Have you ever considered the huge mountain of small portion control bottles that is being discarded from every accommodation complex each morning (most of them still partly full)? Have you ever thought about all the amount of soap bars that are being thrown out daily (most after being used only once or twice)? Well it is estimated that the world's accommodation facilities dispose of well over 10 billion pieces of product and packaging from bathroom amenities every year! Needless to say, that the environmental impact is disturbing.
The use of dispensers in hotel rooms can reduce this waste drastically, as the contents of one dispenser refill usually equals up to 40 or 50 portion control bottles or approximately 60 to 80 small soap bars. Additionally, the refill containers of the leading dispenser systems are made from PET (such as soft drink bottles) and can therefore be easily recycled, leaving the accommodation operator with no waste at all.
Cost savings are substantial as well. The accommodation provider can save up to 50% of his expenditure for guest amenities, simply by implementing dispenser products in the bathrooms. The maths is quite simple; once you have dispensers in place, you will no longer pay for the individual packaging or for the partly used portions that have to be discarded.
Room servicing time is also reduced.
Everybody is quite familiar with the stubborn soap scum that builds up around the basin, needs to be scrubbed in the shower and bath tubs on a regular basis. These issues are no longer of concern, when using liquid products. Liquid soaps are a completely different formulation from a bar soap because they do not contain oil or fat components. In fact, liquid soaps not only eliminate soap scum but they can also more easily incorporate and retain beneficial ingredients, such as vitamins, essential oils, moisturiser, antiseptics and fragrances, which tend to evaporate quickly in cake soap.
Some 10%-15% of our population has sensitive skin. For these people traditional soap can be an irritant, particularly in the colder months of the year and they often can cause discomfort or even dermatitis. It is therefore important, that these people are given the choice of good quality liquid soaps that contain soothing moisturisers, skin friendly ingredient and organic extracts.
There are a number of amenity dispenser products available on the Australian market. However they differ quite substantially in how they work, the quality of product they contain and how they present in the bathroom. Not all of these dispensers are ideal for the accommodation industry.
Refillable dispensers are cost effective because the hotelier can top up the liquids with bulk product, however refillable dispensers are not a hygienically safe choice and should only be used by the basin (liquid soap). And refillable dispensers should not be installed in showers due to mould build up and possible germ contamination while refilling shampoo. Public area dispensers that are often bulky and contain a lot of wearing parts, such as levers, springs and valves and these are not ideal for application inside hotel or motel rooms. These dispensers are often too bulky and require frequent maintenance.
Dispensers with membrane valves are another alternative. These dispensers can be cheap to purchase but most membranes are inferior, which makes them leak and drip. Additionally membrane dispensers often dispense too much product, increase consumption and are therefore dearer to run.
Factory sealed, cartridge type dispensers that are tamper proof, securely locked and hygienic are the safe bet for the accommodation manager.
Owners need to consider the time it takes to refill these dispensers in every room, clean up any mess or spillages, maintain and exchange the wearing parts such as pumps, springs or levers. If one considers all these factors, it is cheaper and smarter to use a factory sealed dispenser, especially in today's environment, where no hotelier wants to take the risk of negative guest feedback or even litigation.
• Look for a dispenser that suits the presentation of your bathroom.
• Aim for a factory sealed amenity dispenser due to hygiene reasons.
• Ensure monitoring the product level inside the dispenser is simple and easy to do. Tiny monitoring windows often lead to staff overlooking the fact that the dispenser is empty and your guests will complain.
• Ensure your dispenser does not leak or drip.
• For hygiene reasons choose a dispenser, where the guest does not need to touch the dispenser valve in order to dispense product.
• Test the quality of the liquid product provided with the dispenser. Runny products and liquids that do not lather up will result in over use by your guests.
• Ensure the dispenser is lockable, theft and tamper proof.
The latest trend is to present amenity dispensers in visually attractive and often colourful containers.
This way the accommodation managers does not need to hide the dispensers; to the contrary, these dispensers to add to the décor of the entire bathroom.
In other parts of the world amenities dispensers have been used in the accommodation industry for well over 15 years. In fact estimated figures indicate, that the market share of dispenser in several European countries is between 50% and 60% in the 3½ to 4½ star accommodation segments and even in five star hotels, the market share is already over 20% and increasing rapidly.
Revolutionary amenities dispensing system developed
Global warming, conservation of resources and reduction of waste are currently on top of everyone's agenda.
The Australian hospitality industry is expected by today's environmentally conscious clientele to take the initiative and hotel and motel operators are doing their utmost to reduce their environmental footprint.
Considering that the worlds hotels and motels dispose of well over 10 billion pieces of packaging from bathroom amenities every year, this issue is becoming an absolute priority for many accommodation providers. The solution to this waste is the implementation of one of the world's leading hotel dispenser Press + Wash – engineered and produced in Germany and marketed in Australia by Swisstrade P/L and selected distributors.
By presenting hotel guests with the revolutionary Press + Wash dispensers, you are not offering a "no frills" soap, conditioning shampoo or moisturiser but in fact you are presenting them with a high quality five-star cosmetic product, as well as an environmentally responsible concept.
Press + Wash is the new generation in guest bathroom amenities. It enables you to market your hotel, motel or resort with an explicit environmental note, reduce wastage, cut room-servicing time and save on amenities costs. These amenity dispensers are the perfect answer for those who consider daily replacement of traditional amenities portions an irresponsible waste and for those who seek an attractive, hygienic and cost saving alternative.
Press + Wash is visually attractive, especially designed for 3½ to five-star guest bathrooms and is the only factory sealed, closed system on the market and therefore substantially different to any other dispensing product currently available. Most other dispensers are refillable and not lockable and it is therefore absolutely important to recognise, that in today's litigation environment a refillable dispenser in the shower/bath is not suitable for applications in hotels and motels.
With Press + Wash you have peace of mind and many additional very convincing aspects: up to 50% cost saving compared to conventional soaps and shampoo portions. The dispensers and its integrated dispensing mechanism are made of fully recyclable PET. The dispenser bottles are tamper, child and theft proof and the system is easy to use and requires no maintenance.
Press + Wash is available in a variety of product ranges and features liquid cream soap, conditioning shampoo, shower Gel and our unique shampoo hair and body (conditioning shampoo formulated also for use as body wash), as well as moisturising body lotion. These dispensers have already been established in over one million hotel rooms world wide and is available in almost 10,000 rooms throughout Australia.
Hygiene and image issues overcome
Guest hair and body care dispensers have a number of serious pitfalls, for hoteliers and guests alike, here's how Health Pak's dispensers are designed to overcome these issues.
Damage to bathroom during instillation – More often than not properties install dispensers and then after a year decide to change or use a another system. Rather than being screwed to the wall, which can leave unsightly holes in tiles or your shower vanity, this dispenser system is light enough to use the new high tech double side adhesive tapes now available. This offers a sturdy and reliable solution to fixing dispensers to the wall and doesn't ruin your precious bathroom if you ever decide to change to another one of the company's ranges.
Reduction in waste – Contrary to popular belief, most dispenser system bladders are not recyclable. Health Pak's system is based on easily recycled HDPE bottles that will be accepted by all councils that offer recycling services. This means when the bottle is finished, rather than throwing the bladder into the bin, you can put a bottle in the recycle bin.
Ease of cleaning – The number one consideration when looking at dispensers is making sure that they are easy to keep clean and sterile between guests. Many ignore the fact that the users of these dispensers are having a shower to clean themselves and often when they touch the pump on a dispenser they have a high bacteria count that transfers itself onto the pump itself. If not properly cleaned and sterilised these bacteria are transferred straight onto the next guest and so on and can even infect the product inside the dispenser. Unlike many bladder or refilling systems that have an opening underneath Health Pak's system uses a pump bottle that has the opening at the top and front of the unit making it extremely easy to thoroughly clean and sterilise the unit between guests. Because the entire system is being replaced when used, it also means that any hard to kill bacteria are completely removed from the system when the bottle is replaced.
On-going image – In the harsh confines of a shower in a very short time many dispensers lose their shiny look and this is a prime reason many properties then simply end up pulling them out. This system allows for the bottle to be replaced in full and has no bladder system. This means each time you replace the bottle you get a brand new and hygienic system. It also eliminates the chance of bacteria or pathogens growing on pumps or nozzles that are not replaced over time and can be problematic if not properly cleaned and sanitised regularly.
Guest perception – Health Pak's research shows that the number one pitfall of dispensers is guest perception and the fact of the matter is they simply don't like them as much as standard amenities. Among other things, guests view them as you trying to save money at their expense. This system addresses this issue by presenting the guest with a retail product that is held within its own bracket. By using a 265ml bottle and pump the guest perceives the product to be a much higher quality option than a standard dispenser that has no cosmetic appeal.
Cut costs and enhance quality
Global hospitality amenities manufacturer E-Amenities Ltd has recently released its new Ezy-Squeeze and Ad A Glance dispensers into the market that offer substantial cost and environmental benefits over traditional amenity bottles and other dispensers available.
E-Amenities sales and marketing director Mark Scott says there has been a major change in thinking on the way we are using guest amenity product in the accommodation industry. Amenity bottles have been used for many, many years. Though labour intensive and with high levels of wastage, there were no better options available.
As well as waste of the products in the bottles, a major problem is the high levels of landfill taken up by the used bottles. The materials used to manufacture these bottles have very long half-lives meaning that as well as requiring large areas of land fill, they can take literally hundreds of years to break down.
Sustainability of resources and concern for the impact on the environment is a worldwide major concern. Today, in both developed and developing nations, there is a recognition we cannot continue to produce and act the way we have done since the industrial revolution.
As a consequence, governments all around the world are legislating to "force" businesses, organisations and individuals into compliance with environmentally friendly laws.
Smart businesses are taking action before they are compelled to because, unfortunately, in many instances compliance results in increased costs, compromised quality, or both.
This is not the case with E-Amenities' dispensers. Mr Scott says its dispensers reduce costs by approximately 30% and landfill by around 90%, all without compromise on quality or aesthetics. Just as importantly, the products within the dispensers are of the highest quality such as the Leo Peppard Salon range that has been formulated with a fuse of natural aloes and rich vitamins to give a balanced cleaning and conditioning experience.
This range of cosmetic is free from formaldehyde, mineral oil, petrolatum, paraben and 650 cocomide DEA and are all certified by ITS.
The Ezy-Squeeze dispenser also has many advantages over other dispenser products on the market. There is no limit to the number of style and designs available.
Choose the standard matt black or brushed silver, or the face plate can be tailored to feature your company logo or to fit with your décor. If you want something different, the possibilities are endless, limited only by your imagination. The company has also just released its new Ad A Glance dispenser with an interchangeable faceplate to allow for simple and fast changes of advertising and messages.
Ezy-Squeeze cartridges contain less than 30g of plastic and have been injected with the d2w additive allowing for the acceleration of the breakdown of plastics in landfill and also have the advantage over bulk fill dispensers of preventing bacterial cross contamination resulting in health risks.
The dispenser is easy to use and meets the USA disability act making it ideal for elderly and disabled customers.
Mr Scott believes this new dispenser is an industry changing innovation and is ideal for hotels, motels, B&Bs, resorts and cruise ships because of its compact design, fantastic eye catching aesthetics, cost saving factors and environmental benefits.