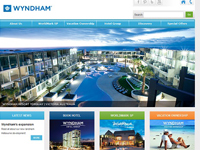 Wyndham in the Asia Pacific has this week unveiled its new dynamic and interactive company website.
Wyndham Vacation Resorts Asia Pacific is the largest vacation ownership business in Australia with a network of 24 resorts located across Australia, New Zealand and Fiji, and more than 46,000 vacation owners in its WorldMark South Pacific Club.
The company's brand new website, which houses approximately 1200 pages, came to fruition after three years in the making and months of project management, design concepts, content development, branding and web design. Wyndham's four separate websites, including the existing Wyndham Hotel Group and WorldMark South Pacific Club websites, have been completely redesigned and consolidated into one central online hub, making it easier to navigate and locate information.
New sections have also been created to service the different business areas including vacation ownership, hotel development, special offers, affiliate marketing, media centre and careers.
"I am very excited to announce the launch of our new website, which will align our various business units in the Asia Pacific into one central website," said Barry Robinson, CEO and managing director of Wyndham Vacation Resorts Asia Pacific.
New and improved features include a dynamic world map linking to the individual resorts; a dedicated media centre with news, media releases and image library; and a new blog called Layne's Travels by Wyndham Vacation Resorts Asia Pacific Ambassador and seven-time world surfing champion Layne Beachley.
A major highlight of the website is that it is responsive to smart devices, tablets and smartphones, providing visitors access while on the go.