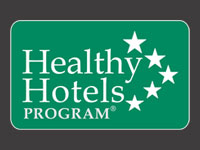 The Healthy Hotels Program has applauded a recent major investigation, conducted by the Office of Fair Trading in Queensland.
Numerous cleaning companies and suppliers – many of which supply the accommodation industry – have been asked to provide substantiation of their claims, in relation to the products and services they provide.
The state of Queensland, along with the greater Asia Pacific region, has seen an explosion of health related cleaning services in the last five years. Arguably the most established maintenance industry which has undertaken the greatest change is the cleaning industry.
The concept of sanitising or cleaning a mattress as little as five years ago was as foreign as a non-smoking guestroom policy was in the seventies. Today, conduct a search on mattress cleaning and over 1.2 million results will appear, or 6% of the equivalent search on carpet cleaning – an industry more than 50 years old in its' modern form.
One explanation, for the increase in supply and presumably demand, has come from increasing incidence of respiratory health concerns among the general public.
The Australasian Society of Clinical Immunology and Allergy reports that 18% of Australians have allergic rhinitis and by 2050 the number of patients affected by allergic disease will increase by 70% to 7.7 million. Another explanation within increased tourism industry uptake of services, is that operators are realising the risk attached to guest room negligence.
In 2005 Australian rates of personal injury claim were already at 1.8 per 10,000 head of population. With the presence of volatile organic compounds that have been proven to accumulate in even a moderately used guest room mattress, for some operators it's purely a matter of risk management.
As with any rapidly growing area, such as has been demonstrated in the group buying and telecommunication industries, the potential for disparity between what is being offered and what is actually delivered becomes greater.
The Office of Fair Trading in Queensland is currently requesting that claims by sanitising service and product providers be substantiated by providing independent proof of efficacy. Each company must also define their understanding of the term "sanitising" which refers to a process which is applied after cleaning.
The Healthy Hotels Program advises that a sanitising process must measurably reduce pathogenic matter for a period of time and demonstrate efficacy in targeting contaminants such as mould and mould spores, bacteria, viruses and allergens. Sufficient cleaning must also precede the sanitising process for it to be effective. One of the greatest miss-uses of the term "sanitising" has been recorded in the application of steam to items such as mattresses in the guest room. It would appear in this instance, many suppliers simply associate the term sanitising with the fact the process is being applied to a mattress.
The Healthy Hotels Program is an outward supporter of correct guest room sanitising practice and has responded to news of the major investigation fervently. The Healthy Hotels Program has stated "We are delighted that the general benchmark of the maintenance industry in Queensland will soon be raised through this process of validation.
We encourage Fair Trading Offices in neighbouring states to follow the lead Queensland has taken and weigh in on the issue in their respective areas."