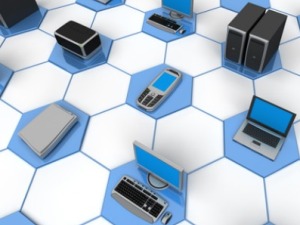 We have all watched the Internet grow to become a huge repository of words, art and facts.
We are currently watching the growth of communications between people using mobile devices in particular. That has provided a new acronym H2H – human-to-human. That formed an incredible revolution at avalanche speed.
Although this first Internet/web revolution changed the world profoundly, the next disruptive development, in which the majority of Internet traffic will be generated by 'things' rather than by human-operated computers, has the potential to change it even more. It's beginning was some little time ago but it too is snowballing.
This Internet of Things – IoT – or more meaningfully Machine to Machine – M2M -communication, is well under way — after all, microprocessors are to be found in all manner of 'things': domestic white goods, cars, credit cards, your passport, your family pet, the CCTV camera in your street, the lift in large buildings and many more. The magic ingredients of Internet connectivity or the ability to be read by an Internet-connected device, and applications and services that make use of the data gathered by this vastly expanded network are now contributing to this new technology revolution.
None of this is really new. Kevin Ashton, co-founder and executive director of the Auto-ID Center, is credited with coining the term the Internet of Things. Ashton said he first used the term in a presentation in 1999.
"If we had computers that knew everything there was to know about things — using data they gathered without any help from us — we would be able to track and count everything and greatly reduce waste, loss and cost. We would know when things needed replacing, repairing or recalling, and whether they were fresh or past their best," Ashton wrote in a 2009 on what he originally meant by the Internet of Things. "We need to empower computers with their own means of gathering information, so they can see, hear and smell the world for themselves, in all its random glory."
An impressive real life example comes from a large courier company. Using the inbuilt computers in their vehicles for analysis they found that the vehicles spent a lot of time waiting to do right hand turns. They decided to plan all their routes so that, where at all possible, these were to be avoided and replaced with left hand turns yet cover the same areas. Of course you realise that we all spend a lot of time trying to turn right almost anywhere we go. The monitoring and planning paid off big time. They saved around $1 million in their fuel costs for the year using the new routes. A spectacular result of M2M communications.
If you are wondering how that is done the answer is simple. Our old friend the Cloud provides the interconnecting paths.
So what are some examples of the technology?
The Internet of Things is currently being applied in a wide variety of uses throughout the home, businesses, hospitals, cars and entire cities. The most common places everyday consumers see Internet-connected devices are in the home. Internet-connected objects, from thermostats and lights to smart outlets and key tracking devices, are used in the home to help owners save time and money. Being able to remotely monitor and control which devices are on and off at any certain time helps homeowners reduce monthly electric, gas and water bills.
The Internet of Things is seen similarly in businesses. Companies in every industry are incorporating Internet-connected devices into their operations as a way to save money. While the majority are using things temperature and lighting controls, some are figuring out more advanced ways to use the devices. Examples include vending machines that send signals to a business' computers when they're running low, or manufacturing equipment that can send warnings when it is malfunctioning.
But that's only one layer of what the Internet of Things is capable of. Its full potential can be seen when multiple devices are interacting and communicating with each other all at one time. For example, Cisco paints a picture of a sleeping employee who receives an email overnight letting them know their first appointment of the day is being pushed back 45 minutes. That email will then notify the employee's alarm clock, which will then readjust when it is set to go off. When the alarm does go off, the clock can then communicate with the coffee pot to start brewing a cup and let their car know they need to start the cooling system to make the car comfortable when the driver is ready to leave for the office.
Diane Cook, who runs 25 test smart homes throughout the Pacific Northwest of America, summarised in her paper what future high-tech houses could do and what researchers still have to figure out before everybody can live in one.
Cook and other researchers are looking to give houses the ability to monitor and reason about what to do with the heat, air conditioning, lights, sprinklers and more, all without human input. Then people wouldn't have to deal with trying to program ever-more-complex thermostats or lighting systems.
"What we're interested in is giving computer software the ability to make some decisions about how to control your home," Cook said.
However, she is not interested in home conveniences simply for convenience's sake. Cook believes that smart homes would be especially useful for older people or those with disabilities. Smart home systems could preserve an independent lifestyle for people who, because of age or illness, can't control or remember all the functions in their house. The home could remind them to take medications, or it could feed the cat for them and check the lights and windows after they've gone to bed.
Smart home systems also could monitor inhabitants' well-being. Cook's essay cites a earlier finding that people older than 65 change their walking speed just before experiencing cognitive decline. A smart home could monitor elderly residents' gait and other movements to catch such subtle signs of ill health.
Experts agree that as it becomes easier and easier to bring physical objects online, the opportunities presented by the Internet of Things are endless.
Technology companies around the world are feverishly trying to develop new ways to link the Internet with physical objects. Currently, there are more than 12 billion devices that can connect to the Internet. However, by 2015, IT giant Cisco projects there will be 25 billion, with that number jumping to 50 billion by 2020, nearly seven times the number of people on the planet.
Aspects of this are food for thought in the accommodation industry.