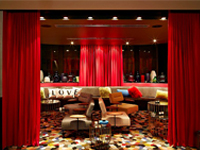 QT Hotels & Resorts has announced it will be opening a QT in Canberra. QT Canberra is set to open in the emerging cultural precinct of New Acton early next month.
QT Canberra is set in the iconic Canberra establishment of Lakeside Hotel, with a redesigned exterior and interior by renowned designer Nic Graham, the building will embrace new technology, distinctive art and cutting edge design.
The building is steeped in Canberra history; Prime Ministers have been made and ousted to iconic acceptance speeches and back-room meetings. The unique designer space celebrates this history through bold design, a mix of quirky artefacts, bespoke furniture, a daring use of colour and art, and the ultimate food and beverage offering.
Working with one of Canberra's most iconic buildings, the Lakeside hotel that has been the scene of many a handshake deal and long lunch. The hotel will have 200 guest suites which are kitted out with designer décor and all the business savvy mod-cons the astute businessman or woman needs to get the job done, from seamless technology offering to a team geared to assist you with any left-field requests.
QT Canberra will become a culinary journey with a concept restaurant created by QT Hotels creative food director, Robert Marchetti, offering a choice of fine wine and a menu of bistro classics and future favourites with an Italian twist – perfect for a power dinner.
QT will also offer a number of exclusive retreats with secret rooms, private hideaways and secluded spaces for those wanting to take the edge off a long day in the trenches or hold private meetings all with fully stocked bars and a loaded bar snack menu.