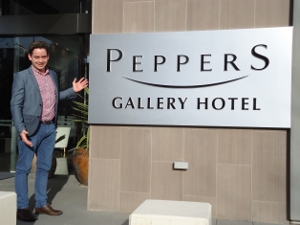 Peppers Hotels has officially opened their first CBD based hotel – Peppers Gallery Hotel Canberra – in the heart of the capital's vibrant New Acton precinct. The building has played a significant role in Canberra's pioneering origins and now holds an important place in Peppers' 30 year history, evolving from a small group of regional retreats to include extensive coastal resorts and now stylish metropolitan-based hotels and apartments.
Peppers Gallery Hotel Canberra (formerly the Diamant Hotel) is an award-winning 80 room boutique hotel with the renowned onsite Bicicletta Italian restaurant a favourite amongst Canberra's emerging dining scene. As the name suggests, the hotel boasts an elegant interior design showcasing an eclectic gallery of emerging and established artworks. Rooms are superbly appointed with Bang and Olufsen plasma TVs, iPod docking stations, plunger coffee makers, free broadband access, original art works throughout and luxurious bathrooms with rain shower and marble vanity tops.
Hugely popular for business meetings, press events, photo shoots, sales presentations, conferences and social events, a number of unique venue options are on offer. The Smith Murdoch Room, named after the hotel's architect; and the Ngunnawal Room, acknowledging the Indigenous people of the area, each offer a boardroom style capacity of 14 people or cocktail style for 36 people and include WiFi internet access. Larger scale functions for up to 100 people can be held in Bicicletta Restaurant or for up to 50 people in both the Library Bar or the unique outdoor Courtyard in the summer months.
Newly appointed general manager, James Sharrock who has over five years' experience in managing boutique hotels having previously worked with the Art Series hotel group in Melbourne before joining Diamant at Canberra, said he is looking forward to some exciting changes under the Peppers brand.
Peppers Gallery Hotel Canberra first opened its doors as the Acton Hotel on 5 May 1927 and was initially built to accommodate the vast number of VIP guests arriving in Canberra for the grand opening of Parliament House on 9 May. The onset of the depression forced the property to cease trading as hotel just three years later and transform into to the census and patents office and later billeting for the Canberra Police Force and the University of Canberra during the World War II era. The post-war migrant population increase in Canberra saw the building re-commission back to a hotel business to offer interim accommodation. It continued to operate as the Commonwealth Hostel for three decades before converting to the Australian Institute of Aboriginal and Torres Strait Islander Affairs and the Australian Federal Police & Resolution Centre. After being privately owned and vacant for nearly 6 years, in 2000 developers transformed the heritage façade and surrounding buildings into three precincts – a private residential building called 'New Acton'; an 18 storey tower known as the 'Nishi Building' and a luxury boutique hotel which is now the Peppers Gallery Hotel Canberra.
Located close to the shores of Lake Burley Griffin in the newly transformed New Acton precinct, the hotel is housed in a historic, heritage listed building surrounded by landscaped gardens and specialist retailers with Canberra's main cultural, entertainment, sporting and commercial facilities nearby. Canberra's upgraded airport is also easily accessible.
The Australian National University, National Museum of Australia, Botanical Gardens and Telstra viewing tower are all within five minutes' drive while the National Zoo & Aquarium and the National Arboretum – Canberra's fastest growing attraction – are within 15 minutes' drive.