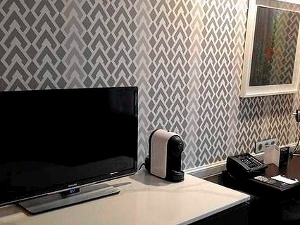 The relaunch of Brisbane's boutique Riverview Hotel by View Hotels following a $6 million dollar refurbishment took place on Friday 22 August.
The relaunch sees the celebration of a new brand identity for View Hotels, with the remaining properties undergoing similar transformation throughout the rest of the year.
Riverview Hotel offers unmatched views from the banks of the Brisbane River and the refurbishment saw the renovation of all 90 guest rooms and the Plates restaurant and Chesters Bar. Deuce Design undertook the refurbishing for View Hotels while Wendy Lynch Interior Design worked on the hotels' concept incorporating furnishings and textures by Utopia Goods and contemporary photographs in public areas by New York-based gallery owner, Suzanne Geiss.
Dining and entertaining options include the elegant Plates restaurant, with a menu comissioned by Executive Chef Chris Jackson using the best sesasonal and local produce. The Riverview Hotel also unveils a new-look Chesters bar, which with its laid back, New York feel; making it a great place to unwind with a quiet drink in hand or for a casual meeting.
Facilities at the Riverview Hotel include access to a resort styled swimming pool, sauna, spa and fully equipped gym plus conference facilities that can cater for meetings of six people to conferences of up to 300 delegates.