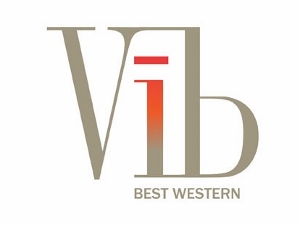 Best Western International is launching two major new hotel development offerings – a stylish new hotel concept and a soft brand – both designed to meet growing demand for new hotel offerings in urban and primary markets.
The announcement, made during the brand's 2014 North American Convention, comes as Best Western continues to see historic growth in the brand's North American and global development pipeline.
Best Western's newest hotel offering, Vīb (pronounced Vibe), is a stylish and technology-centric hotel concept created to meet the needs of today's connected traveler. Vīb, which is short for "Vibrant," is a hotel prototype designed for urban markets. Vīb's high-density concept will be cost-effective to build and operate, making it an attractive option for owners and developers.
The boutique Vīb concept features vibrant and modern design with a focus on convenience, technology and social engagement. Vīb hotels will have large, interactive lobbies that incorporate the local flavor of their individual markets, as well as comfortable and chic guest rooms. Guests will find ample USB and power ports for electronics, a media wall with custom content in the lobby, smart TVs in the rooms to stream on-demand content, and LED mood lighting throughout the hotel.
Additional Vīb amenities include:
• Grab-n-go stations serving premium food and coffee 24/7
• A bar and cozy fireplace where guests can unwind and make themselves at home
• A 700 sq. ft. Zen Zone on the lobby mezzanine for relaxation
• Gaming pods with stylish, comfortable seating
• Expanded 24/7 fitness centers
• Modern work spaces in all guest rooms
Also announced was Best Western's first soft brand offering, the BW Premier Collection. The BW Premier Collection will consist of carefully selected high-quality hotels in primary markets. All of the soft brand properties will be required to maintain a TripAdvisor rating of four or above and AAA/CAA rating of three diamond or above. Hotels within the BW Premier Collection will not be part of the official Best Western membership but they will be listed, and can be booked, on the Best Western website. Guests will be able to earn and redeem Best Western Rewards points at all BW Premier Collection hotels. BW Premier Collection hotels will also have the option of purchasing additional Best Western brand services such as design and sales support.
"We recognise that travellers' preferences are evolving and it's our job to keep up. The launch of Vīb and the BW Premier Collection represents a major move by our brand to meet the growing and shifting needs of our customers and travellers in general," said David Kong, Best Western president and CEO. "These two initiatives will allow us to reach a new customer base and developer audiences, while still maintaining the unmatched value and customer care that everyone has come to expect from Best Western."