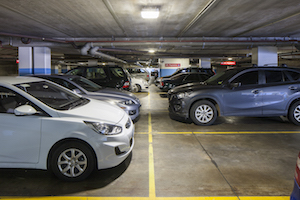 The car park is often the first point of contact in the guest experience for hotels and resorts. It needs to be a welcoming and comfortable environment for guests and staff to transit through.
With up to 24/7 operating hours, hotel and resort car parks offer significant opportunities for energy and maintenance savings through LED lighting upgrades. The challenge is to find the right balance between energy efficiency, operating costs, light quality, guest comfort and safety.
If the lighting levels are too low, this can expose the hotel or resort owner to increased risk of damages claims from accidents. As most underground carparks are not air conditioned, replacement of fluorescent lighting can also reduce heat output, improving guest comfort.
Technology innovations
Car park lighting technology advancements have been spearheaded by the large scale adoption of LED technology in recent years. Motion sensors installed into LED light fittings allow for the operation at a lower light output, hence lower energy consumption, when there is no movement detected in the space.
enLighten Australia CEO Steve Cahill brought over 20 years facilities management experience in both Australia and overseas to the R&D table to develop high efficiency LED lighting solutions offering lower maintenance costs for back of house areas, including emergency lighting. Energy efficiency wasn't a priority for areas such as car parks, fire stairs and service corridors, as there was very little technology innovation since the fluorescent tube in the 1970s.
When the company introduced its patented energy efficient Chamaeleon LED light onto the market in 2011, the integrated motion sensor within the light fitting in fire stairs was a complete novelty. "We had to change the mindset of electrical contractors, building managers and engineers on the opportunities for energy savings via the concept of lighting for people and not spaces," commented Mr Cahill. "Five years on, we are seeing an enormous volume of products enter onto the market with similar features."
Lighting upgrade project value v cost
The mindset shift for resort and hotel managers and engineering staff is how to focus on the long term project value and not just the upfront cost of lighting upgrades. New lighting technology requires projects to be assessed differently. Instead of simple lamp replacement costs, energy performance, operating life and light depreciation factors now play an important role.
Quality LED lighting is often a greater upfront cost than old technology replacement. Energy efficient LED lighting upgrades are competing with other valid demands for Capex budgets, so the more we can help in equipping the client with the project value data, the better. There has been an added change in the lighting retro-fit market with the availability of competitive project financing. Projects that can deliver 80-90 per cent in electricity costs are offering cash flow neutral opportunities where the energy savings and maintenance budget allocation will pay for the financed project over the warranty period of the fitting.
What this means is that with no upfront capital outlay, the organisation can finance the project (subject to approvals) saving their Capex expenditure for essential activities or other purchases that don't contribute to the bottom line.
Lighting upgrade checklist
In high use car park lighting applications, the robustness of light fittings, light quality, reliability and ease of maintenance are paramount.
AS/NZ 1680 requires an average illuminance of 40 lux at ground level, taken per sqm on a grid basis. The Australian Building Code enforces compliance for building upgrades requiring DA applications.
Case study
enLighten is receiving a lot of interest from hotels and resorts, particularly following the recent car park, service corridor and fire stair LED lighting upgrade at the Surfers Paradise Marriot Resort & Spa by chief engineer, Stephen Coombs.
Marriott Resort & Spa project details
Old lighting – Single and double T8 fluorescent batten fittings (standard and emergency)
New lighting – Chamaeleon lights in fire stairs, service corridors, car park driveways & parking bays(standard & emergency) and Tauro Blu LED low bays lights for carpark entry (standard)
84 per cent energy savings (300,000 kWh)
2.7 year payback at 12.5c kWh energy tariff