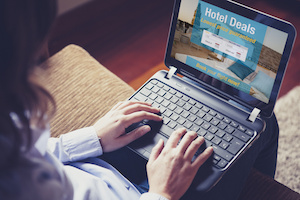 News In Brief
Expedia accused of discounting online rates without managers' permission
An onsite manager from Sunshine Coast contacted accomnews this week, claiming that Expedia has been selling online bookings to consumers at a 15 per cent discount unbeknownst to providers.
The OTA recently acquired Wotif and since then, according to the manager, she received a call from a travel agent who explained guests were able to book cheaper online. The manager told accomnews: "I then went online to check that what she was telling me was correct. I couldn't believe that [they] were selling our apartments 15 per cent cheaper online to our guests without any knowledge to us.
"I find [this] extremely unscrupulous as the rate that I put online within my channel manager ResOnline goes across the board to all of the online booking sites including our website. Due to this I have disconnected our link with Expedia and Wotif within our ResOnline channel manager."
She added that she immediately tried to contact Expedia for clarification, asking them to disconnect her property's link with any other booking sites associated with the OTA, via email and telephone but received no answer.
While the manager's online rates were set at $575 and $475, the OTA had been advertising bookings at $439.88 and $363.38. After calling Expedia Hotel Assistance, she claimed she was given a phone number to call and cancel any bookings made through Expedia, but the number did not work when used.
"They were charging us 23.5 per cent commission," she added.
Although she was able to disconnect from the OTA via ResOnline, the property was allegedly still being advertised on Wotif and guests were continuing to book and arrive. "Can you please have Wotif disconnected at your end so that we don't receive any more of your clients on our doorstep that we have no knowledge of, as we are booked out and have nowhere for them to stay," the manager said in an email to Expedia.
After sending another strongly worded email to the OTA, she received an email informing her that the discounted price offered was part of a "package booking" incorporating hotel stays and flights.
The Expedia representative said: "The package path forms part of your agreement where a 10 per cent discount is provided to the guest directly and is not part of Expedia's compensation, it's a direct benefit to the guest just like with any standard promotion. I hope this has helped to explain how it works and operates and why you have received this booking."
One of the key issues here seems to be the difficulty managers have contacting someone within the OTA who can resolve issues within Australia. The rep this manager was able to reach over the phone was based overseas and therefore unable to provide her with information or contact details specific to Australia.
Has anyone else experienced something similar in the aftermath of an OTA acquisition?
accomnews has contacted Expedia and will update this story with their response as soon as it is received.
Expedia sent accomnews the following statement earlier today:
"In addition to hotel-only bookings, Expedia offers consumers the opportunity to save money when booking multiple travel components together for the same trip, otherwise known as a package. This is a special opaque rate only offered to consumers shopping for multiple travel components (such as flight and accommodations) and is not surfaced to consumers looking only for hotels alone. Package rates are a standard part of our contractual arrangements. Our hotel partners tell us that package bookings are beneficial because they are generally made farther in advance, for longer lengths of stay, and typically have half the cancellation rate of a hotel-only booking. Package rates benefit customers by offering incentives to book multiple products at the same time. Our locally-based team of more than 50 people focused on the Australian market are happy to help our valuable partners better understand the terms of these arrangements."