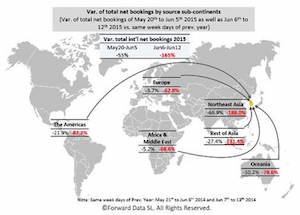 News In Brief
Outrigger Resorts toasts 68-year history with worldwide Founders Day celebration
29 September 2015 marks the 68th anniversary of when Outrigger Hotels and Resorts founders Roy and Estelle Kelley (pictured) opened their first hotel in Waikiki in 1947.
At the time, the five-story, 50-room Islander Hotel on Seaside Avenue was the first new hotel to be built in Waikiki since the construction of the Royal Hawaiian hotel 20 years earlier.
From the beginning, Roy and Estelle's vision was to "share the spirit of aloha" with every guest. Today, that vision has blossomed into a global portfolio of 40 properties in the most iconic tropical destinations throughout Hawaii, Asia-Pacific and the Indian Ocean.
On 29 September, Outrigger Resorts guests will be invited to raise a glass to Roy and Estelle's legacy of Aloha at Manager's Receptions being held at each resort, pick up a limited edition vintage T-shirt, enjoy special discounted room rates, participate in a fun social media contest, and more.
"When my grandparents founded the company back in 1947, they instilled several core values like providing guests with distinctive hospitality and value, and treating every employee like ohana, or family. I know they would be proud to know that these values are still at the heart of everything we do," said Bitsy Kelley, vice president of corporate communications at Outrigger Enterprises Group.
"In honor of Roy and Estelle, we invite all guests of Outrigger Resorts to take part in the host of activities we have in store."