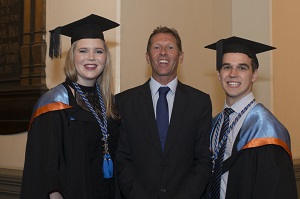 Human Resources
Latest hotel mgt cohort graduates amid high staff demand with Aus tourism to reach $129bn by 2020-21
Blue Mountains International Hotel Management School, which is now part of Torrens University Australia, has been providing high quality graduates to the tourism sector at home and abroad for the past 25 years, earning a reputation as the number one hotel management school in Australia and the Asia Pacific.
The latest cohort of students graduated at a ceremony at Sydney's Town Hall on March 4.
Mr Jerome Casteigt, general manager at Laureate Australia Hospitality, said: "The travel, tourism and hospitality industries are booming both here and overseas, especially since China surpassed the valuable Japanese market in visitor numbers, nights stayed and dollars spent. The weaker Australian dollar is also attracting international visitors.
"Our 2016 graduates have a valuable and unique combination of theoretical knowledge and practical experience which ensures they are ready to start their careers immediately."Enrolling in one of our programs is a wise move for those looking to work in the hotel industry. We offer specialist industry-aligned hospitality programs, highly respected by the global hotel, restaurant, catering and event management industries, in many of the areas that are directly benefitting from the sustained growth in Australian tourism."