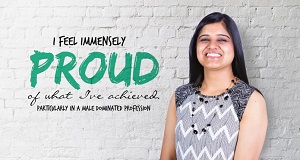 Aditi Sood, Shift Engineer at the Shangri-La Hotel, Sydney, is the hotel's first and only woman to work in the technical engineering department. She is now backing a new industry event, the Hotel Career Expo, on Monday, May 16, to encourage other engineers to consider a career in tourism.
The 29-year-old completed her Bachelor in Electronics and Communication Engineering at Himachal Pradesh University, India. However, while completing her Master's degree at University of South Queensland, a friend suggested she look at a career in the hotel industry as the jobs suggested by the university were not for her. Starting as a service associate within the hotel gave her a gateway to pursue her dreams.
Aditi says: "Working in the hotel industry has provided me the perfect platform to progress my professional career. No two days are the same and I'm proud to be part of the team, which keeps one of Sydney's most iconic hotels running to the highest possible standard."
She admits there aren't too many female engineers and it's still a male dominated industry; however, she loves the team she works with and her manager encourages her to grow and reach for her career dreams.
"When I first started as an engineer, you of course get jokes about women not being able to use a screwdriver," said Aditi.
"However, I proved myself after working for a year, which then saw me promoted to Shift Engineer. Moving into the hotel industry has been the best decision for me. I really want others to have the same opportunity."
Aditi is now a part of Tourism Accommodation Australia's first ever Hotel Career Expo, an event designed to shine a light on the diverse professional career pathways available in hotels. She hopes it will attract high quality professionals into the industry, to ensure that the first impression every visitor has is the right one.
The federal government has stated that by 2020, 123,000 workers and 60,000 skilled professionals, like Aditi, will be needed to prevent a skills shortage in the travel and tourism industry, with many of these roles required in hotels.