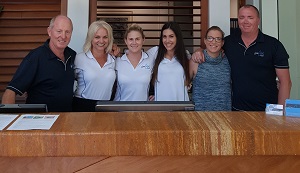 Profiles
Russell Leary returns to shake up Noosa…
Russell Leary, is a bit of an accommodation industry legend. He has been an industry stalwart for 23 years, owning various management rights throughout Queensland and New South Wales. Also an industry commentator, articles written by Russell Leary can be found in early publications of Resort News.
Russell and Belinda, Liam and Adelle, are stood either side of receptionists Mandy and Aimee
Originally from Tasmania, Russell bought his first management rights, Montana Palms, on the Gold Coast. After many years and quite a few resorts (around 30), he and his wife, Belinda recently moved their family to Noosa.
Attracted by Noosa's charming lifestyle and the rich opportunities and security that the move offered their family, particularly their talented triathlete daughter.
The current management operation is a little complicated but works for them. Noosa Lakes was purchased by Russell and Belinda in partnership with two other couples, onsite managers Jason and Lynda Chisolm as well as Liam and Adelle Kennedy. The management rights of Noosa Blue are owned by Russell and Belinda, Liam is the general manager, and they all work together as a team across the properties.
Their intention is to "resurrect these two resorts" as both were in need of a major overhaul and deserved to be reinstated to their original standard. "We also needed to get the owners' faith back, we needed them to trust us and now we have the occupancy headed back up," Russell said.
With this team of six there is a fusion of expertise. He added: "I am the old dinosaur now and these young guys are the way of the future. Liam comes out of a 10-year Mantra learning curve; add that to my street smarts and it's a very good mix. Jason and Linda at the Lakes have loads of experience, especially with the conference side of things, so we are a very good team."
Russell also has some ownership of resorts in Port Douglas and Brisbane and even now regrets some of the resorts he "let go" wishing that he still owned them but "you live and learn". He also laments on the changes he has witnessed in the industry over the years.
"10 years ago agreements were easy, there were no complications or unit owner associations, the industry did need to be cleaned up but now it is a whole new game. Body corporates are more reluctant to renew or top up their agreements and this will lead to a lack of good managers," he predicted.
In the future, according to Russell, body corporates may try to run agreements themselves, some already are doing this but it will not be the best way forward for the industry. He advised: "It is very important for new managers to make sure that their office is on title because at least if their agreements run out they can run a rent roll. If not, when the title runs out and the body corporate does not renew they will be out of business."
With massive changes in the industry over the next few years, according to Russell, it is more important than ever to "consult an experienced industry lawyer before purchasing and make sure you have as many years on your agreement as possible".
He also offered a great tip for new buyers: "Always meet the body corporate right at the beginning of negotiations. I don't know why it is the normal process for the body corporate to meet the potential manager right at the end of the purchasing process, this is like putting the cart before the horse!"
As for Russell's greatest achievement as a manager: "Always keeping body corporates on-side by being transparent and looking after the owners. I have the ability to work through any problem and compromise, so that a good outcome can be reached"
Russell Leary isn't going anywhere. This is the industry he loves and is very committed to. He may be passing on some of his wisdom to what he calls the "young guys' but I predict that he will be buying more properties across the Sunshine Coast.
He noted: "With 13 children between us all, we will probably buy more buildings because we are in this for the very long haul. We need to preserve this industry for our children, with limited job opportunities on the coast we need a thriving tourism industry to secure their future careers."