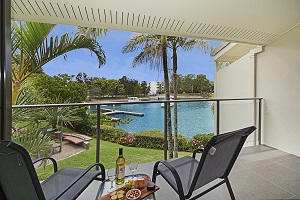 Situated on the private, tranquil banks of the Noosa River with 1½ha of tropical gardens, Culgoa Point Beach Resort provides unforgettable Noosa holiday accommodation.
The spacious, one, two or three-bedroom apartments come complete with water views, a private beach, a jetty and marina access. This resort is, without a doubt, the perfect destination for guests to immerse themselves in the ultimate Noosa Holiday experience. Resort facilities include a half-size tennis court, heated pool, children's wading pool, sauna and spa. In addition, the complex is a walkable distance from Hastings Street and not far from main beach or Gympie Terrace with amazing local attractions and award winning restaurants nearby.
Dene Grooms owns the management rights at Culgoa Point and it is easy to see why he was attracted to this particular resort. However, the story of how he came to purchase the rights is not so straight forward.
Dene originally lived in Sydney and worked in the building trade but stopped working six years ago. Changing his life completely, he decided to travel around Australia with his son Coden. His aim was to try to find out what he most enjoyed and what he wanted for his career.
Dene explained, "I love fishing, I worked on trawlers in the Gulf of Carpentaria, I shot feral donkeys, buffalo and camels in Western Australia and the Northern Territory. I went pearl diving at Thursday Island, gold fossicking in the Palmer River, bought and sold real estate in Mission Beach, did swimming instruction at Cardwell, ran a charter boat and a backpackers in Cairns, taught hang gliding at Stanwell Tops, coached soccer teams and did mill work in Tully but what I really enjoyed was my time working in resorts."
It was while working at the Transit Inn in Cairns, the Bohemia Backpackers in Cairns, several islands in the Whitsundays, and doing water activities on Dunk Island that Dene discovered his passion. "These times were my best memories, and I knew one day I would manage my own resort."
But how did Dene and Coden arrive in Noosa? "It was when Cyclone Yasi blew our house down!" he said. "We upped and moved to the best place I had ever visited – Noosa. For as long as I remember my family and I had holidayed in Noosa on our way to Fraser Island."
He looked around for a resort to buy for over two years but gave up, convinced that there was nothing in Queensland that suited his lifestyle. "I wanted location, location, location and lifestyle," he noted.
Dene had a strict criteria for his perfect resort: "It must be acreage, it must have a marina, It must be low set, without lifts. It can't be on a main beach, it must have private water frontage, it must be close to transport and shops and it must be in a popular holiday area." Most importantly, "I had to be able to keep my boat there for easy and quick access to great fishing."
Ironically Dene and Coden passed Culgoa Point every weekend during their fishing trips, they had looked in awe and noted that it was the ideal resort for them. But they felt that owning the property themselves would only ever be a dream and assumed that it was tightly held.
But nothing else came close. He looked at properties from Gympie to Caloundra to no avail, when suddenly he received a call from his broker about a new listing.
"I couldn't believe it," Dene said. "The mighty Culgoa Point Beach Resort on Quamby Place was on the market. I had to really control myself, not showing my excitement. It had everything I wanted: a large private marina, nearly 2ha, and it was the largest private waterfront resort on the Sunshine Coast. It had nearly 400m of private water frontage, the longest of any mainland resort in Queensland!"
It was perfect and Dene had to have it. "My son loved it, it was big enough, I could employ people who knew what they are doing and most importantly it gave me a career and lifestyle I could live with forever! How good is that?"
With minimum industry experience, Dene decided to employ staff that did have the knowledge and experience. This is where Damien and Trudy Miller came into the picture. A dynamic husband and wife team, Damien and Trudy are Dene's fantastic assistant managers. They are the first point of contact for guests and both have extensive experience in the hospitality industry, with an amazing set of combined skills to compensate for Dene's inexperience when it comes to resort management.
Damien is an "awesome handyman, gardener and yoga master" but Dene admits that it is Trudy "the office demon" who cracks the whip and keeps everybody running. Her strength is in her ability to organise.
Damien and Trudy had been self-employed since their 20's and were looking for a change. Trudy said: "The opportunity arose to work for Dene at Culgoa Point and we couldn't be happier. Culgoa is a huge property and there is always a lot to do. Between the yard work, cleaning, office work, customer relations, marketing, trouble shooting and of course pleasing the unit owners who do their best to keep us on our toes, the whole team has to be well organised and capable."
Dene too appreciates the whole team who keep this resort ship-shape and guest ready. He said, "I am so thankful to all my staff including Lee-Anne and Lynne who are both the most amazing receptionists, Emily who is our admin guru and computer wizard, Ali our marketing ace and of course to our cleaners – who are the best in Noosa."
Dene is incredibly enthusiastic and has a powerful love for his resort and its location but he tends to shy away from the limelight, preferring Damien and Trudy to take the lead. Indeed, he has an interesting management style and can usually be seen in t-shirt and thongs, inconspicuously pottering around the resort, chatting to the guests who usually assume he is one of them.
Dene added, "I think too many managers try and big-note their position to guests but I believe it can be counterproductive to the guests and also the unit owners. This way I can get a more realistic feel for the resort and can chat to guests on a more relaxed level.
"Although, I have been told off by my staff for wearing t-shirts and thongs," he jested.
After taking over the management rights late last year, Dene is so happy with how it has worked out, he cannot stop pinching himself. He wanted to pass on some lessons learned and some great words of advice for future management rights owners.
Dene's tips for success:
• Know your weaknesses, when find that you are no good at something, find someone who can do it. I acknowledged I don't like office work so I found the best people possible in Damien and Trudy to take that on.
• Employ the best people you can afford.
• If you are unsure what management rights you prefer – permanent or holiday – go and live at them both. I lived in a holiday motel for three months and for six months in permanent accommodation to make sure that I was getting into the right property-type for my lifestyle.
• Buy the biggest accommodation property you can afford as they are less volatile.
• Don't totally trust anyone. I can recommend more people to keep away from than honest ones, this is especially important with the broker you use. Find a good one, check out recommendations and use someone that has sold at least six management rights. When you find a place you like, tell the broker you want to use. Get as many recommendations as you can before you use anyone, especially brokers, lawyers and accountants. Get quotes from two finance brokers and insurance brokers every time.
• Door-knock other resorts in your chosen area and speak with other managers. I met David next door at Las Rias, Ray at Noosa Harbour, Glen and Suzy at Noosa Quays and Joanne at Sun Lagoon. These are all experienced managers in Quamby Place. Don't ever bring another resort down to make yours look better, try and find ways to help each other.
• Don't ever settle for second best or buy management rights unless you love the job and the lifestyle. The average turnaround for a management rights business is only four years. Would you buy anything, a car, home, or a business if you knew you would hate it in four years?
• Banks will lend you up to 80 per cent of the value of the business and don't worry too much about the business if it is a 10 or 25 year agreement with the body corporate. The bank won't lend you the money if the business isn't financially viable.
• Expect to look at 20 properties for every one you might consider appropriate. Do not rush, make sure you fall in love with the place. If it is not love at first sight, it probably isn't the one. Even if you love it, do your homework, then do it again. Check it out on TripAdvisor, read all the reviews, Google it and find out everything you can.
• Unfortunately by the time you see something advertised, it may be mainstream. Get your name out there, let everyone know what you're looking for and try to buy something before it is advertised. Use several brokers but engage the one you totally trust. Have lunch or coffee with your chosen broker every week and build a solid foundation so you are less likely to be sold a dud.
• If, after searching, you become disillusioned or are not sure this business is right for you just yet, you can still enter into a partnership. This is very common and specialist finance brokers set them up for you. It's worth looking at if you don't want to take on all the risk yourself, but still want to reap the rewards.
Guests arrive at Culgoa for a relaxed beach holiday. They can bring their boats, hire out kayaks or stand up paddle boards, catch squid from the pontoon at night or catch barramundi from the private beach. Families meet-up and watch their kids and grandkids splash around in the river while they sizzle sausages on the barbeque and they return year-after-year. Some families returning have been returning for over 30 years and, in fact, Culgoa means 'returning' in its native aboriginal language.
Dene and Coden get to live the relaxed life others only dream of and they are supremely grateful. Dene said, "My son is the envy of all his school mates who want to come for sleepovers every weekend. My friends come to visit with their families and we enjoy the river, I love meeting our guests and chatting with them about their experiences. This is the life I dreamed of and guests have the holiday of a life-time with us so I get to be part of that too."