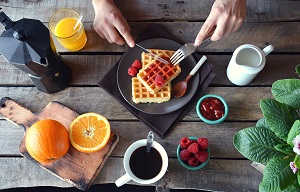 "Everyone eats!" is the motto I cite far too often to express the importance of having stellar food and beverage operations, both in terms of service delivery as well as the ingenuity of your cuisine.
'Fine' does not cut it anymore and unless you are constantly attempting to improve your operations, you run the risk of instilling complacency and a tired brand perception.
With new restaurants opening daily with fresh menus and concepts sourced from across the world, your job as a manager and restaurateur is only getting harder. Here's what I've learned from my travels, which you can apply for the remaining calendar year of 2016.
1. A restaurant doesn't have to focus on one specialty.
Yes, it's easier to market, but blending two very different yet established styles into one venue can work if you give both the attention they deserve. The one example that captured the best of both worlds was a steakhouse with sushi for appetisers and several fish fillet entrées.
2. Reinventing house wines.
Why not create custom blends at recognised vineyards, curated uniquely for your restaurant? Partner with serious wineries and price your bottles appropriately (that is, not bottomofthebarrel jug wines) to provide a beverage experience unique to your property.
3. Mix and match appetisers.
Often, couples or groups want to share taste experiences as it adds to the conversation. This is especially true for starter or tapasstyle menus. Using a 'three place' and 'four place' serving dish, offer the customers an opportunity to select multiple appetisers at a combined price.
4. Appetiser samples with beverages.
Imagine that every cocktail served in the bar had an accompanying appetiser that was specifically matched to the drink… This creates a playful companion service while adding to margins. You might also consider a tiny portion accompaniment as an amuse bouche to introduce an element of surprise.
5. The case for tacos.
I've been smitten by some of the best tacos ever created on the face of the earth, and this trend is not exclusive to the American Southwest. Literally, any meat, vegetable and sauce mixture your chef can create can be supported within a soft taco shell. Use your imagination and have some fun. Tacos can be apportioned for starters or mains – they're adaptable!
6. Tea Time done right.
Sorry, but few of us outside of the commonwealth elite know how to serve tea properly (the traditional British way). It's time to take tea seriously: teapots unique to each tea blend, teacups with saucers and very hot water. Local sourcing isn't always possible but nevertheless, be on the lookout for smallbatch suppliers.
7. The days of 'supersizing' are over.
Smaller portions and unique preparations are the future. Even something as simple as a burger and fries has been rightsized. The key is higher quality ingredients; patrons will feel full from smaller portions because the ingredients have higher concentrations of nutrients. Local sourcing naturally implies quality as most forms of storage or processing reduce nutrient concentrations.
8. Heat has no bounds.
Hot sauces, spicy accompaniments and custom chipotle items are appearing everywhere. A chili infusion seems to be the standard for many new menu elements, even if it's a subtle kick muddled by yogurt or aioli. Sriracha is the new hot sauce; harissa is the new sriracha. Any way you put it, the days of bland food are over.
9. Breakfasts are no longer boring.
Throw out your standard continental breakfast menu. Yes, many people will seek normalcy to kickoff their days but the world is slowly awakening to a more adventurous morning. Think regional specialties, unique approaches to staples like eggs benny and artisanal breads. Find your chefs the freedom they need to innovate.
10. Buffets for foodies.
The words 'buffet' and 'foodie' are rarely used in the same sentence, unless of course you are dealing with a foodie subculture devoted to the former. Consider the new trend of highend buffets that are actually more in the ways of samplers with everything you would expect at a chef's table; not inexpensive, obviously, but still an outstanding way to break from the pack.
With these ten suggestions, it's time to challenge your team. Encourage them to go to new restaurants on a regular basis. Learn what you can and don't be afraid to make it happen.