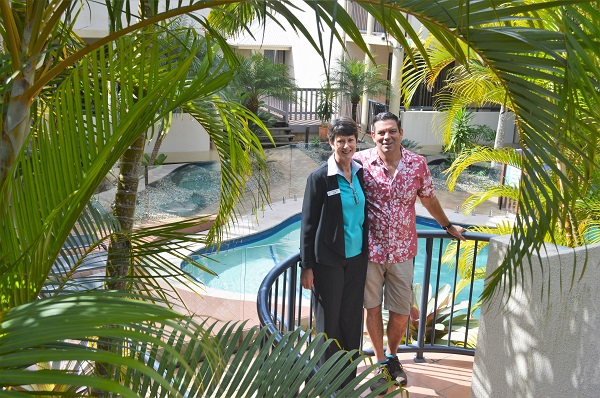 Profiles
Go with the flow: Outrigger Bay Apartments
Sitting on Australia's most easterly point is the delightful Byron Bay, a relaxed holiday destination that attracts visitors worldwide because of its laid back lifestyle, surfing beaches, national parks and stunning wildlife reserves.
Outrigger Bay Apartments occupies a position in the hub of Byron Bay's quirky town centre; among numerous cafes, restaurants and boutique shops, with Belongil Beach and surf break 'The Wreck' on its doorstop.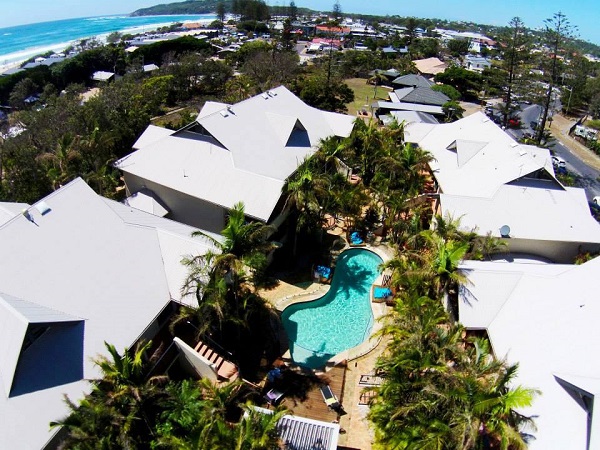 Byron Bay has a stress-free, 'go with the flow' vibe, considered by the local indigenous people to be a special place radiating healing and positive energy. The area also boasts excellent shopping, delicious food, bustling nightlife, wonderful markets and much more. David and Janice Riddel are the on-site resort managers of Outrigger Bay Apartments and were immediately beguiled by this charming location and the lifestyle it offers.
Outrigger Bay Apartments has "sparkling clean and spacious" two and three-bedroom, fully self-contained holiday apartments with direct beach access onto Belongil Beach. There is also a large salt-water, heated pool, a spa and a barbecue area.  The property is noted as being a very "family-friendly complex offering loan boogie boards, beach/pool toys and even a herb garden for guests eager to cook in their apartments".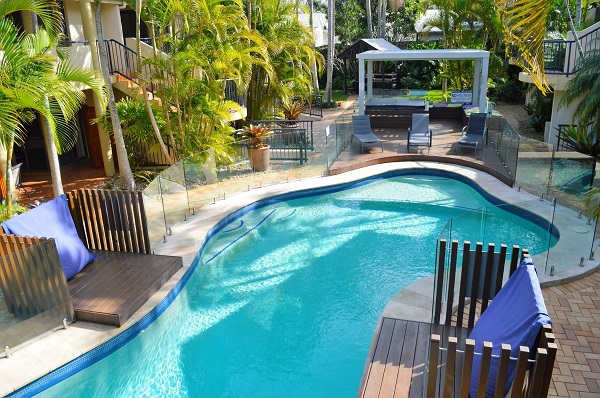 David and Janice are first time resort managers who purchased the management rights in January 2014, but arrived with an abundance of transferable skills. Janice told us: "Our management experience came from running our own electrical contracting business for many years in Coffs Harbour and I also have many years of office administration experience.
"David's main focus was our electrical contracting business that operated within the tourism industry, actually our main clients were managers in holiday accommodation.  While dealing with these resort managers, David developed an interest in the accommodation industry, and here we are!"
The effective combination of Jan's office administration experience and David's trade background ensures a winning team for Outrigger Bay Apartment owners and guests. After looking to purchase the management rights for many other resorts, David and Janice decided that Outrigger Bay Apartments was the property that they 'had the most confidence in".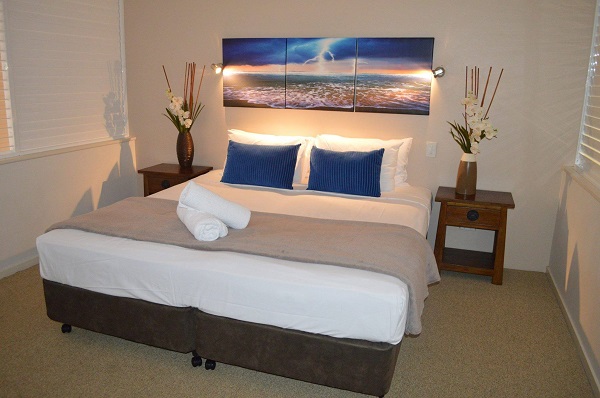 Their first management task at Outrigger Bay Apartments was to "dramatically improve the overall cleaning of the apartments and property. Janice said: "Now we constantly have guests telling us that they have never stayed in a place so clean – they really appreciate this.
"Due to the age of the complex, which was built in 1995, we also needed to concentrate on getting the general maintenance up to scratch. We have made improvements to the efficiency of the utensils in all the kitchens so our guests can cook comfortably in the apartments.
"As well as this, we look at each apartment individually and do our best to keep each apartment up to a high standard and replace or improve furniture, beds, blinds, carpets, etc., as they are needed. The improvements have made our owners and repeat guests very happy with the way the complex and apartments now look," she added.
The couple continuously strive to ensure that this holiday complex really does "create wonderful family holiday memories". And, for their finest achievement so far, Janice proudly told us: "We are gold listed with Star Ratings Australia, and we are placed sixth in NSW for serviced apartments.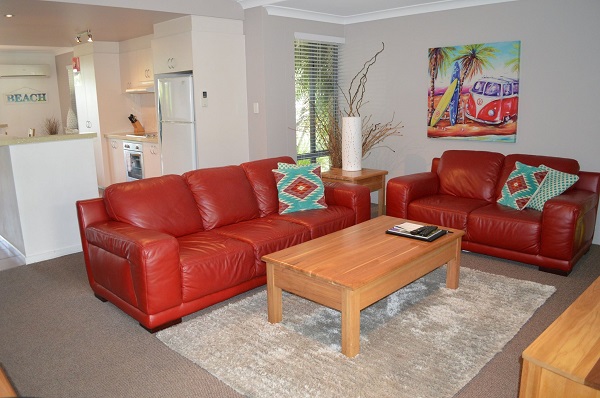 "We have worked very hard to get loyal, reliable, hardworking staff and so it goes without saying that we are extremely proud of our team, it really has been a team effort to get us to where we are now and to receive acknowledgment for all our hard work is incredibly rewarding.
"It is wonderful that we are now at a point where we can go away for a holiday and leave the property in the very capable hands of our staff.  Our biggest learning curve is ongoing and that is to create a balance in our life; learning when to switch off is a challenge when you live on-site but we do try to get away often to prevent a burn-out."
The couple also have wise advice for those new to management rights: "You must look after your employees as this will result in loyal, reliable, trustworthy and hardworking staff and you will need the help and support of good people to survive the intensity of this line of work."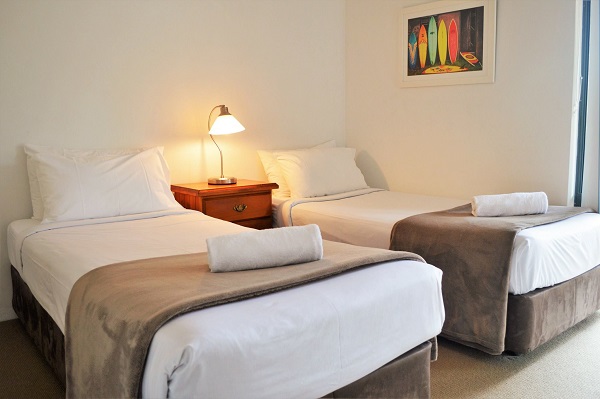 David and Janice both agree that the business of resort management, although it can be all-consuming, is exceptionally rewarding. "We love to see our guests, especially the families, having a great time. It is terrific to have happy owners, happy staff, great feedback, and to be recognised for all the improvements that we've made is the icing on the cake!"