Check out our exclusive video profile! On August 1, Diddillibah, Sunshine Coast, didn't quite know what hit it, as game-changing luxury holiday park Big4 Rivershore Resort opened its doors to an eager and excitable horde of guests. In its first week, the glamping extravaganza was at full capacity from Thursday 'til Sunday, which is no small feat.
The family destination offers a variety of accommodation options for all ages, ranging from traditional campsites to luxury glamping. There are 80 spacious BYO tent and caravan sites, 13 king safari tents and two family safari tents, but it's the facilities that truly impress: enough to win over terrible toddlers, cynical teenagers and jaded grandpas alike.
accomnews  spent a day at the resort to gauge how true those claims of "camping at its best" really were; intrigued by the concept of "luxurious, self-contained safari tents" and honestly, as someone who has avoided many a camping trip, within minutes I was enchanted.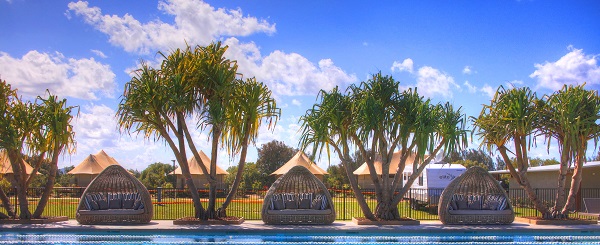 The resort itself is a family venture for co-owners Bernie McGovern Sr, his wife Kathy and their two sons, managers Bernie Jr and Will, who lives on-site with his wife Hailey. Bernie Jr was my tour guide for the day; he explained that his family's vision for the park began several years ago when they purchased a prime chunk of Maroochydore riverfront land. No holiday park or camping ground had been developed or opened on the Sunshine Coast in over 40 years but this did nothing to dampen their enthusiasm. In fact, it convinced the McGoverns that they were on to something special as they sought out planning approval. The process took about three years but never stopped being a labour of love.
Bernie proudly reiterates: "The highlight for me is working with my family. Dad built the entire place and managed all the construction; mum designed all the interiors and did an amazing job. I travel from Brisbane and Will and his fiancé Hailey live on-site and between the three of us, we manage the day-to-day running of the resort. Working with them is so rewarding as we have similar ideas – fresh ideas. We went on family camping trips when we were younger and based this resort on what we loved best about those holidays."
This sense of family reverberates around the whole property; every inch feels as though it has been designed to create memories. We walked passed a row of safari tents beside the river, where a couple of guests (returning for their third trip already, if you can believe it) were arriving by boat while two older gentlemen were throwing casual lines into the water. Bernie shared that during warm nights they stage outdoor movies and on weekends kids around the resort are invited to impromptu soccer games and yoga classes. Next to one of the larger tents, staff were adding some final, fairy light touches to a newly-erected pint-sized tent for pint-sized guests, featuring a little chalkboard that read 'welcome Taylor and Clancie to your mini glamper', it had twin camp-style beds inside and even miniature amenities. A cool touch for any child, Bernie joked that parents love the option of having a separate kids-only tent.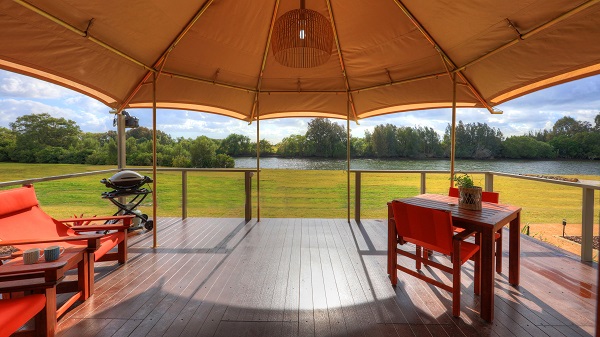 The resort boasts three pristine amenity blocks that have been decked out with first-class speakers, there are three well-designed camp kitchens, and each site runs on metred power. The safari glamping tents all have added features, like private barbecues, kitchenettes and even ensuites. Meanwhile, the café/restaurant and bar provides guests with divine, locally roasted coffee, craft beer on tap, a beautiful wine list and mouth-watering menu. The eatery and bar overlook a huge pool, bustling with kids riding the waterslides on a loop. There's also a water spray pool for younger children, and plenty of dry facilities to enjoy as well. Of course, as a serious journalist I had to try out the jumbo-sized jumping cushion (you can check out the footage in our video profile of Rivershore Resort on accomnews.com.au, if you dare) but there's also a mini golf course, children's playground, and even a range of canoes, kayaks, bikes, etc., for hire. When the kids fall asleep after a busy day of activities, you can imagine thrilled parents and grandparents enjoying a romantic meal in the 80-seater restaurant.
Upon arrival, I was struck by how tasteful, spacious and modern the reception area and communal facilities are, as well as how polite and professional the staff were. I witnessed the kind of service you would expect from a luxury hotel and was heartened to learn Bernie had chosen his staff for their approach, not their experience. He revealed: "Their skills are growing every day; we have a fantastic team, they all come to work with a positive attitude and that is the most important thing. We all share the same goal – to make sure our guests are happy."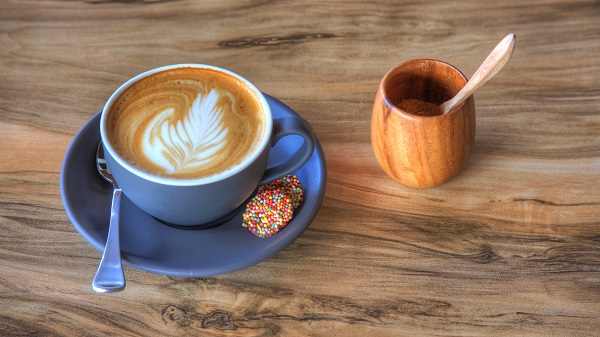 Head housekeeper Sarah Grady lives locally and has been part of the team since the very beginning. She shared: "It has been fun to set-up and a challenge, but working here, especially on the glamping tents, has been a great experience." As she joked about the idyllic weather and how nice it was to work somewhere her children loved to visit, it soon became obvious that Sarah genuinely loved working at the resort. "My job is not mundane," she smiled, "every day is different and enjoyable. I practice towel origami and my bosses encourage me to be creative."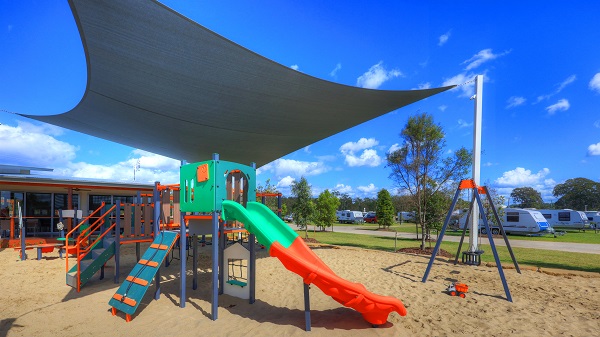 The theme at Rivershore Resort is definitely family and there is a vast array of activities to suit all ages from the 25m heated lap pool to the assortment of play areas, planned activities, picnic spots and river leisure. Bernie noted: "My wife Jane and I have a three-year-old daughter, Isabel and a baby boy due in a few weeks, so we know how important it is to cater for families with children of all ages." They really have thought about everything: in the rain, they open up the conference hall to guests for movies and games.
But let's get back to the main attraction: glamping! The luxurious, self-contained safari tents were shipped over from South Africa and are lined up gracefully along the riverbank, taking in the relaxing ebb and flow, still just a stone's throw from the poolside restaurant buzz.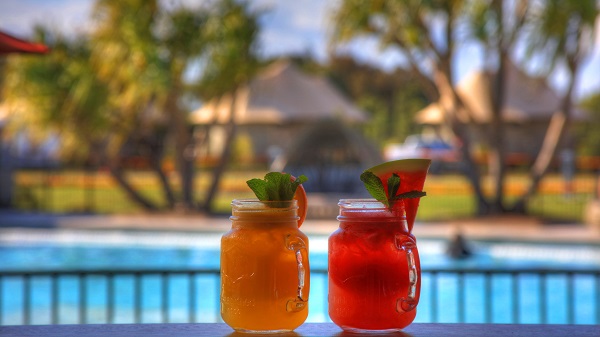 From afar, the tents look regal and inviting; essentially canvas huts with wooden decks, power and plumbing, they provide a covered space for barbequing or quiet contemplation but you still feel like you are in a tent. The soft, inviting drapery of each canvas opens into a beautifully designed guestroom. Bernie said they were very passionate about using local suppliers and he could tell us where each item was purchased from without missing a beat. The beautiful king-sized, four-poster beds complimented mum Kathy's choice of natural, Nordic-style wood, leather furniture and animal skin rugs.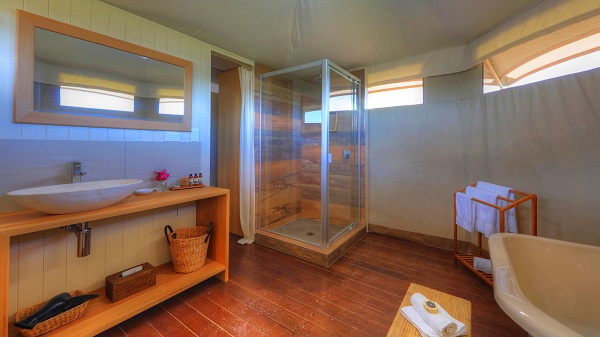 The space behind each room's bed partition revealed a wardrobe and practical kitchenette, that lead into a surprisingly spacious and ultra-stylish bathroom, with a wooden vanity, sumptuous claw foot bath, separate shower and a vast collection of wonderful amenities provided for guests to indulge in. The rooms offer free tea and coffee but no mini bar as guests are encouraged to venture over to the on-site eatery. With an overall impression of earthy comfort and natural style, the materials, fabrics and colours have been put together in a relaxing, back-to-nature way that still feels opulent.
The light fittings and fans create a focal point at the centre of each gathered ceiling, with a light and wonderful breeze flowing through open insect net openings. Of course, there is no air conditioning but the river does seem to create a natural breeze. It also must be mentioned that this is high tech camping for the 21st century family.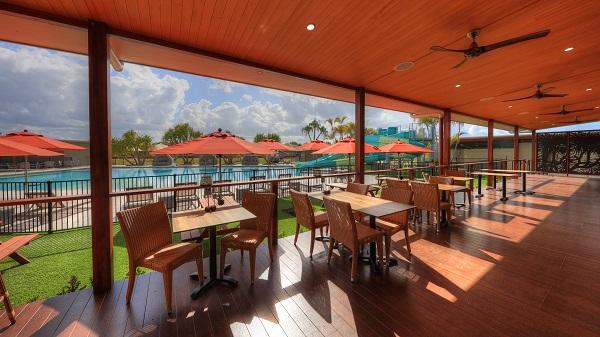 Bernie explained that because the resort is brand new, they installed a state-of-the-art infra-structure. The glamping tents have smart TVs and high speed wifi is available throughout the property. The conference room has the most up-to-date technology available and there are speakers in each amenity block, the powered sites are controlled from reception and everything is automated, including the CCTV and boom gate access.
However, luxury glamping is not the only accommodation option; for those who seek a more genuine camping experience, the team can set a tent up for arriving guests, taking all the hard work out of camping but leaving in all the fun. If teenage visitors can't hack a total break from screens, Rivershore Resort has the wifi infrastructure ready to fall back on.

The McGoverns decided to join the BIG4 chain fairly early in the process. Bernie revealed that being able to network with other BIG4 owners was invaluable and access to the database was "worth its weight in gold", meaning they didn't need to rely on OTAs. Steven Wright, CEO of BIG4 Holiday Parks, commented that the new park has been a wonderful addition to the BIG4 family. "We welcome Rivershore Resort to the BIG4 team and are excited about the range of accommodation options and facilities on offer."
The family have identified an upward trend in the popularity of camping and caravanning holidays, particularly among high income families. Meanwhile, they noted that the number of camp sites had declined over recent years. By opening a 100 percent tourist, family-centred holiday park, they see Rivershore Resort as well positioned to meet the rising demand for modern camping experiences. Bernie noted: "We believe that just because you choose camping doesn't mean you have to put up with second-rate service and facilities. Campers deserve better!"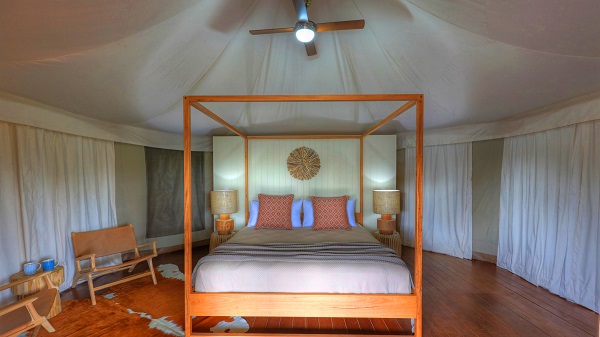 Bernie is very experienced in the industry, as a part-owner in 65-room motel Chinchilla Motor Inn, alongside his dad, he has been a property manager for 10 years, somewhat ironically, on a property that was a caravan park they turned into a successful motel.
Guest reaction to the new resort has been extremely positive, both online and face-to-face.  "It has been a big achievement to even get this off the ground! It's our family business and we want to hold onto it for a long time, growing it into one of Australia's best parks," Bernie added. "I enjoy everything about my job, but especially the interaction with customers, it just makes you feel good about yourself when people tell you that they've had the best holiday."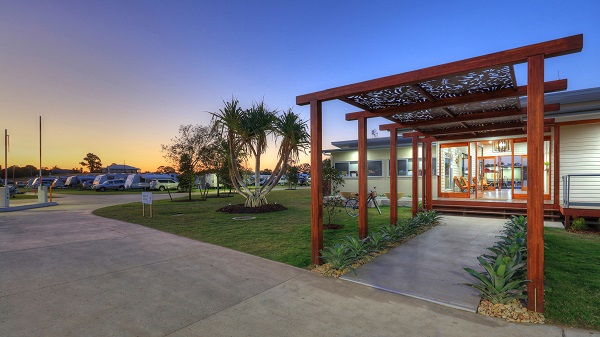 Together, the McGoverns have built the kind of place that makes you smile. Whether glamping or camping, guests are constantly making lifelong memories at Rivershore Resort. A magical achievement for an enchanting concept property.