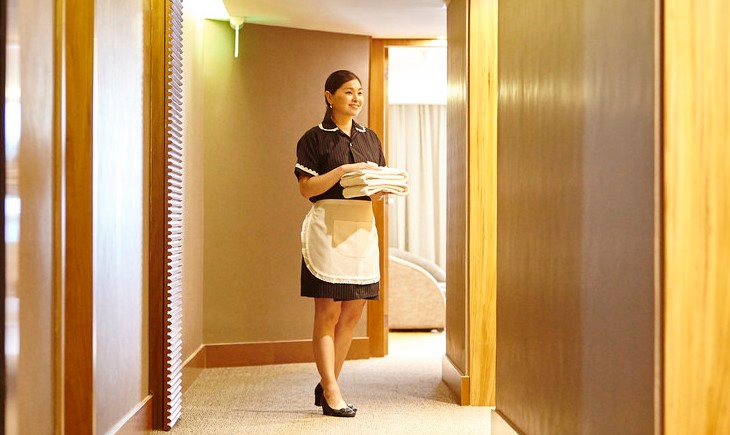 Hotel housekeeping is almost an artform and it certainly can be testing at times but with the right methods, a few secret weapons and some simple tips, you could find cleaning hotel rooms much easier; especially if you are new to the industry.
A few tips:
Clear the clutter first. Clean out the bins and get rid of any dirty linen.
Do the bathrooms last – it's best to start in the bedroom (rather than the bathroom) to minimise bacterial transfer
Give drapes a good whack in between deep cleanings.
Remember to clean the showerhead – tie a bag of vinegar around the showerhead and leave as long as possible during your clean. It will dissolve any calcium build-up on the head.
Always sweep and vacuum before you mop
Some secret weapons:
Make your own cleaning agents using Borax, vinegar, sodium carbonate, and baking soda (sodium bicarbonate) and add a few drops of essential oils like citrus, lavender, eucalyptus or peppermint.
The secret to effective dusting is a good quality cleaning cloth. Microfiber is the best.
Cleaning products take time to work effectively – the longer you leave them to do their job, the easier it will be on you.
Vacuum the opposite way that you've been taught. Instead of starting at the furthest part of the room and vacuum towards the exit, start at the exit, then do the room and finish with the exit again, so you are vacuuming the most used areas twice.
The best secret weapon a cleaner can have is a simple mixture of vinegar and water.
And always have a toothbrush handy for very hard to reach small spaces.
No matter how well you clean, there are always other methods that can make your job easier, and in return give a better experience for the hotel's guests. Always be on the lookout for better natural alternatives, it may offer a solution to a problem you never thought you had.