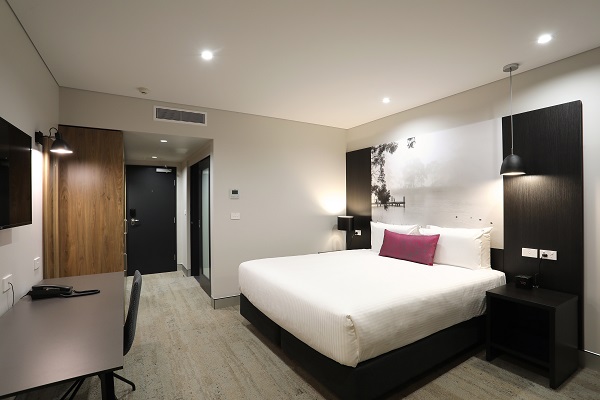 Tamworth's newest 4.5-star hotel, AccorHotels Mercure Tamworth recently opened its doors to excitement and adulation. The 52-room hotel operated by Wests Entertainment Group, in partnership with AccorHotels, is a very welcome addition to the area.
February's official unveiling signified a confidence in the region's economy and its potential for tourism growth: it created local jobs and bestowed a unique hotel to Australia's country music capital. Mercure, AccorHotels offers a different type of accommodation that works well here, a "midscale hotel brand that combines the strength of an international network with a strong quality commitment and the warm experience of hotels that are rooted in their local community".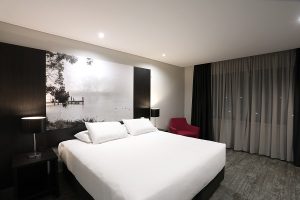 Wests Entertainment Group already operates three highly reputable entertainment venues in the area and Mercure Tamworth positioned in Wests' sporting club district will uphold the brand to the highest standards. Rod Laing, CEO of Wests Entertainment Group, says: "Wests have been an integral part of Tamworth's North-West community for over 50 years supporting the region's tourism industry alongside countless sporting and community achievements through sponsorship and support.
"The recent alignment with the Mercure brand complements our existing community-focused brand, and we are extremely excited to be partnering with AccorHotels. We believe the hotel will guarantee a new accommodation experience for those visiting Tamworth and the region any time of the year."
Club industry developments (like this one) where reputable branded hotels align themselves with like-minded club businesses to utilise brand association and bring business and leisure to areas that may not be traditional holiday destinations, or business precincts, could be a future trend. Mr Laing points out: "The tourism industry is becoming more nomadic, as society becomes more technologically obsessed and 'plugged in', holidays are becoming more about 'unplugging' venturing into isolated areas, exploring new holiday destinations away from the norm and off the grid."
The hotel's budget was $16 million and had over 40 local and regional businesses and suppliers involved in its construction. Its incredible world-class facilities include: a heated swimming pool, gymnasium, shuttle bus service, 24-hour reception and room service, corporate meeting rooms and direct access to West League Club.
Each of the 52 rooms have been meticulously designed, including a self-contained apartment and the Adam Harvey Suite. They are all comfortably furnished with modern interiors and facilities including an LCD television with Foxtel, pay-on-demand movies, free wifi and a tea and coffee station, room safe, iron and ironing board, hairdryer, and amenities.
Completion of stage one of the hotel project will see a newly renovated terrace located outside Legends Lounge, a patio alongside Banjos restaurant and a gazebo erected on the landscaped area by the pool with a chapel-like setting for weddings and elegant functions. The hotel carpark will also see the installation of awnings.
Stage two of the hotel project is expected to commence late-2017 and once complete, the club precinct will include a 360-capacity function centre, boutique stadium and a large club offering food and beverage outlets, entertainment venues and gaming and conferencing facilities.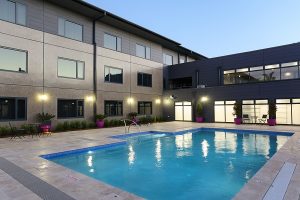 Rebecca Russell is the Mercure Tamworth's manager: she grew up in the Goldfields region in Victoria, surrounded by boutique luxury accommodation and a farm to plate culture. Rebecca reveals: "I started my formal career in front office as receptionist at Craig's Royal Hotel, Ballarat, a role that quickly progressed into a senior position as accommodation executive and functions manager."
She went on to gain experience in some of the region's premiere corporate motels, lodges, resorts and hotels. Later, as a functions manager, she developed a love of events that evolved into a position in wedding and event planning. Eventually, Rebecca was offered a position at AccorHotels within the Accor Executive Leadership Program, a fast track program for high potential individuals looking to develop into an executive or general manager.
Her journey with AccorHotels began with events management, then hotel operations management at various Accor properties and now as hotel general manager she continues to relish the journey. "Most of all, I have enjoyed the range of property types and the opportunity to see Australia, and I look forward to owning my own boutique luxury resort with a wellness focus, one day," Rebecca adds.
The Mercure Tamworth has been a long time in the making, according to Wests' CEO Rod Laing, "For over 20 years we had a vision to build a small motel near the club. Over time that vision started to take shape – to build an internationally branded midscale hotel and conference centre within the league club's precinct. Watching the board's initiative come to fruition and to a very positive reception, is a testament to their forward thinking," he acknowledges.
The construction coming under budget has been one of their biggest achievements. This accomplishment was aided by certain design choices and by employing local tradespeople where possible. These decisions also maximised the quality, lifespan and overall aesthetics of the hotel.
The project came with challenges: mainly keeping true to the budget and to the timeframe, ensuring the project would run to schedule. Excellent project management ensured these challenges were overcome with exceptional results delivering an extensive project on time and under budget.
A great point of pride for this project was the number of local contractors used: "Keeping the main elements of planning, construction and design local has enabled the project to inject a significant amount of money into local businesses, which has been opportune for the region," Rod confirms.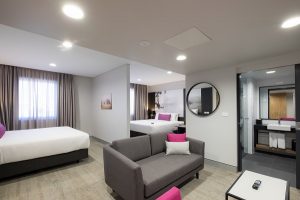 So, what is the best advice Rod can give about developing a new hotel? "Employ a reliable and pro-active project management team," he suggests.
"We were very fortunate in terms of project management, because dedicated and enthusiastic staff make all the difference. Moreover, our relationship with AccorHotels proved beneficial, the experience and expertise that came with this highly reputable hotel group, alongside the reputation of the Mercure brand, was arguably one of the best decisions we made, after committing to the build."
The Mercure Tamworth is a fitting tribute to the region and indeed rural living, the hotel is cut from a different cloth to other establishments. The rooms reflect an "earthy tone" constructed by the calming colour palette and clever interior design choices, with the standout focal point of each guestroom being the headboards that display landscape portraits unique to the region.
Seven photos from photographer Andrew Pearson's collection of work, 'Reflections of our Region' are also delightfully displayed, celebrating the incredible beauty of the location and presenting the hotel as the perfect New England country escape.
Furthermore, the architecture and design from the choice of carpet to the statement chandelier in the entrance foyer, of the hotel reflects an Indigenous theme. Beautifully done, this tells the story of rain falling onto a riverbed ebbing and flowing through the hotel.
The surroundings surpass all expectations but the hotel also offers a first-class service. "We listen to guests and anticipate their needs, allowing us to exceed their expectations. This level of service isn't just about researching consumer demands and providing the subsequent facilities to meet those demands, such as: pillow menus, accessible rooms, showers, and stand-alone baths, 24-hour room service, all of which are available at the Mercure Tamworth.
"More importantly, it's also about providing a personal and comfortable experience, and making guests feel at home, therein making the experience as natural, pleasant, and seamless as possible," concludes Rod.