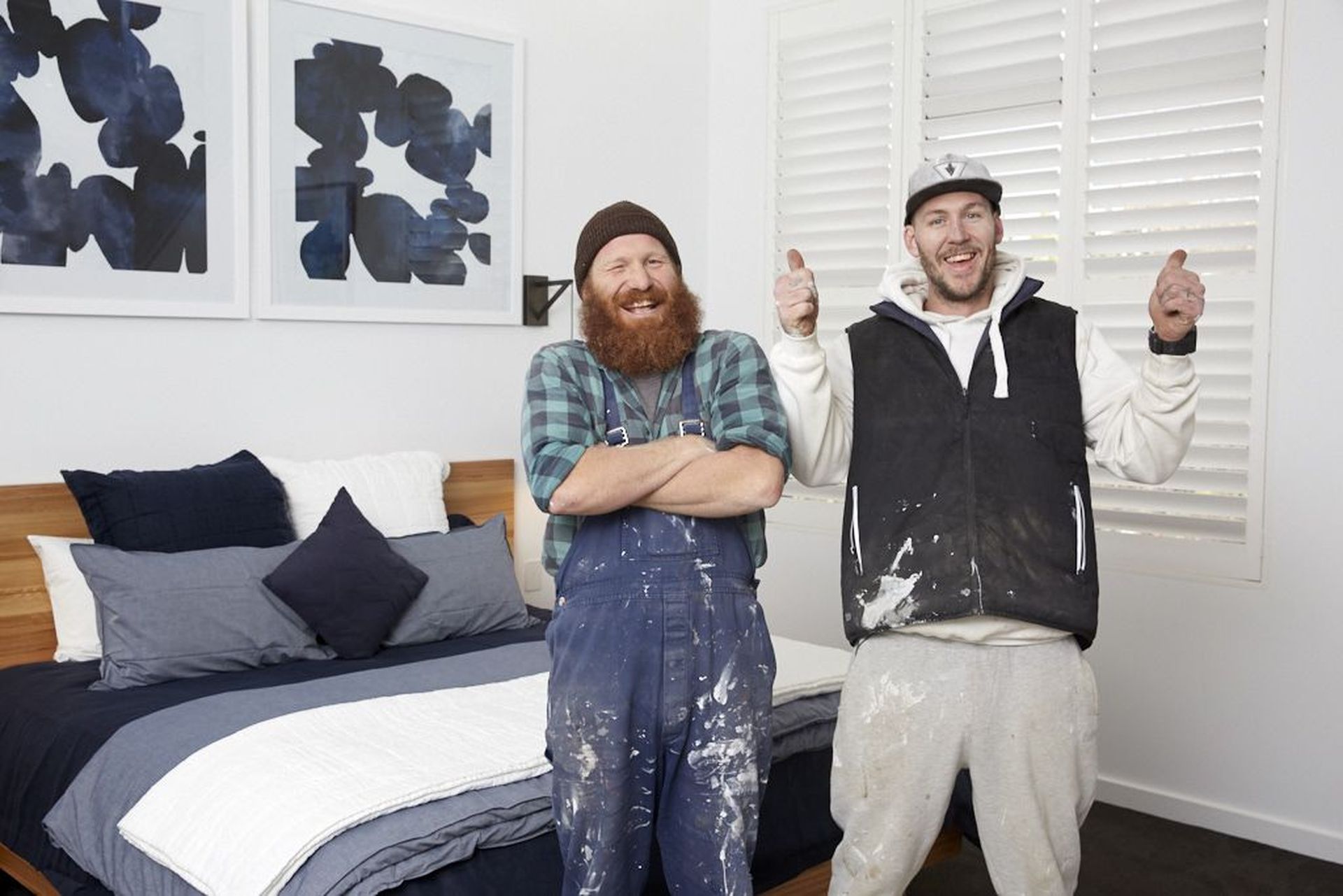 News
Winning design tips from Australia's favourite Wombat
Clint Price, known to Australia as 'Wombat', isn't your average design guru. He lives off the grid in a repurposed shipping container, heats a kettle over a fire for a hot shower, and enjoys the simpler things in life – but throughout his time on reality renovation show The Block, Wombat became well versed in the dos and don'ts of luxury design.
Today, he shares his insights on what's 'in' with Accomnews.
Armed with his signature overalls and Akubra, Wombat was happy to step up to the challenge of designing rooms on The Block, in Ronald McDonald House accommodation, and even a Stayz holiday rental. Entering the reality show with his tradie friend 'Sticks', the pair determined their roles in the renovation before filming even started.
"We decided from the get go, Sticks being the tradie, we needed someone to be doing the run around and that was going to be me," Wombat shared.
"I pretty much had to learn from scratch. I work in the surf industry outside of The Block so I had done some stuff with colours and textures before, so it wasn't completely new to me. I used to do a lot of clothing, so it was all about picking colours and fabrics and technical things like that."
For Wombat, the hardest part of designing a room was determining what was on trend, and what pieces would last the test of time. With few social media accounts, he shared that prior to The Block, most of his time online had been spent looking at shipping container designs rather than Pinterest inspiration boards.
"I couldn't get it going," he laughed. "I don't have an account for anything like that. Then we ended up on The Block and I became the designer, so it was a tough one. I would go to the suppliers we used to ask what was happening and what was the next big thing."
With the bed being the focal point of any guest room, Wombat shared that while it's difficult to dress a bed for luxury, it's not impossible. Talking with suppliers and other contestants gave him plenty of inspiration, as well as inside tips on comfort and aesthetic.
"It's a funny one, because it all comes down to the number of cushions you put on the bed, and it still does my head in. It's not possible to use them all, and they all end up on the floor anyway!"
"When you look it up, there are actually some rules and suggestions about how many pillows are too many, and what's not enough. You've got your European square ones, your two rectangular ones, and then a few cushions. Some people were even saying to put two doonas in a cover and I was like 'What? I can't even get one in there, it doesn't stay in the corners'! It's all about making it look bigger than it is."
"The other thing we were told to do was to use an oversized doona," he continued, "so if you have a queen bed you want to use a king-sized doona to make it feel bigger."
Taking his design role seriously, Wombat soon learned that the most important design concept for any room is to keep it simple and functional, and select one 'hero' piece. The same goes for guest rooms.
"You just have to make one thing the winning piece and work around it, don't try and over capitalise on too many winners. Select one major focal point and then you just need those one-percenters to fill it in," he said.
"We did too many things in some rooms, where there was something that was way over the top, and then a cabinet that was too much, and then something else – you just want to go for that one thing that grabs everyone's eye."
With Sticks working as a carpenter outside the show, the pair introduced a lot of wood into their Block home, and while they love the warmth that wood can introduce to a room, they soon realised that there's a right and wrong way to use it in room design.
"You really do need a centrepiece. We really love wood, and it definitely works, but if you've got a wooden floor then you can't put a wooden bed in, so we had to wait until we had a carpeted room. You don't necessarily have to go wooden side tables with a wooden bed either. Mix it up a bit."
Living in a repurposed shipping container, completely off the grid, it's no surprise that Wombat's passionate about sustainability. Using recycled timber, upcycled furniture, and even a swimming pool made from another salvaged shipping container, the pair managed to keep their house as eco-friendly as possible. Wombat encouraged designers to consider what happens to furniture and decorations once they're discarded for the next big thing.
"I think sustainability is really important, and it's only going to get more important as we go on. The hard thing with fashion is that it moves so fast that if we're forever getting rid of one thing and bringing in another and throwing out the last one, we're going to create a lot of problems with landfill for things that won't get used again," he expressed.
"I think we're building stuff too much these days just to throw away. We're a throw-away society so we've really got to think about it and go with trends that are going to last for longer than just six months. You can start by picking something that you think isn't just going to be a trend item and be done and dusted quickly, especially colour wise. There are some companies out there that are using different cottons and things like that which are more sustainable, so anything like that helps."
When it comes to his own stay in a hotel, Wombat's design preferences are just as sustainable and functional as his choices on The Block. He told Accomnews that his ideal hotel room would have wooden floors over carpet, a comfy couch over a desk, a detachable shower head over a rain shower (because he doesn't like leaving his beard hairs behind), and a cheaper price tag over a view.
"I'm a tight arse, I love a cheap price tag. Then again, it has to have some kind of a view!"
With The Block filming having wrapped up a few weeks ago, Wombat's back at his shipping container employing the skills he learned on the show – but in true Wombat style, he's keeping things a bit more simple and taking it as it comes.
"In terms of the future, I'm just going to see what happens. We'd love to do some more stuff, but obviously it has to fit in with who we are and what we do, particularly for me with the sustainability side of things. You never know what's coming up!"