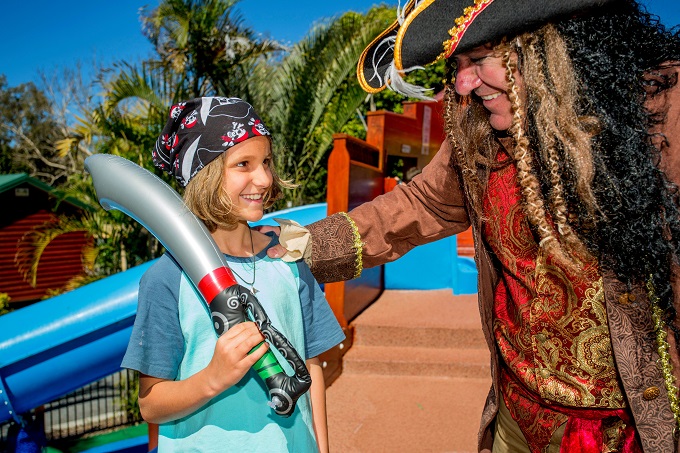 Halfway between Sydney and Brisbane you will find BIG4 Sunshine South West Rocks. Nestled in one of New South Wales' most beautiful mid-North coastal towns, the site has spectacular natural reasons to visit.
Sure, there are plenty of stunning beaches and national parks, but the resort itself adds a dazzling ray of sunshine!
This is a Profile that appeared in a recent issue of Accom Management Guide – we love our print mags and you will too! 
Developed with young families in mind, all the facilities have been designed to bottle joy. 'More fun' is Sunshine Resort's tagline, and it's certainly the atmosphere onsite.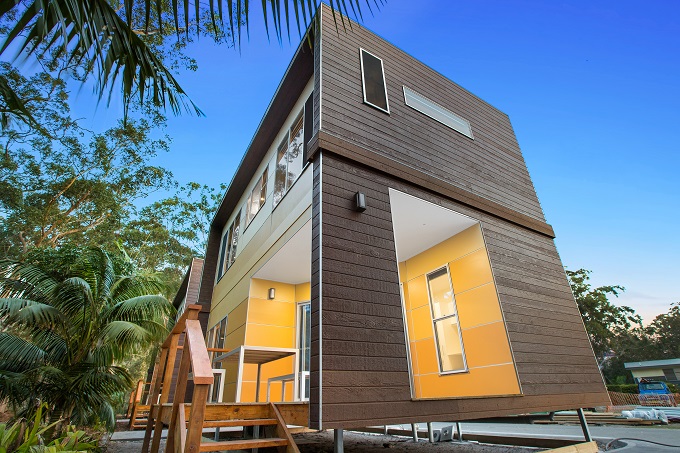 Five minutes in and guests quickly discover kid-heaven; a real Neverland. With leisure facilities including a Shipwreck Island water park, resort-style pool with toddler play and spa, mini putt-putt, a kids' club, games room, movie room, rental go carts, bike and canoe hire, half court tennis, (high speed) wifi, and an onsite café/restaurant to boot.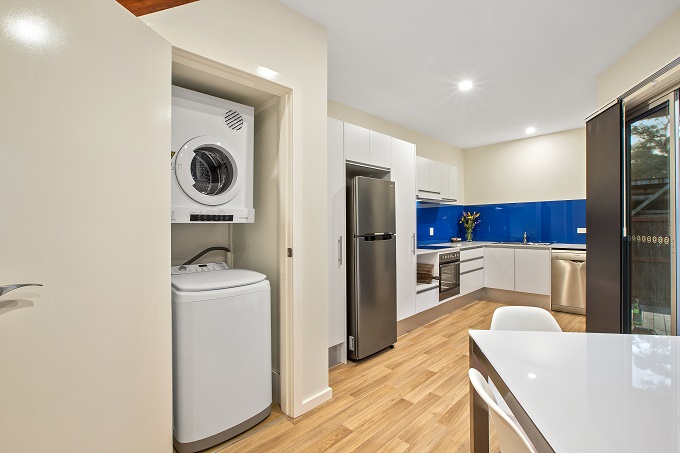 The resort's remarkable undercover jumping pillow and playground is also fantastic for wet weather or a shadier leisure alternative.
This exciting resort is the brilliant brainchild of owner and CEO, Tony Mayne. Tony told AMG that he has owned Sunshine Resort, South West Rocks for 18 years. When he purchased the (then) Lagoon View Caravan Park there were just a few powered sites and permanent residents but the site has grown into a bustling family mecca.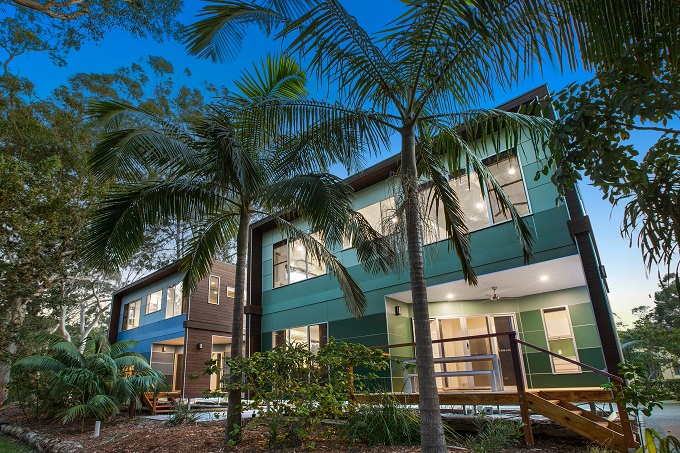 Tony is a man very much in tune with his inner child, creating an innovative and exuberant fun resort property with 120 sites, 16 ensuites, 36 villas (10 different types) and two glamping Sunshine Tents. With a background in building, construction and property development, Tony's true passion is design.
He explained: "When going forward with my vision for the resort, I took cues from multiple sources, and inspiration from the likes of the Disney business model. Our accommodation varies from unpowered sites, to glamping-style Sunshine Tents (all the fun of camping without the hassle!), to open plan studios (one- and two-bedroom cedar cabins), two- to three-bedroom luxury retreats and our latest innovation, the luxurious Ngurra Lodge."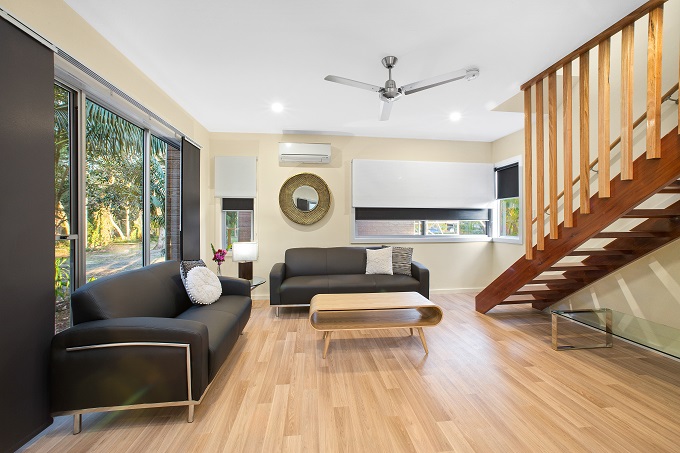 Here, the pioneering and pirate-loving Tony has created a high-spirited haven for families and has broken new glamping ground.
Youngsters 'get wrecked' with thrilling Shipwreck Island
Over two years ago, Sunshine Resort opened its $1 million dollar Shipwreck Island water park.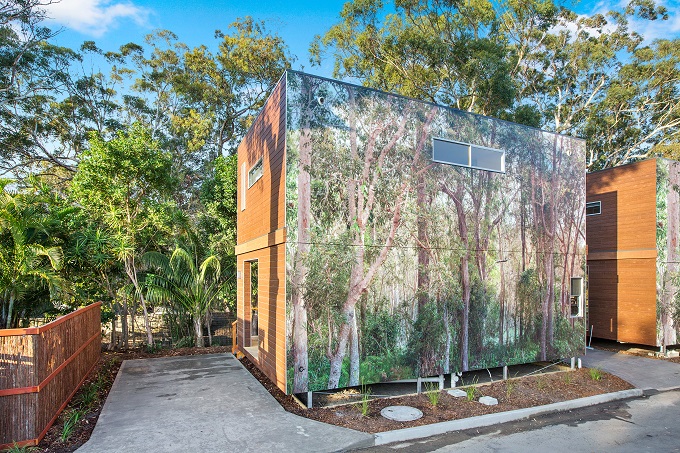 This is one of the resort's most exciting projects and it really must be witnessed first-hand to fully appreciate; an old fishing trawler was rescued from the shores of Port Macquarie and transformed into a colossal replica pirate ship!
The centrepiece of Shipwreck Island features a lagoon-style pool; rock waterfall; water cannons; slides; two crow's nests; a tipping bucket and a skull cave that 'cries' water. Kids (and therefore parents) absolutely adore it.
Ngurra Lodges
In 2017, Sunshine Resort was the subject of a lot of industry chatter when it launched its newest project; the $1.6 million luxury Ngurra Lodges, 'Ngurra' meaning 'place of home' in the local Dunghutti Aboriginal language. These unusual lodges have been designed to blend in perfectly with the landscape.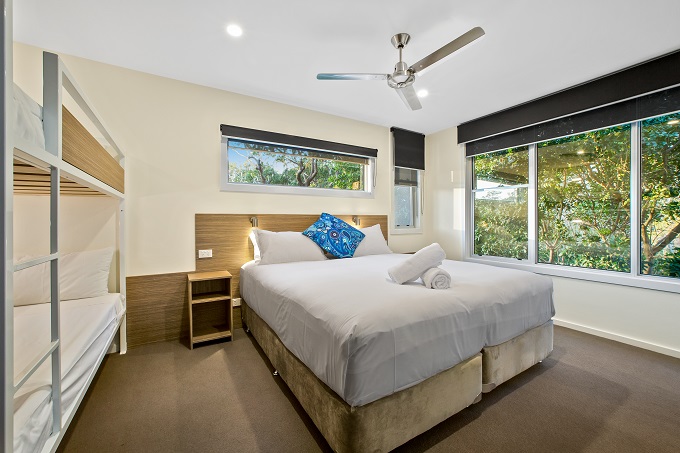 Tony explained: "Like many other small coastal towns, South West Rocks has an under-supply of premium accommodation despite latent demand. Traditionally, holiday parks have not been too well-known for hosting premium quality accommodation or, indeed, great architectural design.
"In response, I saw the opportunity to break the mould and complement the incredible environmental attractions of the area; so I designed seven two-story premium lodges that are arguably the most architecturally innovative accommodation in our industry sector. They blend beautifully into the landscape with the addition of high definition vinyl images of the surrounding bushland fixed to the facade of the building. This softens the impact of the buildings on the landscape.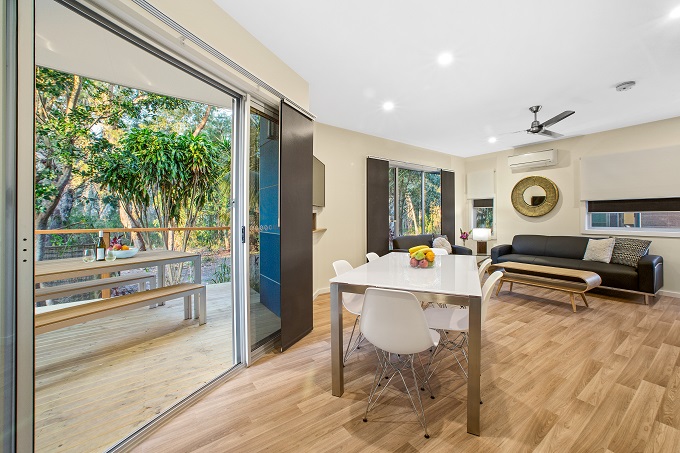 "This is a first in the hospitality industry as far as we are aware. Built with modern architectural design cues, plenty of glass and views over the surrounding national park and a high-quality 'raw luxury' fit-out, these lodges take the Sunshine Resort brand to the next level.
"The seven lodges sleep six guests, in two bedrooms, with two split-king beds, a bunk bed and a shared ensuite with a double shower. They also have full kitchens with glass splash backs, designer furniture, artwork, three TVs, air conditioning, and alfresco dining. The Ngurra Lodges fetch more than $600 a night peak season and enable us to attract a higher yielding customer, willing to pay more for luxury."
Resort accommodation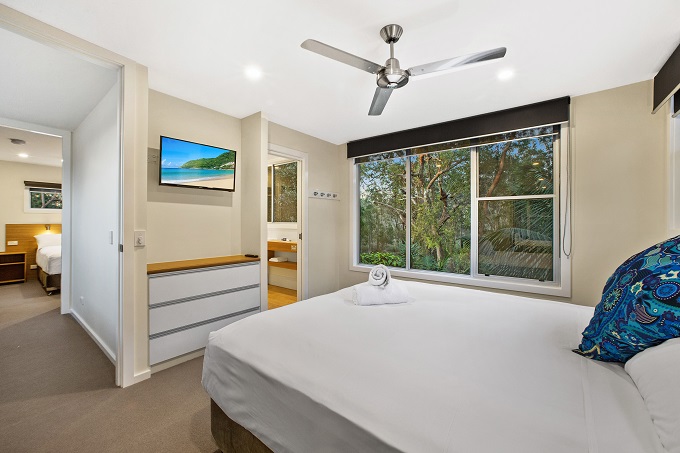 Putting all the resort's exciting and forward-thinking design projects to one side for a moment, lets also tip our hat to the other types of accommodation across the property. The cabin accommodation was built to a very high standard with longevity in mind; even though some are nearly 10 years old, they look new and fresh due to the high standards of maintenance and housekeeping.
Last year, Tony test marketed two 'Sunshine Tents' designed and built in-house to target the short-break weekend camping/glamping market, with the purpose of taking the hassle out of camping in favour of relaxation and fun. Tony revealed: "The tents have been really well received and have maintained a 75 percent occupancy, therefore we will be building three more Sunshine Tents next year."
Tony's passion for the industry and his respect for the environment reverberates. For him, this resort is an open door to never-ending possibility and opportunity. "Generally, I think the holiday park industry is missing the boat because although we have some of the most amazing locations around the country, I think park owners grossly under capitalising with cookie cutter, boring design. I wanted to design something cool that that sets us apart from the whole accommodation industry – a resort that guests would rave about," he said. "And, indeed, they are."
He added: "In my opinion, we are leading the way in innovation because there is no other product like the Ngurra Lodges in the holiday park industry and now we are positioned in competition with lifestyle hotels. I believe we provide a better holiday experience for families as we have more for them to do in a healthy, natural, outdoor environment."
What are Tony's future plans?
"Moving forward, we intend to be the number one destination for families on the North Coast, we have a five-year plan to expand the resort facilities and accommodation. Our plans include the stage two development of Shipwreck Island (to include more water play), a bigger restaurant, bar area, and lounge areas, plus further development of the kid's club indoor play area and games rooms."
The local council has been supportive of Tony's developments and ideas.  But Tony revealed: "While we have had plenty of support, our biggest challenge has been to change the perception of the holiday park industry and to attract a higher yielding customer. Although, with the massive investment in the industry, more consumers are experiencing the freedom of the holiday park experience.
"Developing the Ngurra Lodges and changing to a 'resort' model is part of the strategy to change the perception of our business, and once guests have stayed it will be easy to get them to come back!"
Design innovation is exciting, but Tony also realises that his most important asset is his team. He stated: "Our team is hired based on my family values and purpose, and our staff must be driven by the primary goal: to change people's lives for the better. I am very proud that we are regularly praised on the friendliness and helpfulness of our team. Currently, there are three managers who do an exceptional job working with our ever-expanding team."
Sunshine Resort understands the family holiday dynamic and the team is charged with making this important time fun and relaxing for both parents and kids, allowing them to re-connect.
"With this ethos, we take fun seriously" Tony proclaimed. "We want to change lives for the better and so we carefully consider everything: from pre-arrival communication, the welcoming check in experience (which includes a surprise gift for the children), to happy guests who find the villa as they expected from the marketing images.
"We want our guests to feel welcome, enjoy themselves and have fun; so our team, no matter how busy, will always stop to say 'hello' and have a conversation."
Images credited to Lindsay Moller Productions.