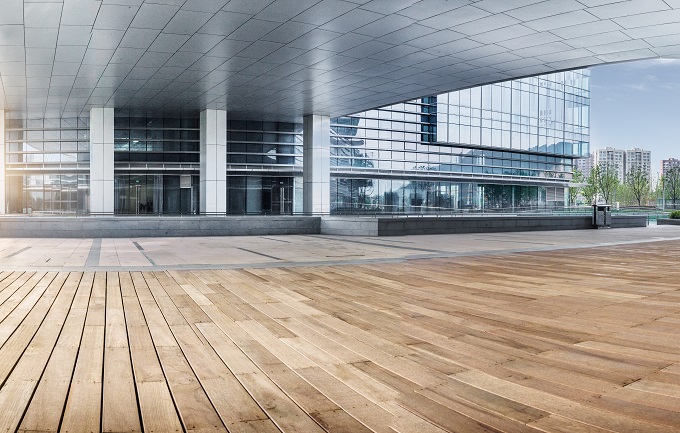 Picture this: You're walking into a light, spacious hotel lobby.
There's a stunning modern light fixture in the centre of the room, a long wooden reception desk, and plenty of greenery… but the carpeted floor is bland. Perhaps it's worn well but looks boring, or maybe it's grown patchy and faded several shades from its original colour.
This article appears in-full in the latest issue of Accom Management Guide. 
Whichever way you look at it, having a nicely decorated hotel with average flooring is a bit like serving up a perfect pavlova and covering it in salty tomato sauce. By the same token, there's no point investing in aesthetically pleasing flooring if it's poor quality, unhygienic, or not maintained with the right equipment.
As technology advances
so too does the authenticity
of inauthentic wood-look products
With so many new options emerging in the market, many a trend has come and gone. According to an industry insider, while broadloom carpeting was once king, and hardwood flooring was the only way to pull off an authentic wood look, some old favourites have been replaced with options that not only look great but have also proven to be more functional, health-conscious, and cost effective.
What's in?
While carpet choices are traditionally limited to colour, weave and low or high pile options, an increasing number of accommodation providers are considering installation and replacement when selecting carpet. While tiled carpet squares have existed since the mid-70s, newly shaped tiles are making their way into the market, providing a functional option that also achieves a desirable aesthetic. Tessellating shapes, such as hexagons, triangles and rectangles form interesting geometric patterns that liven up a space.
One new favourite amongst hotels seems to be brightly coloured carpet planks that draw attention and allows the owner or manager to pull up an individual plank following a spill rather than replacing an entire room.
Every decade or so
different materials come in-vogue
While this functional feature may seem like an economic option though, looks can be deceiving even if they pay off in the long term.
It's usually a more expensive option upfront as you're looking at $15 to $20 more per square metre for installation, but you have to weigh up the cost of replacement.
While timber has been a popular choice in accommodation for some time, its upkeep tends to turn designers away. Real timber can be sanded and resealed, but the downtime often doesn't pay off.
As technology advances, so too does the authenticity of inauthentic wood-look products. While the wood patterned sheet vinyl of the 80s won't be making any comebacks in the near future, vinyl planks are anticipated to be a popular option again in 2018 and look more like the real deal than ever.
Every decade or so, different materials come in-vogue. Usually there will be quirks or flair in the wood-pattern; the knot may look the same but is shifted along the board differently, simulating real timber.
New to the market next year, expected to be a hot topic among luxury hotels, is a newly designed method of laying parquetry flooring. This throws-back to an older style, where parquetry flooring was once put into main foyers as a decorative art piece to catch people's appeal when they walk in. This is something that guests could be witnessing again soon; this time in vinyl.