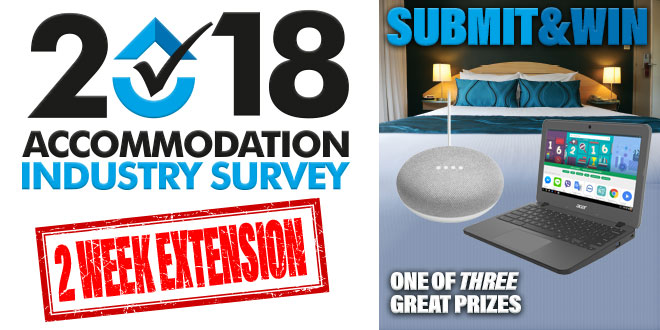 Many thanks to all those who took part in our exclusive 2018 Accommodation Industry Survey.
With question ranging from what percentage operators would be happy to pay for OTA commissions, to whether they rely on outsourced or in-house marketing, we delved into the thorny issues affecting our readers right now.
We're looking forward to bringing you all the analysis from the responses of the many backpacker, motel, hotel, resort and caravan park managers who took part.
While we're still crunching the numbers, we can reveal a few early surprises.
53% of managers surveyed believe OTAs should charge 8-9% commission while 39% believe they should charge 10-11%

Exactly half of managers are prepared to purchase a lower annual commission rate.

While 25% would spend a maximum of $500 to buy a lower annual OTA commission rate, 20% said they would pay between $500 and $3000+.
Operators are united in their condemnation of OTA commission rates, for example, but far from united over how to tackle the issue.
And while they are proactive about updating their websites and online specials regularly, they are collectively resistant to outsourcing their digital marketing.
Congratulations to the following people who were drawn as our prize winners from all those who submitted survey responses:   
1st Prize             3 nights' accommodation at Il Mondo Boutique Hotel
Winner – Zane Barry from Boulevard North Holiday Apartments
2nd Prize           Acer Chromebook 11 N7
Winner – Jackie Rea from Shellharbour Village Motel
3rd Prize             Google Home Mini
Winner – Janet McDonald from Junction Motel Maryborough