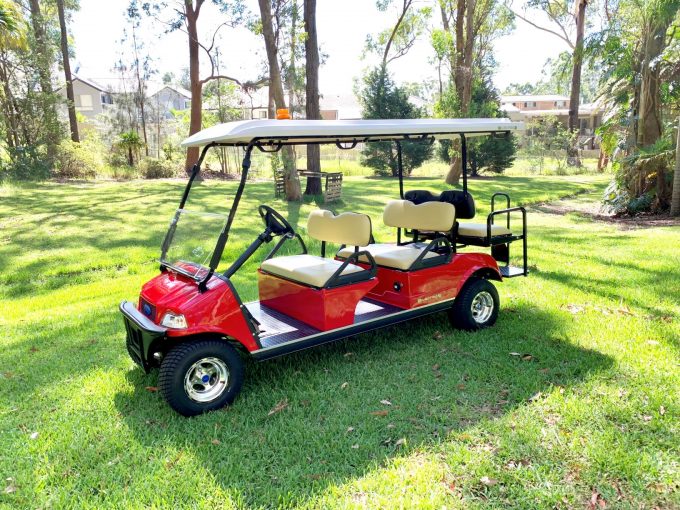 The goal of any accommodation is to entice guests to return; and delivering weary travellers to their rooms in comfort and style can create that kind of enduring devotion.
A relaxed ride alongside a smiling guide who helps with luggage, knows exactly where to take you and is full of helpful information about the locale is enough to make anyone feel special.
Ensuring visitors enjoy a positive experience before they even set eyes on a guestroom creates an impression of care and, importantly, puts them in a good mood which is likely to mean they view everything you do with magnanimity.
Which is just one reason why lightweight golf buggy-style vehicles, once just the reserve of the luxury sector, are becoming an invaluable part of the accom managers' toolkit.
Property-branded vehicles can be supplied through a weekly rental agreement with no upfront costs and the option to purchase after some four years or to roll on to a new rental agreement – making them a viable option for those without the budget of the Palazzo Versace.
Guest movers
Vehicles vary from short wheel base four-seaters through to long wheel base six and eight-seat options and come in myriad customisable configurations encompassing both forward and rear-facing seats.
The emphasis when it comes to guests is on safety and comfort.
A sun-canopied mover at a tropical resort is a great way to get around, but when the rainy season hits, it needs to include custom-fitted roll-down weather curtains made from marine-grade materials.
For properties surrounded by challenging terrain, upgrades to four-wheel hydraulic brakes and turf tyres will help transport guests safely and comfortably and ensure towing needs are well catered for.
Off-roading modifications such as a high torque electric motors, high ground clearance specifications and heavy-duty batteries can also help ease the ride.
Being seen and heard is important, so guest movers come with headlights, tail lights, blinkers and reverse beepers and can also be fitted with GPS tracking, which allows monitoring and management of any vehicle movements on or off-site.
During medical emergencies, they can double as ambulances to transport equipment, staff and stricken guests.
Utility vehicles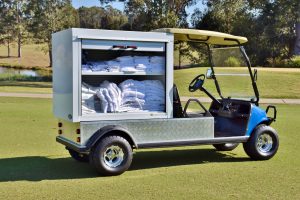 Aside from transferring guests, utility vehicles can make light work of most tasks around a property. They allow porters, housekeepers, concierges, caretakers, ground staff and landscapers to fulfil their roles quicker and with less effort, which makes good economic sense and can also reduce work-related injuries.
They can be customised to suit most requirements: refrigerated and insulated compartments allow for easy transporting of hot or cold food and drinks, for example.
Utility vehicles can include cargo beds with drop sides for the transport of heavy items around a property, or they can be fitted with steel mesh sides to contain loads such as foliage during maintenance runs.
Housekeeping equipment can be transported cleanly within weatherproof custom-designed cabinets complete with adjustable shelves and broom/mop holders.
Waste collection is made infinitely easier with the help of a utility vehicle to transport wheelie bins, and a tail lift modification can help with lifting bins and beach cleaning.  Ladder racks, tow bars, snow blades and trailers all further enhance the vehicles' carrying and clearing capabilities.
And the same utility vehicle used for maintenance can become a people carrier through addition of a module that merely snaps onto the back of the cargo bed.
Financing
According to Golf Cart Group general manager Tony McColl, rent and rent-to-buy financing options are becoming increasingly popular.
"Rental agreements can be setup with full maintenance and service included," he says.
"At the end of the rental period the customer can buy the vehicle for the written down value, usually a few thousand dollars, or roll in to a lower cost rental, a new vehicle or simply return the vehicle. 
"Suppliers can also provide assistance arranging lease or corporate hire purchase and may trade in or buy customers old vehicles."
GPS fleet management
Low-cost GPS management systems can help keep track of vehicles, particularly around larger resorts.
McColl says: "Vehicles can not only be tracked in real time, but management can look at history, seeing where any particular vehicle was at any particular time.
"And management can set geo fences and alerts so if a vehicle is taken out of a pre-approved operational zone, it can be automatically shut down.   In fact, management have the ability to remotely shut any vehicle down at any time.
"A basic system with remote shut down and geo fence alerts can be included in a vehicle rental agreement or purchased outright and/or retro fitted to an existing fleet, for $3 – 4 per week."
Petrol or electric?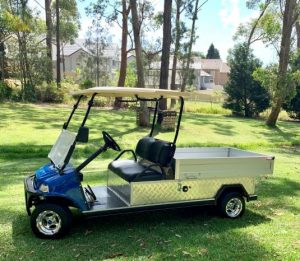 Lightweight guest movers come with electric, petrol or diesel engine options but, as Tony McColl explains, lithium batteries are a game changer for the market.
He says: "Electric is without doubt the volume seller, totally dominating the market.  There are still some operators using petrol vehicles, and in some areas they may have good reason.
"But the old reasons of range or power are just not correct any longer. Golf carts and utes with lithium batteries can outperform petrol and even some diesel vehicles when it comes to range and power delivery.
"The upfront cost of lithium batteries is a lot more than for traditional batteries, but the benefits are enormous. 
They recharge in a fraction of the time and are very light, generally less than a third of the weight of traditional batteries (lead acid batteries come in at 230 – 250kg, while lithium are under 70kg).
"When you take 200kg out of a small vehicle the performance improvements are breathtaking. Besides improving performance, lighter vehicles leave less of an impression on turf so don't damage precious lawns and are kinder on the environment, they handle mud and soft sand easier, climb steep hills with ease and create less wear for suspension bushings and bearings."
The biggest advantage of a lithium battery is the 'cycle life', which gives them an operational life some four times that of a lead acid battery. And they can be charged for a relatively short time, say during a lunch break, rising from almost depleted to 80 percent charged in around an hour.
"Lithium batteries are also maintenance free; while lead acid batteries require water to be add-ed to each cell on a regular basis, lithium batteries need simply to be kept charged. There is no user service required at all," says McColl.
"And lithium batteries don't 'gas' when charged – lead acid batteries give off hydrogen when charging which, besides being an unpleasant smell, is highly flammable and a potential fire or explosion risk."