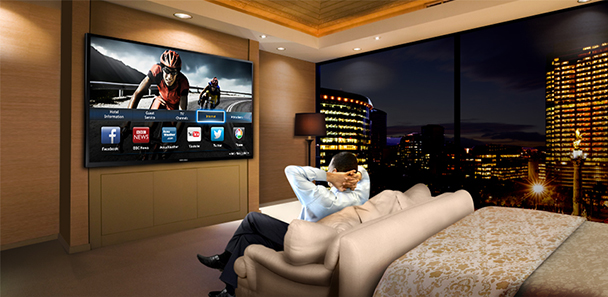 There's no point trying to impress today's travellers with gadgetry. Most already carry around the tech equivalent of a Swiss army knife; those pocket-sized multitools are called smartphones for a reason.
Former La Quinta Inns and Suites CEO Wayne Goldberg summed it up nicely when he said in an interview with Skift: "What's really changed is that today it isn't about giving the guest the technology.
"Today it's about giving the guest the capability of leveraging all of the technology that they're traveling with."
Savvy accommodation providers use technology to make a stay more enjoyable through ease of use. When you sculpt your connectivity offering around the smartphone or ipad to provide a smorgasbord of viewing, listening and playing options, the experience feels effortless to the guest.
Of course, accom managers may be scrambling to keep up with in-room connectivity, but check-ins expect to seamlessly plug into the kinds of technological comforts they enjoy at home.
So what are the latest media solutions?
OTT (Over The Top) media is the streaming of content direct to a consumer over the internet, bypassing traditional broadcast service providers.
It allows consumers access to services such as Netflix and Amazon Prime, which create a personalised experience that embraces what they like and delivers it on demand.
OTT streaming has experienced exponential growth around the world over the last five years, with subscription video-on-demand (SVOD) services now part of the home-viewing regimen for almost 70 percent of Australians, according to Nielsen research for Screen Australia.
Numerous accommodation providers are now offering streaming services to enable guests to watch their own content on the in-room TV, in a marked shift away from pay-per-view content.
But until recently, guests needed a pre-existing Netflix account or had to set up a new trial in order to view such services in-room. They also needed to enter their personal Netflix account details through a clunky process requiring the sharing personal data in a public arena – something many were reticent about.
Streaming technology, known as casting, allows users to stream content by accessing cast-enabled apps already on their own devices.
Services such as Roomcast and STAYCAST allow access to a vast catalogue of content, with most major accommodation groups adopting variations of in-room casting to integrate with mobile apps.
According to Technology 4 Hotels chief Brendon Granger, the appeal to guests of casting is its simplicity and security.
He says: "As streaming gains popularity in the home, guests will increasingly want and expect to access their accounts from the comfort of their hotel room.
"Moving forward, casting will become integral to this process, representing the ultimate way for guests to enjoy their favourite content through a simplified, secure and seamless form of connectivity."
There are two types of casting solutions on the market; one is in-built as part of a TV panel, the other is standalone and offers a good solution for providers not in a position to upgrade their TVs.
Ensuring infrastructure and bandwidth are adequate to allow reliable communication is key, particularly if you choose to stream content rather than host your entertainment solution via an internal network.
With the typical traveller now carrying a smartphone, laptop and tablet, accom providers will increasingly need to focus on provision of supporting hardware – from wireless access points and network switches to the gateway software installed by service providers.
Industry View: Heinrich Saayman, director of Honeybadger Technologies
"The behavioural change in the time spend watching OTT services has become quite evident with a shift towards streaming services vs download services.
"Currently, there are over 9.1 million SVOD subscribers in Australia. The biggest growers have been sports streaming services followed by catch-up services.  With these ongoing demands and the growing number of travellers, it has put a natural demand on accommodation providers to provide systems capable of allowing travellers to use their own content in-house.
"Broadband availability, internet connectivity, effective bandwidth management and inability to stream to in-room TVs remain the main hurdles in the number of guest viewings. Travellers have indicated that they prefer using their own OTT services whilst travelling vs hotel in-house provided channels, which are restrictive in flexibility and choice of content.
 "The most important factor to be considered when creating a modern converged communications system is the quality, capacity, and robustness of the network.
"If all of the requirements of the system are clearly defined, we are able to ensure that the design meets all of these requirements for now and in the future.
"The growing demand on available bandwidth is driven by the advances of technology, particularly OTT or streaming services; and by understanding the customer expectations and requirements of the network it makes it much more possible to deliver a solution which meets these needs both today, and in the years to come.
"There are constant advances with regards to network management solutions by all vendors which make the management and maintenance of the entire solution more efficient. With the introduction of machine learning, we are starting to see networks that can self-diagnose problems and repair them before the end user even notices.