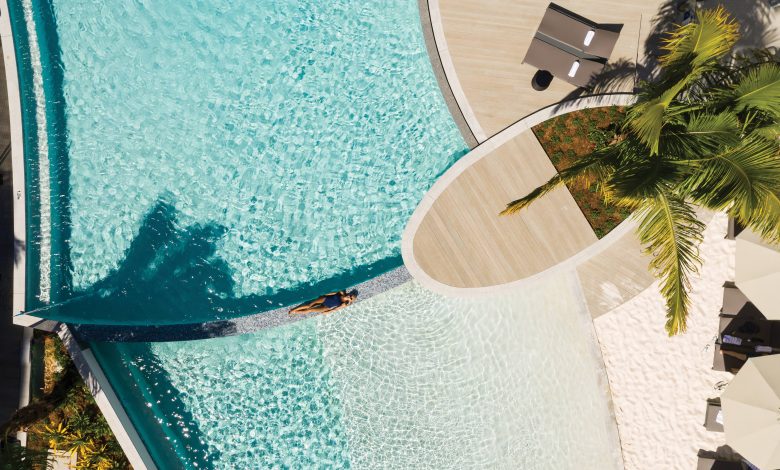 The stars of the sunshine state's accommodation industry were recognised at the annual Queensland Hotel Association awards for excellence this week.
The association's chief executive, Bernie Hogan, claimed the jobs of the judges had "never been tougher", saying: "The QHA couldn't be prouder of tonight's winners, and all of the members that turned out to celebrate a terrific part of Queensland's cultural fabric – our tourism industry and the hotels that are at the very heart of it."
The prestigious Hotel of the Year title went to The Glen Hotel in Eight Mile Plains. Owned by the Fitzgibbons family since 1960, the venue has grown from a small suburban pub into an operation offering accommodation, multiple food outlets, entertainment and a conference centre.
Brisbane's Ovolo The Valley took out the Best Deluxe Accommodation gong, the hotel group's chief operating officer Dave Baswal saying: "Our people at Ovolo and our guests keep our unique hotel brand strong.
"We can't be forever fabulous, unconventional and never boring (F.U.N) without the guests who keep us motivated and team to support us – cheers Queensland!"
Best Boutique Accommodation was awarded to Spicers Balfour Hotel, while Cairns newcomer Riley, A Crystalbrook Collection Resort took home two awards, for Best Environmental Practice and Best Marketed Hotel – 100 Employees.
Crystalbrook's interim CEO, Geoff York, said:"We're thrilled to gain this recognition and to walk away with two great wins that really go hand in hand with Crystalbrook Collection's values." 
Best Suite/Apartment Accommodation went to Meriton Suites Southport and Best Superior Accommodation to Pacific Hotel Cairns.
Staff were also individually recognised, with the coveted Hotelier of the Year going to Matthew Coorey of the Boardwalk Tavern at Sanctuary Cove on the Gold Coast.
Guest Services Employee Of The Year went to Kait Einam of Rydges South Bank and Food & Beverage Employee Of The Year was judged to be Mindy Perera of The Westin Brisbane.
Hall of fame awards, achieved after winning three consecutive awards in a category, went to Brisbane's Rydges South Bank Hotel for Best Superior Accommodation and Hilton Brisbane for its Outstanding Community Service and Achievement.
Mr Hogan said: "The Awards celebrate those wonderful businesses throughout the state that breathe life into the 'beautiful one day, perfect the next!' slogan each and every day."
The full list of winners is: 
Administration Employee Of The Year Ashmore Tavern – Kristy Helmers
Best Boutique Accommodation Spicers Balfour Hotel
Best Boutique Bar The Terrace at Emporium Hotel
Best Bush Pub Esk Club Hotel
Best Casual Dining The Glen Hotel
Best Deluxe Accommodation Ovolo The Valley
Best Detached Bottleshop Sense of Taste Portside (Brisbane)
Best Draught Beer Carriers Arms Hotel (Maryborough)
Best Entertainment Venue Eatons Hill Hotel
Best Environmental Practice Riley, A Crystalbrook Collection Resort (Cairns)
Best Gaming Venue Shamrock Hotel (Mackay)
Best Keno Venue Railway Hotel (Yeppoon)
Best Marketed Hotel – 100 Employees Riley, A Crystalbrook Collection Resort (Cairns)
Best Marketed Hotel – 1-99 Employees The Island Gold Coast
Best Meeting & Events Venue W Brisbane
Best Mid-Range Accommodation Sandstone Point Hotel
Best On-Premise Liquor Outlet Porters Plainland Hotel Bottlemart
Best Outdoor/Non Enclosed Facility Sandstone Point Hotel
Best Prestige Restaurant Bacchus Restaurant at Rydges South Bank
Best Pub-Style Accommodation Halifax Hotel (Halifax)
Best Pubtab Venue Hope Island Tavern
Best Redeveloped Accommodation Hotel Resort The Ville Resort-Casino (Townsville)
Best Redeveloped Licensed Premise above $2milPorters Plainland Hotel
Best Redeveloped Licensed Premise up to $2mil Carrollee Hotel (Kingaroy)
Best Restaurant -Accommodation Hotels Homage Restaurant at Spicers Hidden Vale
Best Restaurant – General Hotels The Boatshed at Regatta Hotel
Best Suite/Apartment Accommodation Meriton Suites Southport
Best Superior Accommodation Pacific Hotel Cairns
Best Themed Bar The Walrus Club at Regatta Hotel
Best Traditional Hotel Bar Tap'd at Prince Alfred Hotel Ipswich
Chef Of The Year Sandstone Point Hotel – Nick Lockyer
Food & Beverage Employee Of The Year The Westin Brisbane – Mindy Perera
Guest Services Employee Of The Year Rydges South Bank – Kait Einam
Industry Rising Star Award Prince Alfred Hotel Ipswich – Ben Potter
Outstanding Achievement In Training Hilton Brisbane
Outstanding Community Service & Achievement – 100 Employees Hilton Surfers Paradise
Outstanding Community Service & Achievement – 1-99 Employees Commercial Hotel Tara
Responsible Service – Alcohol Mon Komo Hotel (Redcliffe)
Responsible Service – Gaming Aspley Central Tavern (Brisbane)
Workplace Health & Safety Award Rydges South Bank
Hotelier of the Year Matthew Coorey – Boardwalk Tavern (Sanctuary Cove)
Hotel of the Year The Glen Hotel (Eight Mile Plains)
Lifetime Achievement Award Bernard Power
Life Member Tony Condon (Currumbin Creek Hotel)
Hall of Fame Awards: 
Best Detached Bottleshop Mossman Hotel Bottle-O (Mossman)
Best Superior Accommodation Rydges South Bank Hotel
Outstanding Community Service & Achievement – 100 Employees Hilton Brisbane