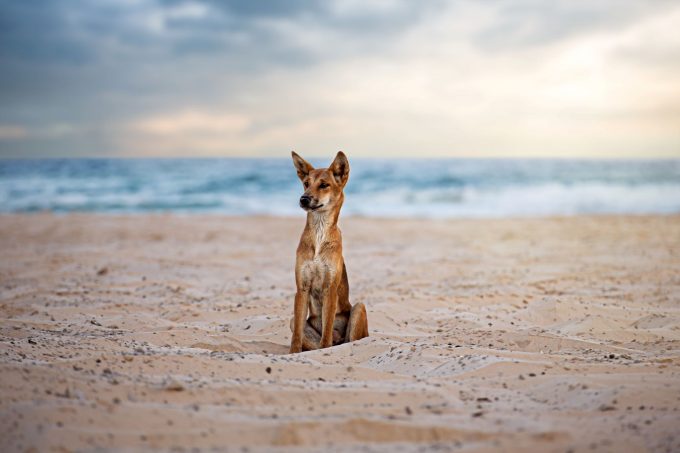 An explosion in tourist numbers is contributing to an increase in dingo attacks on Queensland's World Heritage-listed Fraser Island, says a leading preservation group.
The warning follows a serious attack on April 19 when dingoes dragged a toddler from a camper trailer as he slept, fracturing the child's skull.
The child's father fought off the animals and the 14-month-old is recovering well following surgery, but the incident marks the third serious attack by dingoes on the island this year. A boy and his mother were chased and mauled by dingoes in February and a young boy was bitten on the legs in January.
Queensland environment minister Leeanne Enoch has launched an urgent review into dingo management on the island and ranger patrols were stepped up over the Anzac Day long weekend.
Ernest Healy, secretary of the National Dingo Preservation and Recovery Program says "long-term mismanagement" of the population on the island by Queensland authorities is a contributing factor to recent attacks.
"Tourism numbers to Fraser Island have grown over the past decade to mass proportions which are not consistent with the preservation of the environmental and wildlife values which are the basis of the Island's World Heritage Listing status," he told local media.
"This is particularly the case at peak visitation periods like Easter.
"What should be managed as a high conservation, ecotourism location of world significance is being marketed as a cash cow for mass tourism. Much of this mass tourism impacts on dingo breeding locations and the dingoes simply cannot avoid the human traffic.
"Instead of tourist visitation to the island being managed as a privilege, and visitor numbers restricted accordingly, Fraser Island is being managed as a Disney style theme park."
Aboriginal elders agree the current system is not working, saying tourists need to be held accountable for irresponsible actions – such as feeding the wild animals and approaching them for photos.
"We would like to remind people that our traditional homeland is a pristine wilderness, which has dangerous animals that could harm your loved ones," the Butchulla Aboriginal Corporation said in a statement to The Courier-Mail.
"It is time that people are more accountable for their actions. Wongaris (dingoes) should not be sacrificed for human error or inciting interaction."
Mr Healy says camping on Fraser Island should be limited to designated fenced camping areas which exclude dingoes.
"Poorly regulated, free range camping on a mass scale should not be permitted," he said.
The Dingo preservation group proposes a tourism management model similar to that of Victoria's Wilsons Promontory in Victoria, Healy arguing no limit on tourists means the sheer numbers of visitors is preventing adequate delivery of education on how to behave around dingoes.
However, David Hay, general manager of the island's Kingfisher Resort, says local tourism operators are doing an effective job of educating the public on how to behave on Fraser.
"In conjunction with the Queensland Parks and Wildlife Service, we do a lot of education announcements on ferries, signs, leaflets handed out throughout the national park. As a community, we have done a very good job of the public education campaign in the last 20 years or so," he told ABC radio.
Asked if he'd noticed a downturn in business because of the attacks, Hay said: "No we haven't, it's only been a short time but we haven't had anything like that happen yet.
"I guess our major concern ongoing is that people don't view Fraser Island as a dangerous place to visit. It's certainly not if you take the right precautions and stay in the appropriate areas."
The resort manager says guests have so far been surprisingly unphased by the latest incident.
"Most people really want to know where it happened and what the circumstances were surrounding it," he told the ABC.
"Of course there's a few different versions, but basically the family were beach camping in an area on the eastern side of the island which isn't fenced and once we explain to people that the resorts at the township and most of the national park campgrounds on the island have dingo-proof fences around them, that's quite reassuring for people to know."
Cheryl Bryant from volunteer organisation Save Fraser Island Dingoes has welcomed the environment department's review.
"We need to review the current risk management strategy and improve it, we have a whole list of recommendations that we put on the table after the last incident with the French tourists.
"This should have happened then, and now it's even more imperative we find a solution, and fast."