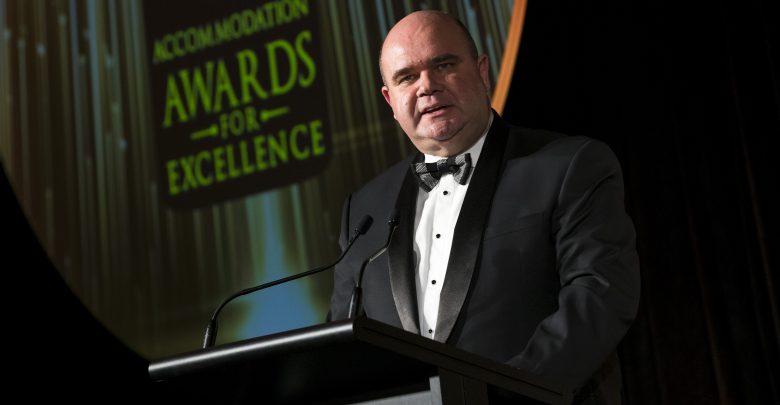 WA's star performers were celebrated at the 2019 Australian Hotels Association's accommodation awards for excellence last week.
The awards, sponsored by Perth Airport and presented at a gala event at Westin Perth, recognise the state's best hotels and management staff across 25 categories.
The association's CEO, Bradley Woods, said WA's accommodation industry continued to excel and the awards were an opportunity to reflect on the sector's success.
"In the past year Western Australia's accommodation industry has reached a new level of excellence, with a number of new properties coming online and several others undergoing substantial refurbishments," he said.
"The level of service, amenities and room options available to visitors is better than ever before and these awards present an opportunity to celebrate the accommodation industry and the dedicated staff who welcome visitors each and every day."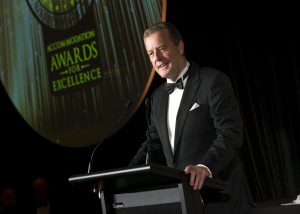 The night's big winners were Prendiville Group chair and former WA Tourism chief Peter Prendiville, announced as the 2019 Hall of Fame inductee, and Crown Towers, which was named WA's Best Accommodation Hotel.
The awards are tailored to recognise the contribution made by venues and staff to building the state's tourism reputation.
"Western Australia is a premier tourism destination that is well positioned for future visitation growth, with a range of accommodation options to suit a variety of travellers," said Woods.
"Staff who work in hotels across the state are essentially ambassadors for WA and last night's awards celebrated the important role they play in welcoming visitors and driving excellence within the industry."
The full list of award winners is:  
Hotel & Accommodation Venue Awards
WA's Best Redeveloped / Refurbished Hotel
The Melbourne Hotel
WA's Best Hotel Marketing
Holiday Inn Perth City Centre
WA's Best Hotel Bar
TWR, The Waiting Room – Crown Towers Perth
WA's Best Hotel Restaurant
Santini Bar & Grill – QT Perth
WA's Best Hotel Wine List
Wildflower – COMO The Treasury
WA's Best Hotel Spa and Fitness
Crown Spa – Crown Towers Perth
WA's Best Mid-Range Accommodation
Hostel G
WA's Best Apartment/Suite Accommodation
Attika Hotel
WA's Best Superior Accommodation
DoubleTree by Hilton Perth Northbridge
WA's Best Deluxe Accommodation
COMO The Treasury
Hotel & Accommodation Management Employee Awards
WA's Best Hotel Front Office Employee
Lucy Zanotti – Crown Metropol Perth
WA's Best Hotel Chef
Nicholas Trezise- InterContinental Perth City Centre
WA's Best Hotel Food and Beverage Employee
Jake Silvester – COMO The Treasury
WA's Best Hotel Conference and Events Employee
Renee Dawson – Hyatt Regency Perth
WA's Best Hotel Administration, Finance and Executive Support Employee
Emma Lang – Crown Towers Perth
WA's Best Hotel Engineering and Maintenance Employee
Robert Savoy – Hyatt Regency Perth
WA's Best Hotel Concierge Employee
Brian Robinson – Crown Towers Perth
WA's Best Hotel Housekeeping Employee 
Maruf Billah – Hyatt Regency Perth
WA's Best Hotel Sales and Marketing Employee
Liezil Slabbert – The Westin Perth
WA's Best Hotel Executive Level Manager
(Joint winners)
Kate Brough – InterContinental Perth City Centre
Nic Wood – QT Perth
WA's Best Hotel Management Team
Pan Pacific Perth
Hotel & Accommodation Overall Awards
WA's Best New Accommodation Hotel
The Westin Perth
WA's Best Regional Accommodation Hotel
Berkeley River Lodge
WA's Best Accommodation Hotel
Crown Towers Perth
2019 AHA Accommodation Industry Hall of Fame Inductee
Peter Prendiville