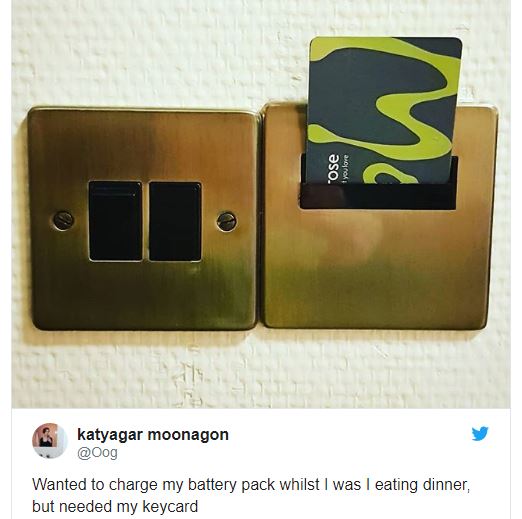 Industry
Did you know your guests were doing this?
Twitter went into a meltdown over the weekend, after a hotel guest tweeted out a 'lifehack' for tricking the in-room card access. 
Wanted to charge my battery pack whilst I was I eating dinner, but needed my keycard pic.twitter.com/TsHqihGxTu

— katyagar moonagon (@Oog) March 14, 2018
This twitter user shared a photo of a standard keyless card access point in a guestroom, with a supermarket loyalty card  used to trick the system into turning on the room's electricity. This allowed the guest to leave the room with their keycard without the electricity automatically switching off. 
The simple tweet had people arguing over the mechanism of the in-room card electronic access systems, and why hotels use them. 
doesn't matter what card you had in the slot, the thing throwing everyone off is since when do hotels have a slot to stick keys in? where do they do this?

— mac. (@Naja_Hough) March 15, 2018
The bit that took me a while was the realisation that some hotels are shitty enough to not supply power to the room without you inserting a card in a slot! Never come across it, myself.

— Jake Staines (@Sanakism) March 15, 2018
At our hotel, @heritagebruges ,we have this energy box already for 25 years, purely for energy saving reason. But at our hotel no need to put another card to have energy, we have installed plugs at the desk that work always even without a card, just as an extra practical service

— Johan Creytens (@JohanCreytens) March 18, 2018
As someone who's been reporting on the hotel industry for many years, I was shocked that so many people said they had never come across hotels with keyless access systems before… I wasn't the only person with that sentiment, either:
Uhmazing. Going to try this the weekend. As 99% of Hotel's I stay in work on key card systems for electric. I'm dumbfounded by anyone in the UK saying they've never seen it. Bravo you

— Katie Jayne (@MissKatieJayne_) March 16, 2018
I thought everyone knew this. I tried it the very first time I was in a hotel with one in so I could leave the air-con on while I was out of the room.

— German Car Scene (@GermanCarScene) March 15, 2018
Lots of people also responded to the viral tweet saying they'd spent years requesting multiple room keys so that they could charge devices and have electricity in their guestroom while they went out. This new 'hack' would mean they no longer needed to request multiple keys. 
If this is a lifehack that catches on, it's one that's quite difficult for property management to monitor or control. But is this something that accom managers are worried about? In terms of energy efficiency, it raises further questions about how to get tourists to care about energy savings. 
Did you know guests were doing this?
As a key reason for this tech installation is energy saving, how do you feel about guests 'overriding' the system? Is it a lifehack that you think the manufacturers of these products should prevent?
Shock that hotel workers dont know this. I've known this for years. Even a piece of cardboard works…has anyone ever thought of what housekeeping does while their cleaning the room…

— Katherine Musa (@x_kat_m_x) March 16, 2018