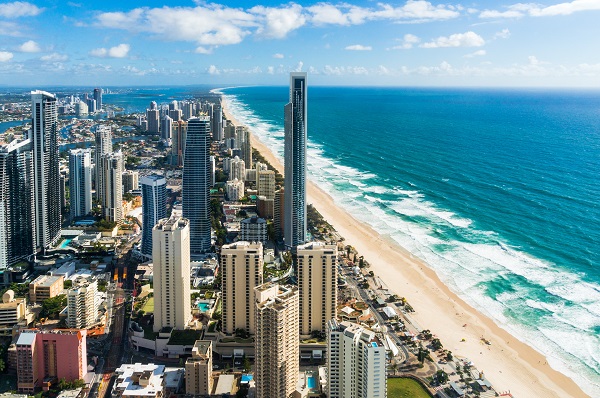 Gold Coast accommodation providers are reeling from yet another tragedy during Schoolies week.
18-year-old Charlie Scott from Montmorency near Melbourne died after plunging from a high-rise balcony at the Hilton Hotel tower in an apparent suicide bid at 2.30am on Friday morning.
Counsellors were made available to the hundreds of former students staying at the Hilton, one of the most popular venues for the high school graduates during the celebrations, and students organised their own minute's silence in tribute to the Victorian youngster.
In a statement, Hilton said: "It is with deep regret that we confirm a guest at the private residences located at Hilton Surfers Paradise has passed away.
"We offer our sincere condolences to the family and loved ones at this difficult time."
The city, a mecca for teens from all over Australia gathering to celebrate the end of their school careers, goes to enormous lengths every year to try and protect young party-goers from the effects of drugs, alcohol and predatory adults.
Despite this, Sydney teen Hamish Bidgood fell to his death last year from a balcony at the Surf Regency Holiday Apartments after hallucinating on nitrous oxide gas (Nangs). Isabelle Colman died after falling from a balcony at the nearby Chevron Renaissance during celebrations in 2012.
Hamish Bidgood's father, Des, says apartments rented out to students over the Schoolies week should have their balcony access blocked off to young party-goers.
Blaming the drugs for his son's behaviour, he said in the wake of the tragedy: "Hamish is not the first and won't be the last…This happens all too often."
The latest tragedy comes a week after Stratacare Australia managing director Jim O'Hare urged bodies corporate and unit owners and managers to take responsibility for balcony safety during Schoolies, his words prompted by the death of a 22-year-old New Zealand man after a fall from Gold Coast accom last Monday.
"Balcony safety must be made a priority, especially with such a tragic reminder this week of how engaging in risky behaviour on balconies can have fatal consequences," he told The Courier Mail.
"Short of locking balconies – which is certainly an option – school-leavers must clearly understand that if any misbehaviour on balconies occurs, then they will be evicted."
Just days before the latest tragedy, Gold Coast Safer Schoolies chairman Mark Reaburn said blocking off balconies was an infeasible suggestion.
"You can't lock balconies. Schoolies are entitled to book," he told local media.
"That's really a matter for the Department of Fair Trading, and they've made it clear you can't treat schoolies any differently from other members of the public.
"Schoolies isn't a compulsory response. The kids don't have to come and the parents don't have to make the kids come.
"If the kids come, we're here to respond to them being here."
Speaking at the Hilton on Friday, Brisbane State High school-leaver Madison Sweetnam told the Courier Mail she would support balconies being locked during Schoolies.
"It takes away a bit of freedom but what's the price of freedom – someone seems to die almost every year," she said.
Gold Coast Mayor Tom Tate has called for Schoolies to be shortened to stop teens becoming "burnt out" from partying. The celebrations run from mid-November through to mid-December, with graduates from different states attending over different weeks depending on when their school terms end.