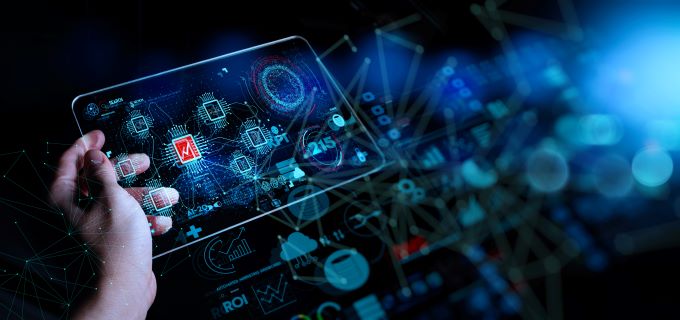 The evolution of guest rooms will be driven by one key concept over the next decade – connectivity.
The collection and sharing of data will increasingly shape how we all live our lives and how we inhabit the spaces around us.
Almost everything, it seems, is destined to connect to the vast digital ecosystem that is the Internet of Things, and guest rooms will be leading the charge.
As Brendon Granger of Technology 4 Hotels says: "Hotels are harnessing a range of digital technologies that connect to the internet – from TVs and smart mirrors to thermostats and in-room voice assistants.
"All of these devices are able to collect and share data, which can then be used to provide hoteliers with a wealth of insights and far-reaching benefits.
"From enhanced efficiency and cost savings, to smoother customer service and personalised guest experiences, the Internet of Things (IoT) has the potential to transform hospitality."
The personalised room
While some providers will be quicker than others to adopt new ideas, most will see the benefits of a personalised hotel room which adapts to the needs of each guests by tracking how they interact with in-room devices.
"Consider the following scenarios," says Granger.
"A business traveller notices the lights automatically dim in the evening to suit their preference while working. A family finds the in-room TV has saved the kids' favourite channels. And a returning guest steps under the bathroom shower to notice the temperature is just as they like it.
"In the world of IoT, the hotel room is no longer one-size-fits-all. It intelligently adapts to each guest and continues to learn from their behaviour over time."
The speech bubble
Voice assistants are quickly becoming commonplace in the hotel rooms of the future, allowing guests to access hotel technologies, services and staff by simply speaking aloud.
Hotel Tech Report says sultry-toned enablers such as Alexa, adopted by Marriott, Melia, Viceroy, Hyatt and many other hotel brands for the first time last year, route 30 percent of all guest requests directly from the guest's voice to the hotel's work order management system, eliminating the potential for errors and time spent tracking follow-up.
According to Hotel Tech Report, voice assistants are driving an increase in revenue per room by unlocking opportunities to promote and sell ancillary services.  These voice-based promotions are a favourite of guests, who often report their in-room brush with a VA as "novel, unique and memorable".
Future Systems Director Andreas Cooper is responsible for Smart Voice Systems, which partners with Volara to offer the latest voice assistant technology. 
He says: "Voice technology is seeing rapid adoption in the home environment and discerning travellers expect the comforts of home when they're on the road.
"Voice is a natural and frictionless medium of communication that balances the luxuries of personal service with the efficiencies of on-demand technology. It provides integration secure integrations into the leading hotel technology solutions, including smart thermostats, lighting controls, TV controls and work order management systems. Requests like 'Alexa, send up some champagne' go directly into the task management system and are directed to the appropriate staff.
"Voice enables the curation and real-time management of conversations between hotel management and guests or staff. The cutting-edge software improves accuracy and enables secure integrations, human voice replies, device management, and guest privacy protections.
"Voice assistants can facilitate staff communications by voice enabling back-of-house interactions across your team and technologies. They optimise operational efficiency by automating information requests and seamlessly routing service requests. And they grow onsite sales by adding offers and information to common interactions."
Left to their own devices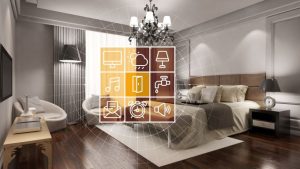 IoT technology means a room's lights, heating and air conditioning can be controlled not only though voice but from a guest's own smartphone or tab-let.
Such in-room controls are the ultimate in personalisation. Hilton is among the hotel groups which already allow guests to control room thermostats through their smartphones and even maintain desired conditions through their personal devices.
While in-room controls may soon become an expectation, being able to replicate guests' viewing and listening preferences already is one.
Smart TVs which allow BYOD (bring your own device) content casting are fast becoming a given.
One industry insider told AccomNews: "More than ever we are noticing a decrease in demand for scheduled linear TV services and an exponential increase in online services such as NETFLIX, YouTube and so on."
Smart TVs have the ability to automatically removing the guest's personal account data after they have checked out.
And they can act as digital compendiums, a guest engagement tool which provides an always up-to-date services directory, either through a Smartphone app, Smart TV or hotel-provided tablet, which is customisable to a guest's preferences.
Alongside voice assistants, these allow direct interaction between the guest and guest services so, for example, Kate in room 101 can book a spa treatment, make a restaurant reservation or call the front desk. A web-based content management system will tailor upsells and suggestions for Kate and provide interaction with external tourism ecosystems based on her preferences.
Charging ahead
As wireless charging for electronic devices appears more prominently in people's everyday living spaces, they'll expect it to be available in accommodation too.
The obvious benefit is that guests from anywhere in the world can use charging pads or clocks in their room without the hassle of bringing charging cables or plug adaptors.
The rooms of the future will integrate that wireless technology into an array of surfaces, from desks and coffee tables to arm-chairs, to ensure a sleek, cable-free environment whether you're an Apple or Android user.
Superior sustainable solutions
Thanks to the IoT, connected technology such as lights, heating and air conditioning systems can alert staff if they've been left on after a guest checks out. Even a minibar fridge could let staff know if it's been left open. Over time, spotting and rectifying inefficiencies will help a hotel make substantial energy savings and improve their environmental credentials.
That technology also ensures maintenance issues get solved faster, with appliances designed to alert staff as soon as they start malfunctioning. A repair can then be carried out before it becomes a problem and potentially before a guest even notices it.
Predictive maintenance takes customer service to a whole new level and can head-off potentially expensive issues at the pass.
When it comes to check in, a hotel can send an electronic key card to a guest's mobile phone when their room is ready, enabling them to bypass the front desk and the need for a physical card and unlock their room using their mobile.
Great expectations
As Brendan Granger argues, being able to control in-room tech through voice assistants and their own devices will soon become a hardwired expectation for guests.
"By investing in the right technology now, forward-thinking hotels can begin to offer smoother service, improve their efficiency and provide guests with the flexibility to define their own experience," he says.