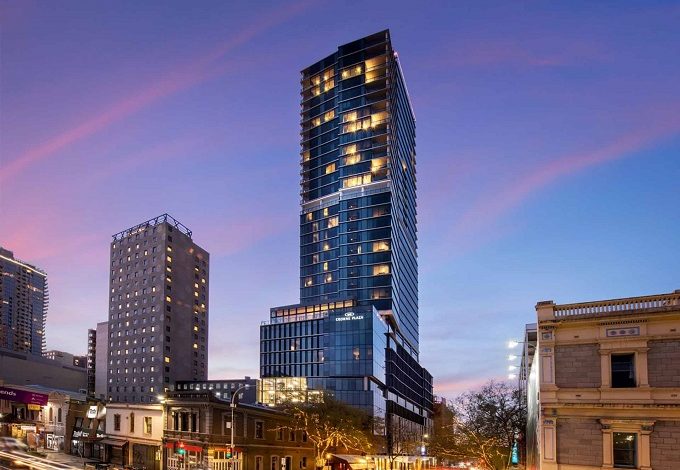 News In Brief
Profiles
Crowne Plaza on a high in Adelaide
In a 138m skyscraper overlooking the City of Churches, the 329-room luxury hotel is taking inspiration from the neighbouring innovation hub, Lot Fourteen, which is Adelaide's space-age science centre since opening on November 2.
Lot Fourteen is home to the world's leading names in emerging technology, including the new Australian Space Agency and the Australian Institute for Machine Learning, and Crowne Plaza Adelaide General Manager, Sarah Goldfinch, says her property is featuring the latest in luxury hotel design concepts and initiatives.
The hotel is based inside the new "Adelaidean'' building on Frome Street, at the end of Rundle Mall in the city's lively East End, and was especially designed to tower over the South Australian capital.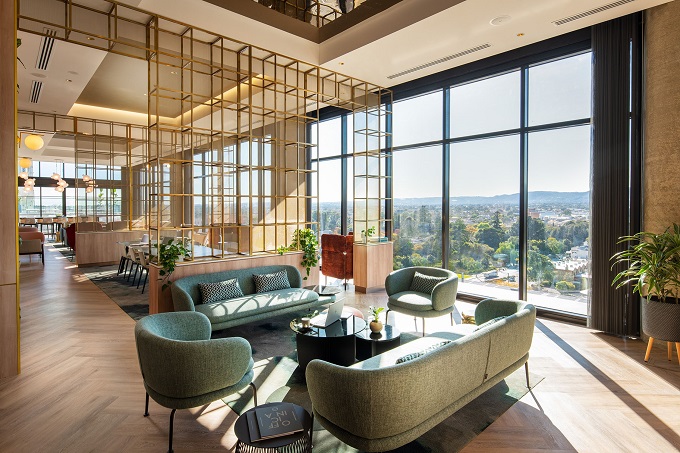 "The building was created as both a hotel and apartment living," Ms Goldfinch said. "The hotel will occupy the first 20 floors and the private residences are on the 21st floor to the 36th.
"The Crowne Plaza is a business-focused hotel and our aim is to make busines travel as easy and comfortable as possible and to give the business traveller the best possible stay from the time they arrive with our express check-in service.
"Our WorkLife guest rooms are designed for the modern traveller with the latest innovations for comfort and sustainability. They come with streaming apps and Chromecast – with high speed internet so guests can stream their favourite programs. Setting up a mobile office in the room is effortless.
"There are wireless phones in the room, digital compendiums and online room service so guests can order room service from their own device."
Ms Goldfinch said guests would also have Bluetooth-streamed music in their rooms as well as a 55-inch LCD TV and wireless mobile charging. As well as a seemingly infinite number of entertainment options, guest rooms also come with the Crown Plaza Sleep Advantage program that aims to ensure a better night's sleep by providing premium bedding and aromatherapy kits.
Floor-to-ceiling windows with unparalleled views of Adelaide and an espresso capsule machine are the perfect invigorating tonics to start the next day.
The newest hotel in Adelaide is certainly a far cry in comfort from the oldest.
The first licensed pub is South Australia was the Edinburgh Castle in Currie Street, Adelaide. Its proprietor, John Guthrie, was granted the first license to sell alcohol in South Australia on May 31, 1837. The pub was originally known as Guthrie's and parts of the original building are still in use. Other pubs opened in Adelaide later the same year include The Princes Berkley in Hindley Street (then known as The Buffalo's Head and for some time as the Black Bull), Fordham's (known later as the Sturt Arcade Hotel), now Grenfell 110, Grenfell Street and The British in Finniss Street, North Adelaide.
In 1838, F. W. Allen took out a newspaper advertisement giving thanks for "the liberal support" he had received at his Southern Cross Family Hotel on Currie Street and to assure guests "that the utmost of his exertions shall he used to merit all continuance of their support".
He "begged to add that he has lately materially extended his accommodation, and trusts, that those who may honour him with their support, will find at his hotel every comfort and convenience which a new Colony can afford".
Certainly the "comfort and convenience'' in Mr Allen's building didn't extend to a fully equipped gym with views of the Adelaide Oval, alongside the heated outdoor infinity pool which is just one of the Crowne Plaza's many attractions.
Its gym will allow guests to work out with state-of-the-art exercise equipment in a fully equipped facility complete with personal electronic trainers via TechnoGym. The gym includes Elliptical Machines, free weights, a stationary bike and treadmill.
"Modern business travellers expect to have the same conveniences and equipment as they would have in their own gym and as far as technology is concerned we aim to exceed guest expectations in the way of exercise equipment," Ms Goldfinch said.
For meetings and events, the Crowne Plaza Adelaide will also offer guests the latest in business technology, including the "The Think Tank" meeting room equipped with mobile Polycom equipment and the "Plaza Workspace" on Level 10, which offers a co-working space for guests.
Level 10 is where guests also check in and where the gym and pool are located along with Luna10, Adelaide's newest alfresco bar, and Koomo Restaurant and Bar; a modern Asian fusion restaurant with a strong Japanese Influence and the highest restaurant in the city.
The Plaza Workspace re-imagines hotel lobby design and is created to help guests transition from work to down time. The space has an abundance of power points and there are wireless phone chargers that are integrated in tables along with access to free high-speed wifi.
Ms Goldfinch also said the Crowne Plaza Adelaide was showing its strong commitment to sustainability with such initiatives as paperless check-in/check-out, bamboo key cards, the Vintech internal room controller which allows staff to better manage guest room energy consumption and respond to guest requests quicker, digital compendiums, electronic newspapers, and a ban on plastic straws and bottles.
"Our hotel offers the latest in technology," Ms Goldfinch said, "right across the road is Lot Fourteen, a world leader in innovation, and we are the perfect complement to that."