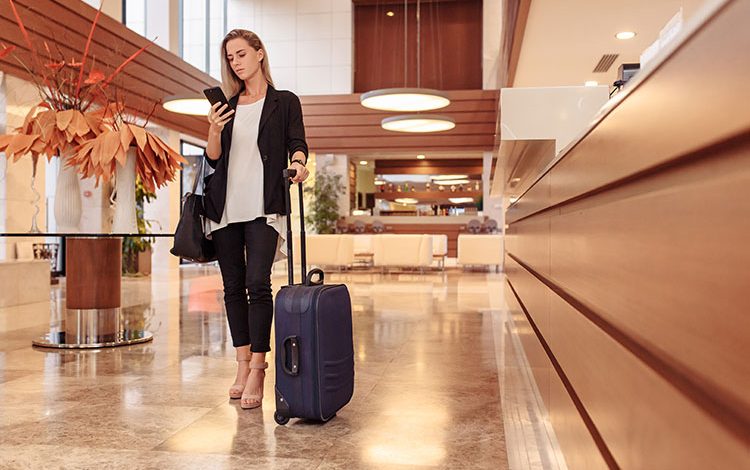 Pressure creates diamonds and warfare has given us such technological innovations as jet aircraft and GPS navigation.
So, it is with the scourge of COVID that there are bright lights at the end of the tunnel.
Among them will be the rise of contactless check-ins at hotels. Not only do self-service kiosks and mobile check-ins limit the physical contact between guests and staff, minimising any health concerns, but they are becoming key features for property managers to increase efficiency and revenue.
While Airbnb has been using a contactless check-in system for a decade, COVID has forced the hotel industry to get on board the latest technological advances in the accommodation sector.
Dean Long, the CEO of the Accommodation Association of Australia, was recently at the brand-new Crowne Plaza Sydney Darling Harbour and was impressed with the "completely contactless check-in".
"Technology and the way we engage with our guests is going to change forever," Mr Long said.
"As an industry there has been a significant cost barrier to investing in contactless technology, however what the pandemic has meant is we had to bring those costs into hotels to operate.
"What the airline industry did 10 years ago with mobile check-in has allowed customers to select their seats and select their meals before they fly.
"It created an increase in efficiency and for corporate travellers after COVID contactless check-ins will make hotels much more attractive because, for one thing, guests no longer have to line up to check in and check out, but can do it remotely.
"There will no longer be the glut of 10:00 check-out or 15:00 check-ins at reception and people who travel frequently will be able to order the same room online that they always stay in.
"It's a really exciting time for hotel ownership. Hotels have to invest in those type of products not just to be competitive but to be able to operate in the post-COVID world. It's going to help future-proof the industry."
Contactless check-ins allow hotels to adhere to all the health and safety guidelines that COVID has forced, but mobile check-in also allows guests to stay in touch with hotel staff even if they do not see them in person.
Guests feel special and connected to the hotel even before they come through the front door, partly because they feel in control of their accommodation, setting out their room requirements and preferences well before arrival.
The contactless check-in process will also allow guests to make dining reservations or book extra services such as massages. Identification such as passports can then be entered by a self-service kiosk at the hotel, which airports have been using for many years.
The information will help hotels gain greater insights into their guests and their requirements, which makes for a more satisfied customer, more positive reviews, and more repeat business.
The hotel is able to build an extensive database to improve guest services and to promote special deals by email, creating brand loyalty by making guests part of a hotel's community.
Michael Johnson, the CEO of Tourism Accommodation Australia, said contactless check-ins were coming into the hotel industry before COVID, but that the pandemic had "expedited" their uptake.
"Consumers are quickly getting accustomed to them," Mr Johnson said. "It's not that long ago that no-one had heard of a QR code and yet now we are all very comfortable getting out our phones and putting down our names and details and hitting `submit'.
"It will be the same for accommodation hotels. We are all getting used to contactless entry into buildings.
"It's a good thing for both health and for efficiencies for the guest and the hotel. It doesn't mean you won't have contact with the staff because they will still be there and you can have an interaction and speak to them but there will be much less physical contact.
"Yesterday, I entered a hotel with all guests going through one entry door. As guests arrived, we were scanned in front of a piece of equipment a metre and a half away that did a visual of your face and said `temperature normal'. We were then offered a mask to be within the property.
"It makes for a much safer environment that we need now.
"The COVID protocols are really stepping up, and the technology is with us now as people are getting the urge to travel again."