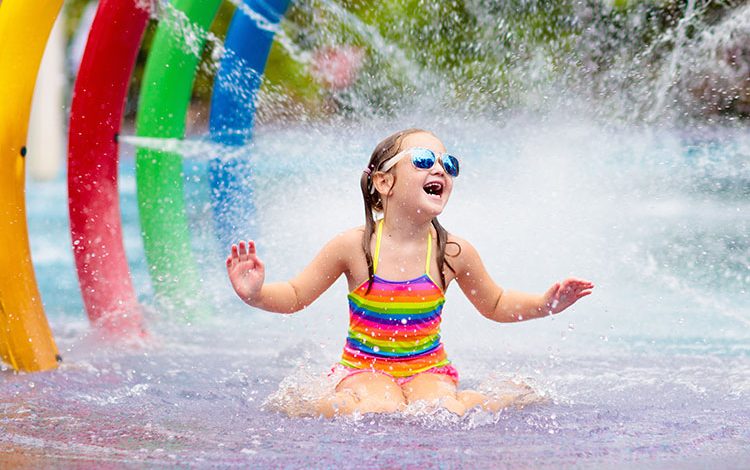 News
Waterparks whet appetite for summer holidays
As Australian accommodation providers gear up for the coming post-COVID holiday bonanza, many are splashing out on water features and aqua playgrounds, whetting the appetite of kids and adults alike for a summer of sun and fun.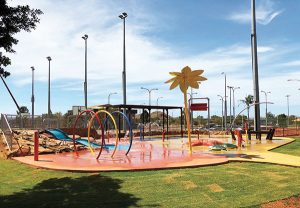 According to Tony Jones, who runs Water Features by Design, a company based appropriately in Waterford, WA, even properties with a tight budget and limited space can install a water feature to provide "the resort-style ambience that comes with the sound of gently trickling water at a fraction of the cost to install a waterplay facility".
Of course, there are hotels that have the money and the space to turn their waterplay ideas into a flood of excitement.
The Big4 Tweed Billabong Holiday Park at Tweed Heads, for instance, has three waterplay areas including a series of waterslides that emerge from a model volcano.
At the Novotel Twin Waters Resort on Queensland's Sunshine Coast, there are giant inflatable slides and jumping pillows plus jetpack adventures on a private lagoon.
Some of Australia's other top waterplay facilities include Sammy's Adventure Lagoon at the Big4 North Star Holiday Resort at Hastings Point in northern NSW, Shipwreck Island that is constructed around a genuine reclaimed ship at the Big4 South West Rocks, NSW,
Discovery Park Barossa Valley, in South Australia, that has five splash zones, two slides and hundreds of jets and sprays, and the Oaks Oasis Resort, on the Sunshine Coast, that has slides, fountains, splash zones and interactive activities for under-12s as well as an outdoor space with a cafe and shaded relaxation area for parents.
Mr Jones, whose company installs waterplay features around Australia, recently oversaw the installation of a 40-metre waterslide at the Mudgee Pool in NSW. He said a good waterplay facility would offer a range of different features to appeal to patrons of all ages from toddlers to teens.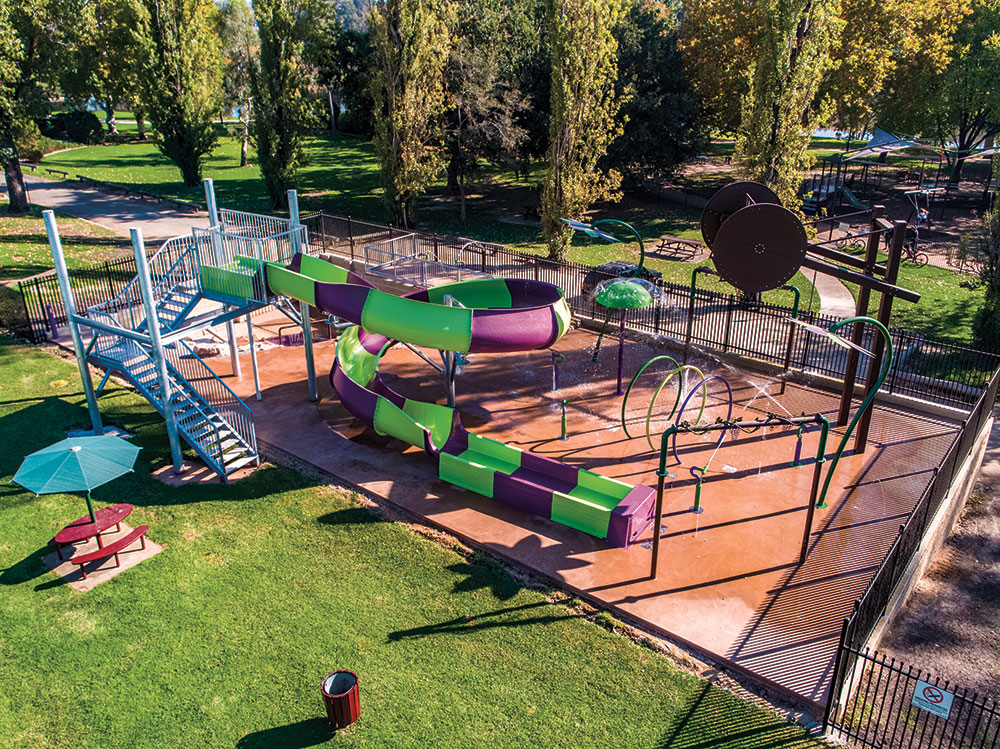 Slides were popular to promote family fun while splash pads meant there was no standing water and no need for parents to get nervous about child safety.
"Ground sprays, adjustable mushrooms and spouting animals are popular with the younger patrons while dumper buckets, water cannons and slides appeal to older kids and even adults," he said.
"Aquatic attractions can include small waterslides off various height platforms, a variety of water sprayers including patterns of ground sprayers, water cannons, water features such as spilling cones, tipping cones, giant overhead showers, tipping buckets and spinning water wheels. 
"You can keep it simple with a splash pad comprising a series of randomly sequenced ground sprays or choose a more elaborate design with a combination of slides, overhead showering features in the shape of flowers, birds or insects, dumper buckets, waterfalls, tunnels, weirs and cannons."
Mr Jones tried to use existing infrastructure when installing waterplay facilities to save money but said accommodation providers wanting to make a big splash were only limited by the area available and budget constraints.
"A waterpark and waterplay features create increased bookings and attract families as guests," he said.
"Water walls with a series of graduated ponds connected by spillways are a popular choice for lobbies and poolside features along with fountains and fishponds. Mosaic water walls and stone-clad features are a timeless addition to any hotel facility and add an immediate air of class and sophistication. Maintenance is relatively simple and depending on the design, a water feature can multi-task as another seating option around pools and restaurant tables with bull-nosed capping and walls built to standard seating height."
Fountains, he said, were often relatively inexpensive but highly decorative features to promote hotels. His company installed four with great success at the Cable Beach Club Resort in Broome along with other waterplay facilities there.
Mr Jones said safety was a priority when designing a waterplay area especially if it was being used by small children. Splash pads meant there was no standing water that could be hazardous while the splashing still created enormous enjoyment.
"Shade structures over the pool are essential to protect the children from the sun and should be extended over a hob wall that retains the splash-out and doubles as a seat around the area. It provides seating for parents or carers of the smaller children facing their child at play.
"Interaction with water is the best play tool on a hot day … water sprayers and splashing ponds add to the fun."
He said features such as waterslides could be added to existing pools as an extra attraction for properties.
The maintenance of water features and small slide structures was "largely dependent upon the quality of the product purchased".
"There are poor quality imported products on the market," he said, "that do not stand up to the harsh environment of a waterpark with chlorinated water and UV exposure. Buyer beware."