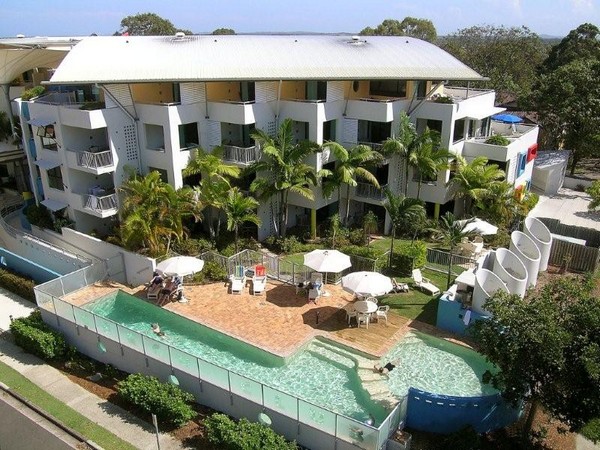 The Beach Club Resort managers, Barry and Sharyn Alleway are no strangers to the management rights industry. They first started out with Beachside Mooloolaba and after four years, Barry and Sharyn were looking for a new challenge. That challenge was found in The Beach Club Resort.
Barry said, "The Beach Club Resort was two and a half times the size of Beachside Mooloolaba with 75 units instead of 30. The size and modern architectural design was what really attracted us to The Beach Club."
So in 2005, the Alleways purchased and took over the management rights to The Beach Club Mooloolaba. Today, four years on and Barry and Sharyn are still enjoying their venture, implementing numerous changes and continuously upgrading to maintain an ongoing maintenance program.
"So far all the units have had new beds and sofa beds installed in them and all of them have been repainted throughout. We are currently going through and encouraging owners to upgrade to new LCD televisions. Hopefully we will have all new TVs in the near future."
Originally from New Zealand, Barry and Sharyn made the move across the ditch in 2001, leaving behind careers in logistics management and real estate sales. Today, Barry is an active Mooloolaba Business and Tourism board member.
"Sitting on the Mooloolaba Business and Tourism board keeps me in touch with what is happening in the industry."
Beachside Beauty
Located on the corner of First Ave and Meta St in Mooloolaba, only 400m from the beach and 150m from Mooloolaba Esplanade, home to a plethora of boutique shops, cafes and restaurants. The Beach Club Resort Mooloolaba offers good four star holiday accommodation in an architecturally award winning building.
The resort features four levels of mostly one-bedroom apartments. The standard, resort and rooftop have all the same facilities and the difference in the tariffs is location within the building. There are also four superior apartments with large balconies, sun loungers and BBQ and seven, 1½-bedroom apartments with a small second room with a set of bunks suitable for pre-teenagers.
Each apartment is air-conditioned and features ensuite facilities, self laundry, cable TV and DVDs, fully equipped kitchen (no oven), hairdryers, direct dial phones, broadband as well as private balcony or own patio.
The Beach Club Resort facilities include heated pool, glass bottom plunge pool and heated spa, large rooftop area over looking the ocean, sauna and gymnasium, three barbeques, licensed kiosk in the foyer, Internet access, undercover security parking and tour desk.

Are you interested in lifting your industry profile?
Email [email protected] or call (07) 5440 5322