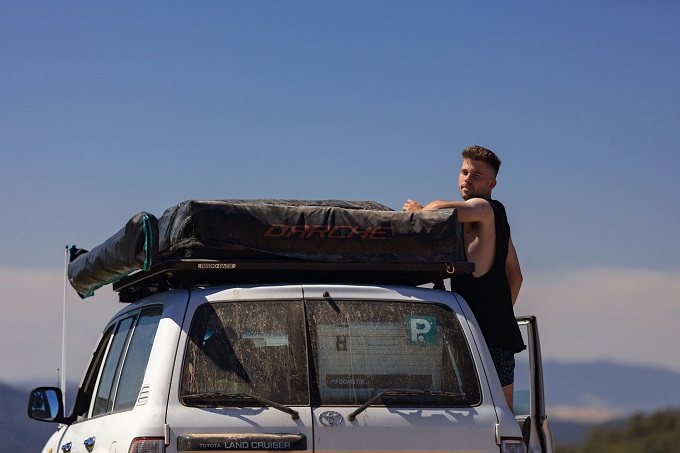 News
Long live the Aussie road-trip
You beauty! Aussie holidays go back to basics
Australians are rediscovering the wondrous beauty of their own country, and the great Aussie road trip looks set to continue for many years ahead.
Nick Baker, the CEO of the Outdoria Group, says that after the bushfires and long COVID winter of 2020, Australians have turned to the infinite joys of their own enormous backyard.
Analysis by TripTech, part of the Outdoria Group, shows that because of international travel bans through the COVID pandemic, Australians took almost 50 percent more domestic holidays than a year ago.
And among that multitude, 30 percent of campers were enjoying a camping holiday for the first time.
[pro_ad_display_adzone id="15046″ align="left" padding="20″]Mr Baker said not only had Australians been forced to stay home for their holidays over the last 12 months but the nature of their holidays had changed towards nature itself, with a rapid increase in the sales of recreational vehicles and caravans and camping equipment.
"People are rediscovering just how extraordinary Australia is," Mr Baker said. "Sometimes we can take this magnificent country and all it offers for granted.
"Road trips and camping holidays are a lovely way for people to reconnect with the country and also become involved in things like walking and visiting national parks where there has been a 17% increase in usage recently.
"That's just going to grow as we've seen massive increases in the number of people walking and hiking on their holidays.
"Boats have also had a new lease of life with people going out to buy kayaks, stand-up paddleboards and tinnies – so once again that involves people driving on holidays rather than flying."
Mr Baker said the amount of accommodation held in camping and caravan parks outside Australian capital cities was greater than in motels and hotels.
"That's why camping and caravan parks are so important to the economy of regional cities," he said.
"A lot more millennials are using the #vanlife hashtag and looking to go off the grid with camping holidays in national parks so I think that area will expand. That is a wonderful thing, because we have so much green space in Australia that deserves to be utilised and appreciated.
"You could argue that the best locations anywhere in Australia are used by caravan parks and camping grounds at places such as Hawks Nest and Seal Rocks. In this country there are so many amazing beaches that haven't been taken over by mega hotels."
Mr Baker, who was Chief Marketing Officer for Tourism Australia from 2007-15, said such was the rush on caravans and camper vans in Australia that in some cases there was a six-month waiting list for them.
"It represents a very big investment for people and they are taking the view that it is a long-term purchase so that the big road trip for many people will replace the overseas holiday going forward for many years," he said.
"People are also seeing recreational vehicles as places where they can work remotely in spectacular vacations."
The Caravan and Camping Industry Association says that 38 percentnt of all overnight trips in Australia in 2020 were from caravan and camping and that 42 percent of all overnight holidays in regional Australia were spent in a caravan park, accounting for 47 percent of all holiday nights.
TripTech, makers of the travel companion app, CamperMate, says engagement in the camping community jumped 43% in December and January, to 150,000 monthly active users.
During summer CamperMate was achieving 15,000 new downloads every week.
"In the past a lot of people have said that they wanted to see places such as the Northern Territory and Uluru, but wanted to see "insert country" first," Mr Baker said.
"I think this winter you are going to see a lot more people driving to the Territory, to outback Western Australia, to North Queensland and to western New South Wales.
"Driving offers the safety that if borders get closed, they can still get back home relatively easily.
"CamperMate is really good for people on road trips because it identifies where all the toilets and showers are, where to stay, where the good beaches are, all the essential things for both the first-time camper and the seasoned veterans looking for new places to discover.
"We've also put in things like the best places to go kayaking or where to rent a boat; the best fishing spots and where the best walks and hiking travels can be found."
Other Related Articles:
What is Really Wrong with Tourism
The value of camping
Camping industry gets creative during corona-crisis
Good News From Outback Operators
VIDEO: Booking.com releases new Aussie campaign for holiday rentals offering

Grantlee Kieza OAM has won three Queensland Media Awards, two Australian Sports Commission Awards and has been a finalist for the Walkley and News Awards and for the Harry Gordon Award for Australian sports journalist of the year. In 2019 he received the Medal of the Order of Australia for his writing. You can find more of his work in our AccomNews & Resort News print magazines.
He has written 22 acclaimed books, including bestsellers Hudson Fysh, The Kelly Hunters, Lawson, Banks, Macquarie, Banjo, Mrs Kelly, Monash, Sons of the Southern Cross and Bert Hinkler.