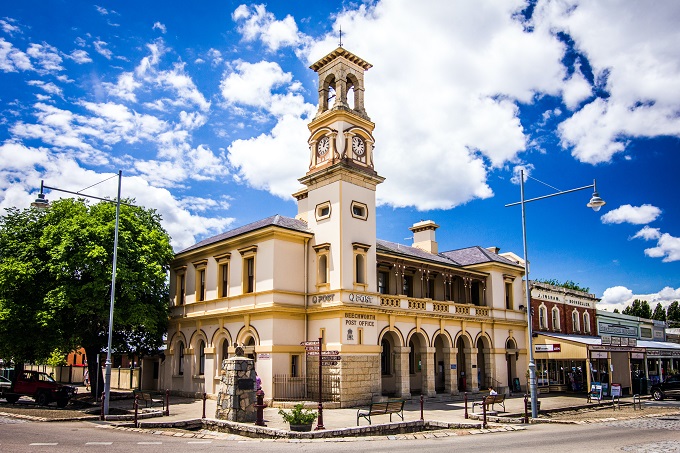 AccomProperties News
Golden opportunity in colonial masterpiece
The Beechworth Holiday Park is a three-hour drive from Melbourne and gateway to Victorian Alps...
The magnificent Victorian town of Beechworth was built on a foundation of gold, and it's nineteenth century charm and twenty-first century hospitality means it is now a goldmine for the tourism industry.
Beechworth was once famous for the gold found in the Woolshed Creek and its links to bushranger Ned Kelly.
The local courthouse remains a museum to the trials of Kelly and his mother, Ellen, that took place inside its sandstone walls 140 years ago. The local streetscape throughout the town still retains its colonial charm.
More recently one of the great success stories of Australian business has been the fabled Beechworth Bakery that serves a million visitors a year and turned the humble country baker Tom O'Toole into one of the most popular celebrity speakers in Australia.
Beechworth is a three-hour drive from Melbourne and the gateway to both the Victorian Alps and some of Australia's finest wineries.
The Beechworth Holiday Park is well positioned to continue to reap these benefits.
The park, set on about two hectares, features a diverse range of accommodation from villas, cottages, cabins, glamping pods, and powered and unpowered camping sites. There is a large three-bedroom house, and a recently renovated four-bedroom residence ideal for a couple or families. The park is pet friendly, boasting a dedicated pet friendly cabin.
Other amenities include an in-ground solar heated pool, bike track, Wifi, playground and a new camp kitchen.
Tim Symes, from Tower Business & Real Estate, said the park offered something for every type of holidaymaker.
"The park is going from strength to strength," Mr Symes said.
There's a lot of history in the area and Beechworth has so many well-preserved buildings. It's a great tourist spot and nearby there are the beautiful towns of Bright, Myrtleford, Porepunkah and then Mount Beauty and Mount Buffalo.
"Beechworth has become a thriving tourist town. It's always been popular but now there are modern breweries and cafes as the town puts in extra elements to make it a desirable place to visit.
"A lot of the tourists come out of Melbourne and Sydney, and they are expecting high standards of food, accommodation and attractions."
The Beechworth Holiday Park is on Stanley Road, just 1.5km from the centre of town and priced at $2.6m. Beechworth offers both a lovely bush environment, magnificent views, and mountain biking as well as alfresco cafes, fine dining, gourmet local produce and speciality shops.
Tom O'Toole swears by the place. In 1974, he bought the original Beechworth Bakery building, then called the Ideal Café & Milk Bar. He continued with that name but sold the business only three years later. In 1984, he bought the building for the second time. And this time he called it the Beechworth Bakery.
It became Australia's most successful standalone retail bakery business, employing more than 250 staff with a turnover in excess of $17 million and serving over a million customers per year.
The bakery became a landmark and testament to Tom's savvy entrepreneurship, drive and innovative business practices.
Beechworth's award-winning Historic Precinct includes the Burke Museum, named after one-time local police chief Robert O'Hara Burke, of the Burke and Wills expedition.
Find the Beechworth Holiday Park sale details HERE.
More articles: