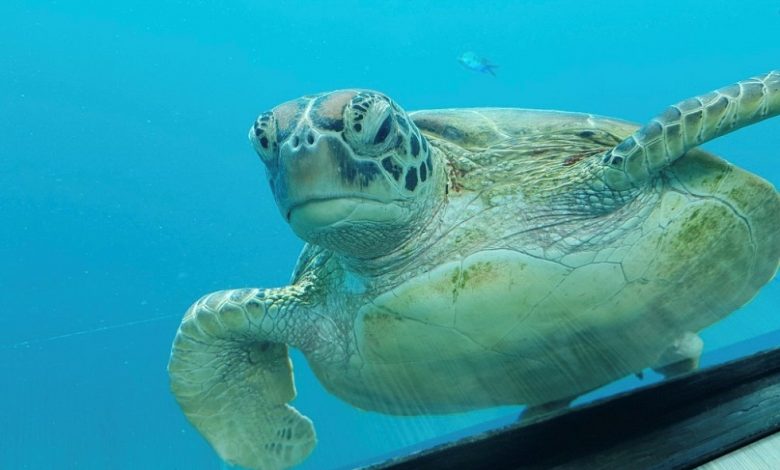 Industry
News In Brief
Weird and wonderful unique hotels
Sleep underwater or wake up with a rhino, sleep in a crane or get locked up: Some of the world's most unique hotels
Once it was only underworld victims who "slept with the fishes", but visitors to Queensland's Great Barrier Reef can now spend a magical night in a luxury underwater suite drifting off surrounded by marine life.
Australia's first underwater accommodation, anchored on one of the world's great natural wonders, provides one of the weirdest and most wonderful accommodation experiences in the world, with a bedside view of the dazzling life from the coral world.
The Reefsuite experience takes place at Hardy Reef, 40 nautical miles from Airlie Beach. Relaunching in 2019, the revamped pontoon hosts day-trippers, on-deck Reefsleep guests and the lucky few, including me, who head below deck for their private, all-inclusive Reefsuite experience.
Reefsuites give a whole new meaning to "a room with a view" and I slept in front of a huge panorama window metres below the surface as great schools of fish swept past. A turtle was peeking through the window to wish me good morning the next day.
In a similar fashion, guests at Taronga Park Zoo in Sydney can enjoy "Roar and Snore" glamping accommodation as they experience an African-inspired Safari without leaving the city.
Exclusive up-close encounters with the zoo's animals take place with breathtaking views of the Sydney skyline as the backdrop.
Guests at the Taronga Western Plains Zoo in Dubbo can also stay at Zoofari Lodge, which is positioned right beside a stunning savannah, which is home to giraffes, rhinos, zebra and antelope.
Much more intimate accommodation is found at Sydney's Capsule Hotel on the corner of George and Liverpool Streets.  The hotel offers 70 sleeping capsules – stark white, bright and uber-futuristic inside, and equipped with televisions, climate control, USB ports, headphone jacks, a universal-power-point and a locker.
Pods are strictly for one person only and not soundproof.
The bathrooms and kitchen are shared spaces.
If you suffer from claustrophobia the capsules are not for you.
That might have been the case for prisoners at The Old Mount Gambier Gaol in South Australia, too, but the refurbished family-owned jail has been transformed into a comfortable hotel – and you won't want to escape.
Australia doesn't have a monopoly on quirky hotels, though.
The space-age InterContinental Shanghai Wonderland is built down the slopes of an abandoned quarry, with the bottom two floors underwater. There are waterfall views from each room, except for the submerged spaces, where schools of fish float past instead.
The Sheraton Huzhou Hot Spring Resort in China is shaped like a donut with 27 floors above water, and two below. Its lobby is paved with White Jade from Afghanistan and Tiger's Eye Stone from Brazil.
The Treehotel in Harads, Sweden is located high up in a pine forest and comprises seven unique "tree-rooms" (and a guesthouse).
The Crane Hotel Faralda in Amsterdam is housed in a converted crane and boasts spectacular city views, though anyone with vertigo is advised to stay elsewhere.
The Icehotel in Jukkasjärvi, Sweden is remade every November with ice from the frozen Torne River. New themed suites are designed every year.
Likewise, Bolivia's Salt Palace, the Palacio de Sal, is completely constructed from salt, as is most of the furniture.
In Stuttgart, Germany, home to the Porsche and Mercedes-Benz brands, car fanatics head for the V8 Hotel where all rooms are themed around the automobile, with features such as vintage cars, racing paraphernalia and drive-through cinemas.
Likewise, aviation fanatics can fly into Stockholm's Arlanda Airport for a Jumbo Stay, in which a 1976 Jumbo Jet has been converted into overnight accommodation. The best room is a luxury cockpit suite complete with a panoramic view.
And for fans of Lord of The Rings, there is the Hobbit Motel, at Woodlyn Park, Waitomo, New Zealand.
From the exterior, the units look like a perfect Hobbit Hotel for little people, but the interiors are scaled to regular size, so no bending is necessary.
Read more: