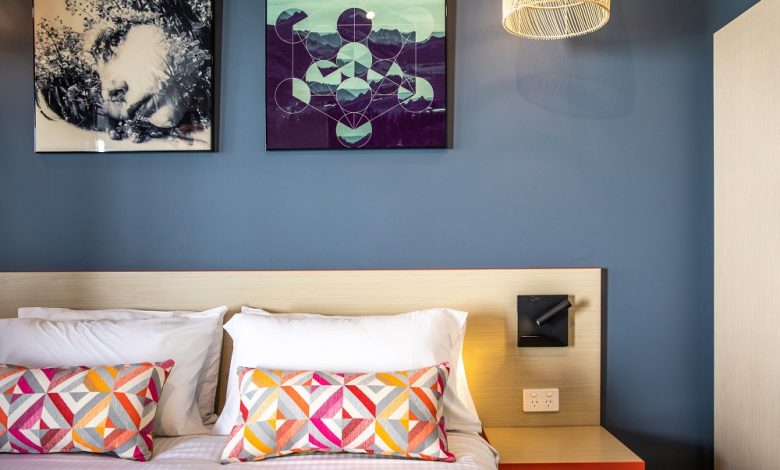 News
A warm welcome to more Nightcap Hotels
A one-stop shop for guests travelling for both business and pleasure
In May 2018, Nightcap Hotels hit the hotel scene offering affordable accommodation at 33 freshly renovated properties across Australia. Fast forward to today, and with over 67 locations Australia-wide, they continue to redefine the accommodation experience for value-conscious travellers.
Nightcap Hotels offer a one-stop-shop for guests travelling for both business and pleasure, and are conveniently located adjacent to pubs in city, suburban and regional areas. Their motto is simple: provide an exceptional accommodation experience without breaking the bank. With a bar and bistro attached, guests can eat, drink, play and stay all under one roof.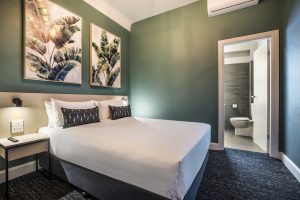 Look inside the iconic Pymble Hotel, the latest hotel to join the Nightcap Hotels' family
Sitting north of Sydney lies Pymble Hotel, a pub that dates back to 1939 when it was first built.
Though more than 80 years have passed, the hotel maintains its timeless art deco design on the exterior and recent refurbishments in 2021 have held onto the classic style on the inside.
The bar and restaurant downstairs highlight a style representative of the iconic era, and the accommodation rooms upstairs were designed to reflect the pub to offer continuity throughout. Think moulding with clean lines and geometric designs, simple yet unique lighting fixtures, throw pillows with art deco patterns, soft forest green walls and artwork that brings the outside in.
This hotel is a must visit when in the area! 
Nightcap Hotels is expanding
In 2020 Nightcap Plus was introduced, bringing great value and modern comfort to destination locations with bigger rooms and upscale design. Hitting three top locations, you can find Nightcap Plus at Mermaid Waters Hotel on the Gold Coast, Narrabeen Sands Hotel in Sydney's Northern Beaches and Gateway Hotel in Devonport Tasmania.
March 2021 saw the launch of Nightcap Social, keeping the fun and casual personality of Nightcap Hotels alive while offering communal spaces and shared facilities ideal for the budget traveller.
The pilot venue opened at the iconic Ramsgate Hotel overlooking picturesque Henley Beach in Adelaide, offering a vibrant social place to rest your head at the end of the day.
Keep an eye on these two brands as they continue to grow in different locations around Australia (hint: Victoria will be getting one of each in the coming months in Carrum Downs and Essendon).
What's Next?
We chat all things Nightcap with Brett Salter, ALH Group National Accommodation Manager.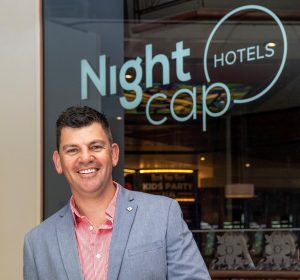 Tell us more about the Nightcap Hotels story?
"If I think back to five years ago, ALH Hotels had an existing base of 80 unbranded accommodation properties that were inherited through various hotel and pub acquisitions, all of which consisted of licensed bars and restaurants onsite," he said.
'We saw an opportunity to provide the Australian traveller an option like no other, somewhere they can eat, drink, stay and play all within a very competitive price point in city, suburban and regional locations.
"I'm not talking five or ten locations either; our goal is to provide travellers with well beyond 100 locations within the next few years by renovating existing rooms we own and manage, and we're well on track.    
"It was important for us to exceed guest expectations and build a loyal base.  We analysed guest sentiment, and took from our own personal travel experiences, to understand what our guests were looking for so that we could build in these areas, while still providing exceptional value.
"It's important we provide a functional design that's not boring but includes the key elements of a great experience which starts with a comfortable King Koil bed, a great bathroom and shower, free and fast wifi, USB charging points at the desk and each bedside table along with complimentary bottles of water in the fridge. We even provide each guest a welcome drink in our licensed bars or restaurants.
"While we maintain these key standards across the board, no two Nightcap Hotels are identical. When renovating, we take aspects of the adjoining pub, as well as the local area and history, and incorporate that into the design, giving each Nightcap Hotel a unique look and feel for our customers.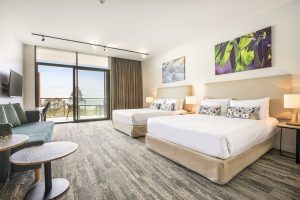 What more does Nightcap have planned for the future?
"We still have more than 40 locations to renovate and welcome to the Nightcap Hotels family, which will take us into the top 10 largest brands in Australia (by way of locations).
"While navigating ever-changing lockdown restrictions, our dedicated team does not stop. At any given time, we might have four or five renovations in the pipeline to meet the Nightcap Hotels brand promise to further expand locations for the Nightcap traveller.
"The following locations are currently earmarked to become Nightcap Hotels…in Queensland there is Mt Isa, Hervey Bay, Atherton and Rockhampton. In Victoria we have Moorabbin, Carrum Downs and Essendon. Dubbo in New South Wales and Brighton, Adelaide in South Australia.
"Our aspiration is to be the number one hotel group for value conscious travellers Australia-wide. We are well on the way, and for a brand that didn't exist four years ago, we now have over 67 locations and are growing rapidly.
How does Nightcap Hotels use Technology to elevate guest experience?
"While we had plans for innovation and technology, COVID-19 gave us a nudge to speed things up a bit. We're using this opportunity to remove some of the pain points of travelling, starting with the check-in experience.
"No-one wants to wait in line to check-in after a long day (or even a short one for that matter) so we've implemented a two-minute check-in experience. Guests receive a text the day prior to arrival with an invitation to check-in and settle payment before even reaching the hotel.
"On arrival, our teams continue to greet our guests, simply check ID and credit card, then hand over a key, creating a seamless experience, reducing the number of people at reception and getting our guests to their room in record time.
"The next stage is to work with Vintech, our preferred lock supplier, to execute contactless check-in with our RFID electronic locks as an option to our guests.
We have also installed a self-check-in kiosk in one of our Melbourne hotels, ready to trial once the latest lockdown lifts.
Tell us how the business has benefited from modern technology?
"We implemented an automated revenue management system called Pace which has taken our pricing to the next level.
Our Revenue Manager Alana Karic sets and reviews each of our hotel's rate guidelines through seasonality and Pace reporting for the entire portfolio. We've seen some exceptional results in key destinations, with some of our hotels experiencing more than a 35 percent growth in RevPAR.
"The majority of growth has come from the Pace algorithm pushing the boundaries further than ever before. Our industry is experiencing large amounts of cancellations and often last-minute pick-up, and we're comfortable knowing that our rates automatically fluctuate on an hourly basis, 365 days in advance, regardless of whether Alana or the hotel managers are away from the business. That's using modern technology to your advantage.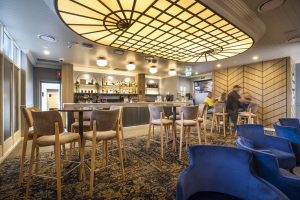 Let's address the elephant: what is Nightcap Hotels doing to ensure the safety of guests travelling during the coronavirus pandemic?
"We successfully managed quarantine in a Tasmanian hotel for nine months, which has taken our understanding of the travel experience in a COVID world to the next level.
"It's the small things that make a huge impact in ensuring our teams have the right tools and training in place. They are kept up to date with the fast-moving travel restrictions across each state, which can be a challenge when government restrictions can change within hours. 
"Apart from the high levels of cleaning in common areas and rooms, we also provide masks and hand sanitisers throughout the hotels.
"All our guests receive a pre-arrival text message asking to check-in and pay via phone or tablet prior to arrival, making the check-in experience almost contactless.
"We have also removed the in-room compendium folders and implemented Hotel info via text message and are currently rolling out in-room ordering via QR code for room service.
"We're moving very quickly towards a cashless hotel experience with less than 5 percent of our total accommodation sales in cash.
"Our team member and guest safety have and always will be our number one priority."