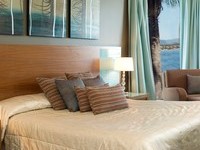 A few years back Warner Village Theme Parks' hotel, Sea World Resort underwent a multi-million dollar room refurbishment and lobby renovation. Completed late in August 2007, the hotel's refurbishment consisted of all of the hotel's 405 rooms receiving new colour schemes, furnishings, décor, modern slimline LCD television screens and high-speed broadband Internet access. The addition of captivating photographs of the theme park's various marine animals, mounted on walls throughout rooms and the hotel bring a definite Sea World flavour to the complex.
The renovated lobby is a thoughtfully redesigned public space showcasing the property's magnificent view over the Southport Broadwater. Modern tiling, colour schemes, furniture, art and lighting complete this transformation.
Before commencing refurbishments, Allan Griffith Architects P/L, designer Jean Griffith said the aim of the renovation design was to upgrade, revive and reflect. "The client's brief for the refurbishment of Sea World Resort envisaged a total upgrade of the entrance, foyer and lounge bar to provide a contemporary resort character in keeping with and reflecting the spirit and ambience of the Sea World marine theme park."
The interior design features a neutral base of floors, walls and ceilings in contemporary materials and colours, overlaid with a strong accent of blue colour with orange textures in the furnishings, fabrics and carpets to create a dramatic resort style for the hotel.
"The neutral base also provides a canvas for the introduction of striking artworks with an impressive sculpture capturing the kinetic energy of leaping dolphins in the entry foyer and selected paintings depicting contemporary interpretations of marine life in the corridors leading to the guest wings. Guests, on entering the refurbished foyer, will encounter a new experience of unfolding spaciousness focusing their attention on the magnificent resort gardens and Broadwater beyond," Mr Griffith said.
The renovations and refurbishments, that began in early July, had minimal impact on Sea World Resort guests. Sea World Resort general manager for the past 19 years, Ernst Pfister said the aim of the renovations and refurbishments was to appeal to, and cater for, each and every guest.
"After 19 years on the Gold Coast, Sea World Resort is an Australian icon. We are 100% committed to providing our guests with the best service and facilities and to do that we must continually look for ways to improve and update our product. Our guests are impressed when they see the changes and they simply enjoy the same relaxed and friendly service in a newer and more modern environment," Mr Pfister said.
Sea World Resort was originally built in 1988. Over the years the building has undergone numerous minor upgrades and future developments include renovating and expanding the Shoreline Buffet Restaurant. The three level complex features four restaurants plus lobby bar, conference facilities, an outdoor heated swimming pool, spa, sauna, tennis court, gym, games room, kid's club, massage and beauty room, water sport activities and a monorail direct from the resort into the Sea World theme park.