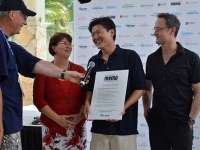 Finalist Rusman Salem Mustam from ADR Group of Companies, Indonesia, walked away with a $1 million incentive prize for his business this week after winning Tourism Queensland's Million Dollar Memo.
Cutting contestants down from 291 to one, Mr Mustam said he was honoured to have received the memo prize and was keen to share his experience with family and colleagues.
"When I first heard my name I thought it was joke and then after a while I was looking around me and everyone was looking at me and I knew it was real," Ms Mustam said.
"[The prize] will not only be for staff for our stakeholders and customers to enjoy the hospitality of the Queensland people."
Tourism Queensland chief executive Anthony Hayes said the competition has helped position Queensland as a top incentives destination, attracting up to $22.5 million in global publicity.
"Over the coming months we will work with ADR Group to help them design an incredible million dollar incentive travel experience for their company," Mr Hayes explained.