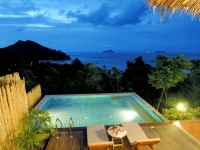 Outrigger Hotels and Resorts will manage the idyllic Phi Phi Island Village Beach Resort and Spa as its third hotel property in Thailand.
Outrigger will have complete operational control by November 1, 2012 at which time it will be rebranded as Outrigger Phi Phi Island Resort and Spa.
Phi Phi Island Village Beach Resort and Spa, which has 112 villas, four restaurants, two bars, a spa, fitness centre, and a dive and activity centre, is located on the quiet northern peninsula of Phi Phi Don island. The whole area is characterised by white powder sands, colourful coral reefs, turquoise waters and spectacular views of the inner Andaman Sea.
Phi Phi Island is located 45km from Phuket in the Andaman Sea in southern Thailand. The island can be accessed by public ferries as well as the hotel's new private luxury boat. Both Phuket and Krabi are serviced by domestic and international flights.
Thirty-eight new villas will be built over the next year, bringing the total number of villas in the resort to 150. Renovations worth US$1.7 million will be made to the property to align it with Outrigger's brand standards.