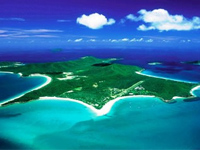 The Great Keppel Island Revitalisation plan is now a big step closer to achieving its end goal of building a world class eco-tourism resort on the island just off Queensland's Capricorn Coast after the Queensland government released the project's supplementary environmental impact statement.
State government agencies will review the supplementary EIS and report to the Queensland co-ordinator general, who will make the final decision on whether to approve the resort.
The proposed development is a $592 million low-rise, eco-tourism resort to be constructed over a 12 year period. The first stage includes a 250-suite hotel at Fisherman's Beach with restaurants and conference facilities, as well as a 250-berth marina at Putney Beach, with 150 apartments and a ferry terminal. Later stages will include 750 villas, 300 apartments and a golf course. Visitors will be able to fly to its private airstrip from Brisbane, Sydney and Cairns.
The first stage of the development is the establishment of a new 250 suite hotel on the old resort site, with accompanying restaurants and conference facilities. This resort proposal will ensure about 40% of the island (575ha), would be an environmental protection area to be rehabilitated and protected in perpetuity.
Tower Holdings' environmental impact statement was released for public comment nearly seven years after the company bought the Great Barrier Reef site off Yeppoon in central Queensland for $16 million. Tower's original $2.6 billion plan that included three hotels and 1200 resort apartments was rejected by the state government in 2006. A scaled-back proposal was turned down by the federal government in 2009.
"If it goes ahead, this will be one of the biggest tourism developments in Australia, and a major boost for both the construction and tourism industries," deputy premier Jeff Seeney said.