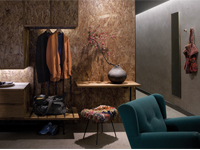 Canberra's Hotel Hotel in New Acton has started taking guests and will open fully over the next three months.
The 68-room, 28-apartment hotel created by Molonglo Group directors Nectar and Johnathan Efkarpidis, was to have had film producer Harvey Weinstein as its inaugural guest but he was forced to cancel his Australian visit due to health reasons.
Hotel Hotel general manager Tracy Atherton said the "rules overseeing the world's leading hotels had been replaced by a unique Hotel Hotel playbook" with staff hired for their personalities over hospitality experience.
"Hopefully we've created a brand and people will know us as a five-star service, but with a bit of a twist," Ms Atherton said. "We're very much into the architecture and design and visitors will see the concrete and timber throughout the lobby and a lot of wood. The vintage furniture has been coming over the past two weeks and it has been like Christmas. Every room has a great element, from all over the world."
Each room is unique and all have views across Lake Burley Griffin. Apartments on upper floors will be completed in 2014.