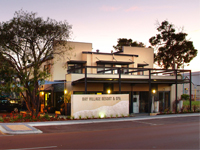 The management rights of Bay Village Resort and Spa Dunsborough on Geographe Bay, in the heart of Western Australia's Margaret River wine region, are being offered for sale for $2.01 million by Resort Brokers Australia
The resort, a two minute walk from the water, consists of 35 apartments with a choice of accommodation styles ranging from 3½ star to 4½ star spa apartments, cottages, chalets and executive villas.
Glenn Millar of Resort Brokers Australia said Dunsborough was a friendly, scenic seaside holiday town in the popular south west "playground" of Western Australia only 2½ hours south of Perth, with many of the Margaret River wineries less than 5 km away.
"The resort is ideally located with the waters of Geographe Bay a short stroll away"' he said.
Bay Village Resort and Spa Dunsborough boasts a distinctive blend of Asian décor incorporating elements from Vietnam, China, Bali and Japan. Thirty two of the total of 35 apartments in the complex are under the management rights contract. Of the remaining three, two are lock-ups and one is under real estate management. Seventeen are able to be dual keyed creating a total of 61 rentable units in all.