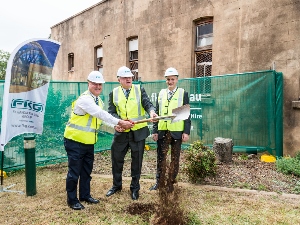 Construction began yesterday [29 April] on the new development of Quest Serviced Apartments in Toowoomba and was marked by an official sod turning ceremony. On site for the event were Toowoomba Mayor Paul Antonio, Deputy Mayor Mike.
Mayor Paul Antonio said the landmark development is one of the most important projects to be undertaken in the regional city for many years and will hold a special cultural significance for the people of Toowoomba. "This is a very exciting project that Quest and FKG are undertaking here in Toowoomba, which will meet an increasing demand from the city's growing corporate sector for quality, flexible accommodation," Mayor Antonio said.
We are thrilled that the new Quest Toowoomba will see the integration of the culturally significant former Church of Christ building on Margaret Street, which is to be restored as the property's lobby and reception."
The property will have 40 apartments comprising of studio, one bedroom, two bedroom and three bedroom apartments. There will be car parking, a conference room and a gymnasium in the complex.
On the same day Quest Serviced Apartments opened its highly anticipated Abbotsford property in the thriving City of Yarra.
The brand new Quest property features 93 studio, one, two and three bedroom serviced apartments and is located just 4.5km north-east of the Melbourne CBD at 611 Victoria Street, Abbotsford.
Quest Abbotsford franchisee, Paul Murphy was thrilled to open his doors yesterday and emphasised the importance of the new property in the City of Yarra, an area with growing demand for flexible corporate accommodation.
"The City of Yarra is one of Melbourne's most covetable areas and business is thriving across a number of industries, with over 8,700 businesses providing more than 57,000 jobs," said Mr Murphy. "Quest Abbotsford meets a strong demand for quality corporate accommodation in the area, while being conveniently located close to public transport, conference and exhibition centres, business precincts in neighbouring suburbs of Richmond, Burnley, and Collingwood, and an array of cafes, restaurants and services."
The serviced apartments feature kitchen and laundry facilities, wifi access, multi-unit desk chargers, and traditional Quest services such as local restaurant chargeback, pantry shopping, dry cleaning and babysitting booking. In addition, the property offers conference facilities, onsite car parking, and gymnasium.
In addition to Quest Abbotsford, a further seven new Quest properties will open this year in key locations at King William South (Adelaide CBD), Berrimah (NT), Woolloongabba (QLD), Wellington (New Zealand), Whangarei (New Zealand), Newcastle West (NSW) and Melbourne Airport (VIC).