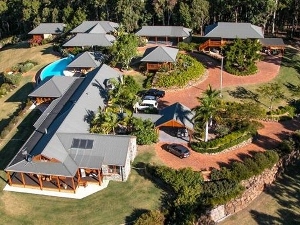 A Chinese investor has acquired Peppers Ruffles Lodge and Spa on the Gold Coast hinterland from John and Jan Nicholls who developed the resort. The purchase price was $4.5 million.
The agreement with the Mantra group to operate under the Peppers brand will remain unchanged.
Stewart Gilchrist of Colliers International who negotiated the deal, said the buyer was a private investor from China who resided on the Gold Coast part time and saw the Peppers Ruffles Lodge and Spa as an income-producing property and, sitting on more than 26ha, it has potential for resort development in the future.
The Nicholls have been trying to sell the Chris Beckingham-designed property for two years so they can retire.
Peppers Ruffles Lodge and Spa has a health spa, golf practice range, restaurant and an infinity pool.